Core 110f
Q-SYS network + analog I/O processor (v2)

---

PLEASE NOTE
Feature Changes: To ease component supply chain challenges and continue a steady supply to our customers, Core 110f will no longer feature 16 x 16 GPIO. In addition, the OLED display and 2x USB Type A ports have been replaced with a simplified, functionally similar solution.
LEARN MORE
Features & Benefits
128 networked audio channels (Q-LAN / AES67)
24 channels of analog I/O, including 8 configurable Flex channels
16x AEC processors
Supports up to 4x Q-SYS NM-T1 network microphones
Up to 32 x 32 Dante audio channels (8 x 8 included)
USB AV bridging (16 x 16 audio + Q-SYS camera support)
Full-featured Q-SYS Control engine (with optional feature license)
External USB audio device host
Up to 4x VoIP instances
Class leading I/O: Core 110f has 24 I/O + USB, POTS and VoIP simultaneously offering the best cost to I/O ratio in a single SKU, single chassis product available on the market.
8 Flex Channels: Nearly all the flexibility of a card-based DSP solution without the hassle of multiple SKU's and custom ordering.
Extend your network I/O connectivity with QIO Series: QIO Series lets you quickly add network I/O connectivity to your Q-SYS systems where it's most convenient. Each of the six models supports a different, specific connectivity type, from mic/line audio I/O to control (IR, Serial, or GPIO). Learn more.
True IT Software Integration: The Q-SYS Operating System is a true IT integrative solution that is free of the fixed hardware limitations seen in competing products. It allows for greater functionality such as Layer 3 routing, LDAP contact server integration, SNMP monitoring, as well as the latest software-based security for your AV system like cryptographically signed firmware updates, encrypted data transport and storage.
Suite of Software-Based Conferencing Technology applications: Built by Q-SYS from the ground up allowing for continued refinement, without any additional hardware. The suite includes next generation acoustic echo cancellation (AEC), multiple-instance SIP softphones, gain sharing, gating automixers and role-based access controls.
Unified Software Platform: The integrator has a single training investment in one software design tool rather than needing to learn several platforms to scale from small to large systems.
---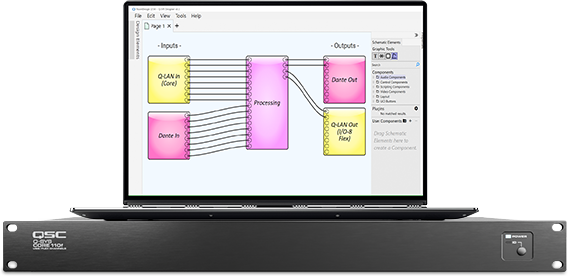 Feature Tiers (Core 110f):
8x8 | 16x16 | 32x32
---
Model Core 110f
Input Frequency Response
20Hz to 20kHz @ +21dBu
+0.05dB/-0.5dB
Input THD+N @ 1KHz
@ +21 dBu Sensistivity & +21 dBu input
< 0.1%
@ +21 dBu Sensistivity & +10 dBu input
< 0.0015%
@ +10 dBu Sensistivity & +8 dBu input
< 0.0007%
@ -10 dBu Sensistivity & -10.5 dBu input
< 0.0006%
@ -39 dBu Sensistivity & -39.5 dBu input
< 0.007%
EIN (no weighting, 20Hz to 20kHz)
< -121dB
Input to Input Crosstalk @1kHz
>110dB Typical, 90dB Max
Input Dynamic Range
@ +21 dBu Sensitivity
> 109.5dB
@ +10 dBu Sensitivity
> 106.4dB
@ -10 dBu Sensitivity
> 104.6dB
@ -39 dBu Sensitivity
> 104.6dB
Input Common Mode Noise Rejection
@ +21 dBu Sensitivity
@ +10 dBu Sensitivity
56.5
@ -10 dBu Sensitivity
73.2
@ -39 dBu Sensitivity
63.2
Input Impedance (balanced)
5K Ohms Nominal
Input Sensitivity Range (1dB Steps)
-39 dBu min to +21 dBu max
Phantom Power
+48v DC, 10mA per input max
Sampling Rate
48kHz
A/D – D/A Converters
24-bit
Overall Dimensions/Weight
Device Height: 44 mm (1.75 in) Device Width: 483 mm (19 in) Device Depth: 282.5 mm (11.12 in) Device Weight: 5 kg (11 lb) Shipping Height: 152 mm (6 in) Shipping Width: 584 mm (23 in) Shipping Depth: 356 mm (14 in) Shipping Weight: 5.6 kg (12.4 lb)
Output Frequency Response
20Hz to 20kHz @ all settings
+0.2/-0.5 dB
Output THD
0.003%, +10 dBu Max output level
Output Crosstalk @1khZ
>100dB Typical, 90dB max
Output Dynamic Range
>108dB
Output Impedance (balanced)
220 0hms
Output Level Range : (1dB Steps)
-39 dBu min to +21 dBu max
USB B
Bit Depth
16-bit
Number of Channels
up to 16 × 16
Sample Rate
48kHz
Environmental
Power Consumption
60 watts, typical. 120 watts max
BTU/Heat load:
205 BTU/Hour
General
Compliance
FCC Part 15B (USA), FCC part 68 / TIA-968-B (USA), JATE (Japan), AS/ACIF S002 (Australia), PTC200 (New Zealand), ES203 021 (Europe), ANATEL Resolution 473 (Brazil), NOM-151-SCTI (Mexico), PSTN01 (Taiwan), Industry Canada CS-03 (Canada), CE marked (Europe), UL and C-UL listed (USA & Canada), RCM (Australia), EAC (Eurasian Customs Union) & RoHS Directive (Europe)
All specifications are subject to change without notice.