PTZ-IP Conference Cameras
For Q-SYS Platform

As a part of the Q-SYS Platform, the PTZ 12x72 / PTZ 20x60 conference cameras integrate with Q-SYS bridging peripherals like the Q-SYS I/O-USB Bridge or directly to the Q-SYS Core 110f processor to deliver professional quality conference video feeds alongside industry leading audio processing for small- and medium-sized rooms utilizing soft-codec conferencing or computer-based capture.
---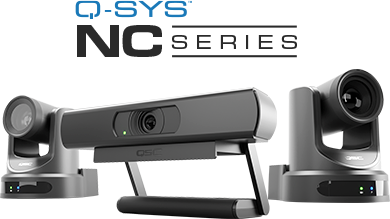 This product has been discontinued.Consider the new Q-SYS NC Series network cameras
High-quality conference cameras native to the Q-SYS Platform.
The Q-SYS NC-110 is a fixed-lens, ePTZ camera with a 110° horizontal field-of-view for smaller and wider rooms.
The Q-SYS NC-12x80 and Q-SYS NC-20x60 both offer motorized pan, tilt, and zoom (PTZ) functionality to enable a more broad range of room layouts, sizes and purpose.
Features
Conference video for the Q-SYS AV-to-USB Bridging Solution
Distribute video via the Q-LAN™ network anywhere it is needed
Resolutions up to 1080p/60
Image rotation controls to allow for inverted mounting
Motorized Pan, Tilt and Zoom (PTZ) provides complete room coverage and privacy
Auto Exposure, Auto Focus and Auto White Balance modes
Native custom camera interfaces through Q-SYS Designer Software
Includes wall mount for simple installation
---
PTZ-IP Distance Calculator
Use this calculator to estimate the maximum subject image size that you will be able to achieve, based on the distance from the CAMERA to the SUBJECT.
What is the distance from camera to subject?
All distances in feet or meters
---
Detail
PTZ 12x72
PTZ 20x60
Image Sensor
1/2.7 in, Low Noise CMOS Image Sensor
Lens characteristics (wide to tele)
12x optical zoom, f=3.5 mm to 42.3 mm, F1.8 to F2.8; Horizontal Field of View: 72.5° to 6.9°, Vertical Field of View: 44.8° to 3.9°
20x optical zoom, f=4.42 mm to 88.5 mm, F1.8 to F2.8; Horizontal Field of View: 60.7° to 3.36°, Vertical Field of View: 34.1° to 1.89°
Minimal Illumination
0.05 lux at F1.8 (AGC On)
Noise Reduction
2D and 3D
S/N Ratio
≥ 55dB
Pan / Tilt Angle and Speed
Pan: ±170° rotation, speed: 1.7° to 100°/sec,
Tilt: -30° to +90° rotation, speed: 1.7° to 69.9°/s
Ceiling Mountable
Image rotation for ceiling mounting, ceiling mount bracket accessory available
HD Video Outputs
HDMI and 3G-SDI
Ethernet
100BaseTX / 1000BaseT
Video Resolutions
HDMI / SDI:
1080p, 60/50/30/25, 1080i, 60/50, 720p, 60/50/30/25
Network (30fps, 16:9):
1080p, 720p, 576p 360p, 270p, 180p
Input Voltage
DC 12V or PoE (802.3af)
Current Consumption
12v DC @ 1.0A (max)
Operating Temperature
-10°C - 40°C (14°F - 104°F), Indoor use only
Storage Temperature
-40°C - 60°C (-40°F - 140°F)
Power Consumption
12W (max)
Dimensions
169 x 142 x 164mm
6.7 × 5.6 × 6.5 in
Thread size
1/4" × 20 thread
Weight
1.35 kg / 3.0 lb

*Specifications are preliminary and are subject to change without notice.