Core 8 Flex
Q-SYS network + analog I/O processor

The Core 8 Flex audio, video and control (AV&C) processor extends the applications of the Q-SYS Platform into a wider range of smaller-scale installations across corporate, higher education, healthcare and beyond. Built on the same foundational technologies and driven by the same Q-SYS OS as the rest of the Q-SYS processor portfolio, including the best-in-class Q-SYS Core 110f, Core 8 Flex is designed for applications with lower network or analog channel capacity and/or targeted processing requirements.
---
Features & Benefits
64 x 64 networked audio channels (Q-LAN / AES67)
8x on-board Flex channels and GPIO
8x AEC processors
up to 32 x 32 Dante audio channels (8 x 8 included)
USB AV bridging (8 x 8 audio + Q-SYS camera support)
Full-featured Q-SYS Control engine (with optional feature license)
External USB audio device host
Up to 2x VoIP instances
1U half-width, includes mounting hardware
Network plus on-board I/O
In addition to its 64 x 64 network I/O capacity, the Core 8 Flex offers eight on-board Flex channels and eight GPIO on-ramps to integrate analog audio and control devices into the Q-SYS Ecosystem. Ideal for in-room processing with both analog & networked endpoints.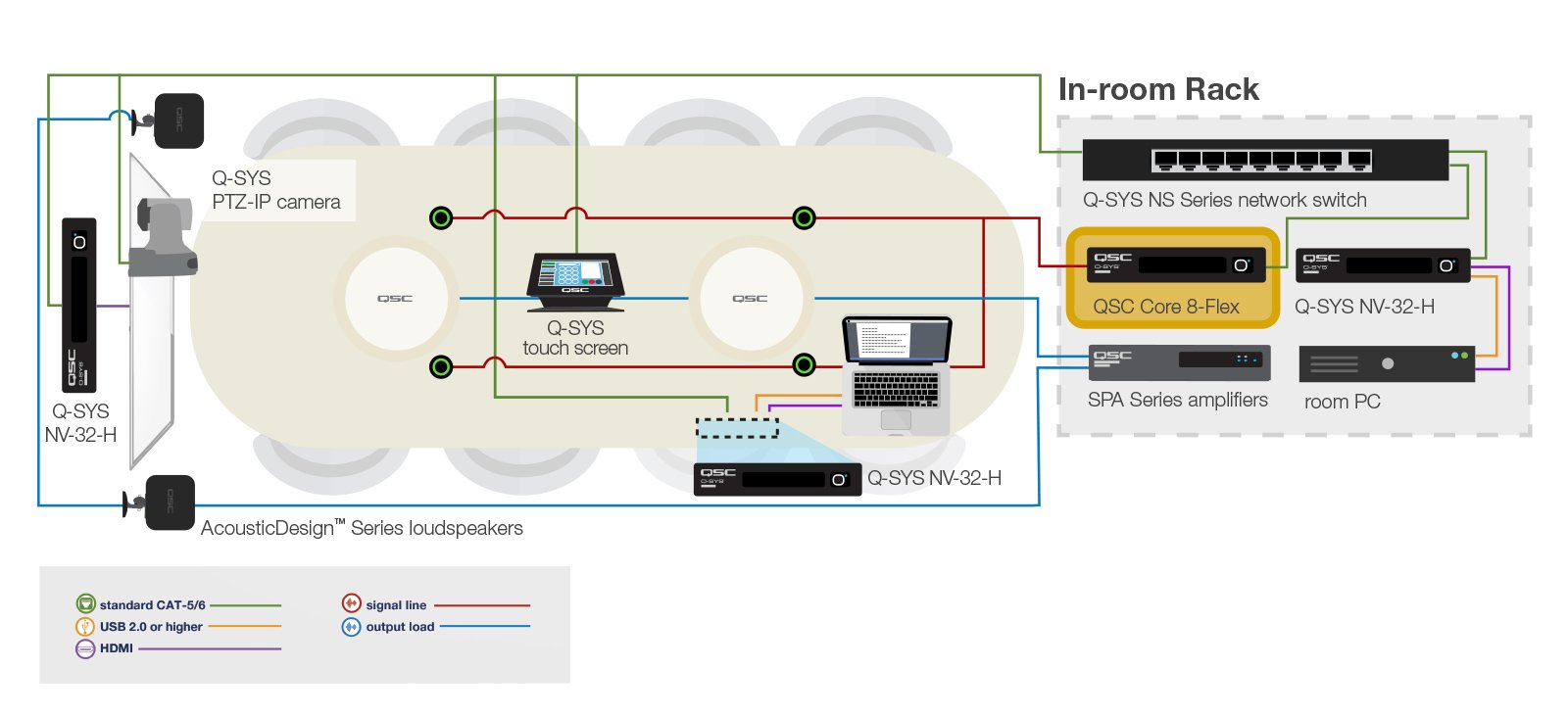 Rightsized. Uncompromised.
Rather than deploying an AV&C processor with unused analog I/O that occupies a full rack space, Core 8 Flex offers a smaller solution with several mounting options. However, its smaller form factor does not compromise on functionality; instead Core 8 Flex delivers a full featured control engine for third-party device control, full paging and BGM capabilities, automation, monitoring and beyond.
Optimized for the Meeting Space
The Core 8 Flex provides the AV infrastructure to enable full room web conference integration, particularly for larger, more challenging spaces. It features USB integration with all major web conferencing applications, eight channels of acoustic echo cancellation (AEC), two VoIP softphones, Software-based Dante to enable modern microphones, and a full-featured control engine for third-party device integration.
Reduce Complexity and improve scalability with the Q-SYS Platform
The Q-SYS Core 8 Flex joins a growing lineup of AV&C processors built on a flexible software foundation. Like all Q-SYS Core processors, the Core 8 Flex lets integrators take full advantage of the same Q-SYS software suite to design and configure systems. End users can take full advantage of all native Q-SYS peripherals and the system's ability to scale your system without having to rip-and-replace your configuration file, as well as receive the latest platform functionality upgrades and security updates from Q-SYS through a simple firmware update.
Expand Functionality at the Software Level
Q-SYS Scaling Licenses allow you to leverage the unique software-based nature of Q-SYS to scale targeted feature sets to the needs of specific applications and use cases.
The Q-SYS Collaboration Bundle scaling license enables your Core 8 Flex to scale into larger, high impact spaces with increased processing capabilities, additional AEC channels and expanded NM Series microphone support
The Q-SYS Commercial AV Bundle scaling license enables your Core 8 Flex to serve areas that previously required higher tier Core processors by increasing processing power, total network channel capacity and peripheral count.
Channel Capacity
Q-LAN / AES67 channels
64 x 64
Dante channels
8 x 8 (included); licensable up to 32 x 32
Local analog I/O channels
8 flex
AEC processors
8
VoIP instances
2
Audio recording / playback
4 ch recording / 16 ch playback (expandable to 32 ch with optional license)
Q-SYS NM-T1 capacity
3 (base capacity); 6 (with Collaboration Bundle scaling license)
Network peripherals
up to 32
Mic/line inputs
Phantom power
+48 VDC, 10 mA per input max
A/D-D/A converters
24 bit
Sample rate
48 kHz
Control
RS-232
2 ports
GPIO
8 x 8
USB Inputs & Outputs
Channel count
8 x 8
Bit depth
16 bit
Sample rate
48 kHz
USB audio device hosting
Support for standard USB headset, speakerphone
Environmental
Power consumption
40 W typical
Physical
Device dimensions (H x W x D)
1.72 x 8.66 x 11.28 in (43.6 x 220 x 286.6 mm)
Weight
4.0 lbs (1.8 kg)