QIO-IR1x4
Q-SYS Network I/O Expander

The Q-SYS QIO-IR1x4 expands your Q-SYS system's capabilities to enable streamlined interoperability with non-networked control devices via IR connectivity. By separating local I/O from processing hardware, the QIO Series offer modular and easily scalable network I/O to support your desired topology.
---
Features & Benefits
The first native network IR connectivity solution for Q-SYS
One (1) IR receiver input and four (4) IR emitter outputs
Power over Ethernet (PoE) capable
Daisy-chain up to four QIO expanders on a single network run (with local daisy-chained DC power)
Simple drag-and-drop integration and comprehensive management via Q-SYS Designer Software and Q-SYS Reflect Enterprise Manager
Surface- or rack-mountable (1RU, quarter width)
Includes surface mounting hardware
The first native IR connectivity solution for Q-SYS
The QIO-IR1x4 allows you to provide your Q-SYS system with greater flexibility to deploy IR control connectivity where it's most convenient. The QIO-IR1x4 features one (1) IR receiver input and four (4) IR emitter outputs, enabling Q-SYS control for a broad range of professional/consumer devices including video displays, media players and more. Additionally, each of the QIO Series I/O expanders features a compact form factor that can be rack- or surface-mounted.
Expanded I/O customization
QIO Series is intended to present a simpler way to add network I/O connectivity to Q-SYS systems, decoupling the physical location of the I/O from processing hardware to support distributed or centralized processing architectures. Additionally, QIO Series lets you customize your I/O configuration, and compliments the strengths of newer Q-SYS Core models that were designed with fewer onboard I/O options (Core Nano, Core 8 Flex, or NV-32-H (Core Capable)).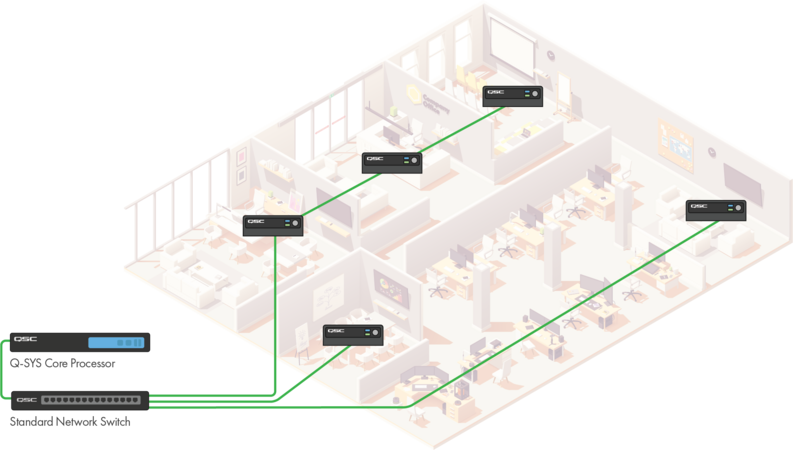 Simplicity & scalability
Daisy-chain up to four of the QIO Series devices on a single network run (with local daisy-chained DC power) to consume fewer network ports, avoid rack clutter, and allow for quicker future expansion without pulling additional network cables. Alternatively, QIO Series are also PoE-capable, providing simple single cable connectivity (when devices aren't daisy-chained).
Designed for Q-SYS
The QIO Series deliver native network I/O customization to Q-SYS, a cloud-manageable audio, video and control platform, built to deliver scalable, flexible AV solutions into the future. Learn more about Q-SYS.
Specificiations
QIO-IR1x4
IR/Serial Output Ports
IR output or RS-232 (transmit only)
Four (4) configurable ports
IR
Configurable carrier frequency and drive strength
RS232
Configurable baud rate
LED indicators
IR transmit activity
IR Input Ports
IR Input Ports
One (1) port, bandwidth TBD
Other Connectors
External power supply
24 VDC nominal, 2.5 A on Euro connector with second connector for daisy-chaining (QIO-PSU power supply sold separately)
LAN (PoE)
Gigabit LAN connection for Q-LAN, PoE
PoE specification
Conforms to IEEE 802.3af Type 1
LAN (Thru)
Ethernet daisy-chaining
General
Dimensions
5.5 x 4.25 x 1.59 in (139.7 x 108 x 40.4 mm)
Weight
1.18 lb (0.54 kg)
Mounting options
Surface- and wall-mountable (hardware included)
Rack-mountable; 1RU, quarter-rack width (QIO-RMK rack kit sold separately)
Environmental
Ambient operating temperature range
0°C to +50°C
Humidity
0%-85% through 30°C non-condensing
Storage temperature
-20°C to +70°C
Compliance
FCC 47 CFR Part 15, IC ICES-003, CE (EN55032, EN55035), EU RoHS directive 2011/65/EU, WEEE directive 2012/19/EU, China RoHS directive GB/T26572, EAC, UL, C-UL, NOM-019
All specifications are subject to change without notice.