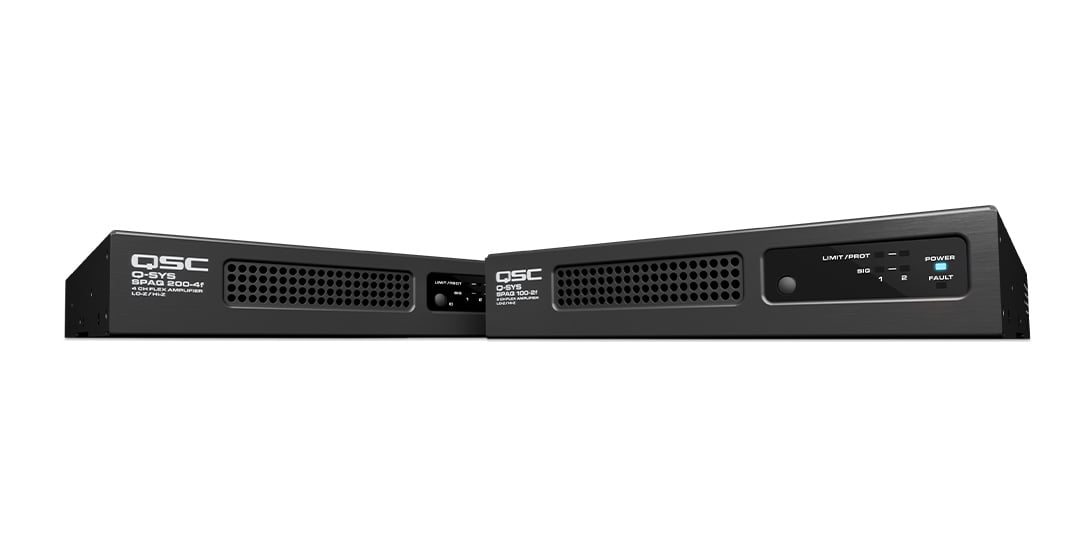 Q-SYS Introduces Network Amplifiers Suitable for Smaller Spaces
The Q-SYS SPA-Q Series offers rightsized amplification for a variety of room types & provides multiple I/O options for unmatched room customization 06/08/2022
Costa Mesa, Calif. (June 8, 2022) - [De, Fr, Es] - Q-SYS is pleased to introduce the SPA-Q Series network amplifiers, which deliver rightsized amplification while adding audio/control I/O options to support a wide range of spaces. The SPA-Q Series joins a host of other Q-SYS products (including the QIO Series network I/O expanders and Q-SYS Feature and Scaling licenses) that pair perfectly with smaller Q-SYS Cores (such as the Q-SYS Core Nano), allowing you to decouple the I/O from the processor for an unmatched degree of customization and scalability.
The convection-cooled Q-SYS SPAQ 100-2f (two channel x 60 W) and Q-SYS SPAQ 200-4f (four channel x 60 W) amplifiers provide bidirectional GPIO for control and two onboard software-definable flex channels (either mic/line inputs or line outputs), giving integrators the greatest amount of flexibility for I/O and control at the periphery of the system.
Ideal for smaller spaces, both models are half-rack, 1RU and deliver clean sound and performance without overpowering the space. In addition, they include hardware for multiple mounting options allowing for flexible placement.
"Our customers were in need of a flexible, high-value end point that was more than just a basic amplifier solution," says Daniel Saenz, Amplifier and Loudspeaker Product Manager, Q-SYS. "In fact, this type of product was the most request portfolio addition by our own Communities for Developers. As native Q-SYS Products, SPA-Q harnesses the power of the Q-SYS OS to deliver as much value as possible in an I/O-enabled network amplifier plus provides the right amount of power for those smaller, high-impact spaces."
For more information on the SPA-Q Series, please visit: www.qsys.com/spaq.
About QSC
Founded over five decades ago, QSC is a globally-recognized leader in the design, engineering and manufacture of award-winning, high-performance loudspeakers, digital mixers, power amplifiers, audio processors, digital cinema solutions, and the Q-SYS™ cloud-manageable audio, video and control Platform. Offering reliable, scalable and flexible solutions for entertainment, collaboration and commercial AV applications, our worldwide network of sales, service and support teams empowers people everywhere to create impactful connections and memorable experiences.
For More Information
QSC Press Contact:
Kristine Fowler | Digital Marketing Manager
714.624.4527 | Email: [email protected] | www.qsys.com