NV Series
Q-SYS Network Video Endpoints
Q-SYS NV Series network video endpoints are multipurpose, software-configurable devices native to the Q-SYS platform enabling high-quality, low-latency video distribution. The NV Series are flexible and scalable, allowing you to tailor your system components to the project requirements, placing the correct type and quantity of video I/O where it's needed most. Q-SYS. NV Series endpoints easily convert Q-SYS network camera and audio feeds into your preferred collaboration application through a single, driverless, plug-and-play USB connection. As native Q-SYS Products, the NV Series is driven by the Q-SYS OS and seamlessly integrates into any Q-SYS system, enabling no-code audio routing, video source selection and device configuration.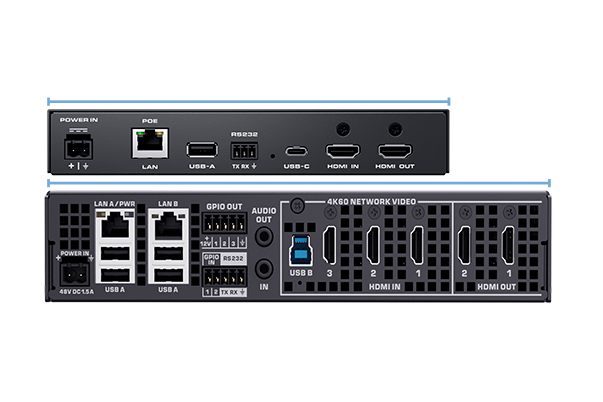 Flexible and Scalable
The Q-SYS NV Series offers multiple models allowing designers to tailor and right-size their system based on connectivity type, I/O density, supported or license features and physical footprint.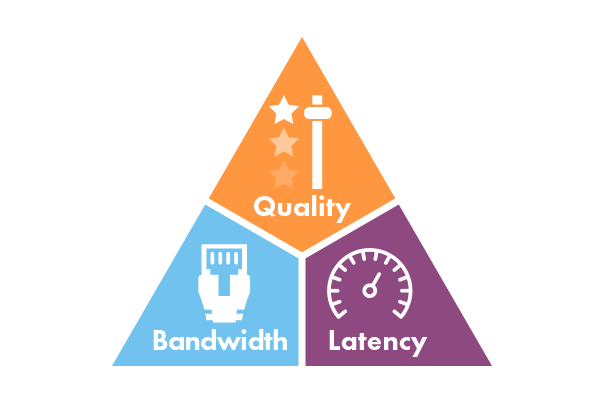 Q-SYS Shift
NV Series enables visually lossless low-latency distribution of digital video formats up to 4K60 4:4:4 through Q-SYS Shift™. Q-SYS Shift™ is optimized to intelligently manage and optimize the network bitrate by only refreshing changes within each frame, allowing for significantly reduced bandwidth usage compared to other codecs without sacrificing quality or latency.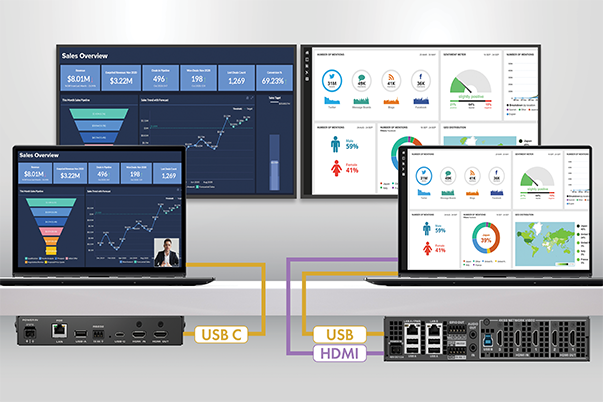 AV Bridging
NV Series allows you to place USB connectivity where you need it most while eliminating the installation and maintenance hassles associated with conversion, switching and extension technologies required to deploy USB conferencing systems.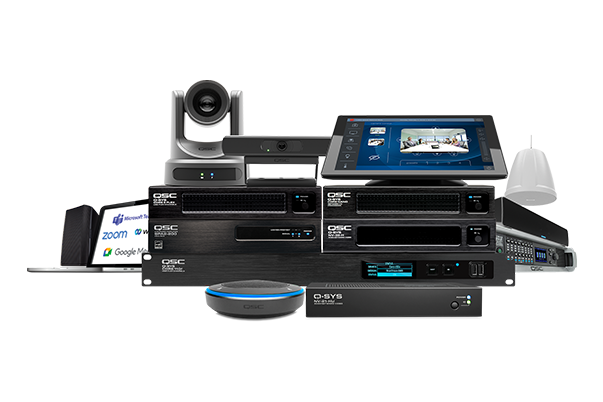 Designed for Q-SYS
NV Series enable native video and audio distribution without additional management and control hardware. Driven by the Q-SYS OS, NV Series devices integrate seamlessly into Q-SYS systems creating frictionless, no-code deployments.
Specifications
NV-32-H
NV-21-HU
HDMI Inputs
3
1
USB-C Inputs
0
1
HDMI Outputs
2
1
HDCP
1.4 & 2.2
1.4 & 2.3
HDMI output scaler
Yes
Yes
AV Bridging
Yes - Included
Yes - Licensed Feature
USB HID Routing
Yes
Yes
USB Device Charging
No
Yes[1]
RS-232
1
1
GPIO
2 input
3 output
No
HDMI Output CEC
Yes
Yes
3.5 mm Audio Input
Yes - 2 channels
No
3.5 mmAudio Output
Yes - 2 channels
No
PoE Requirements
PoE Type 4, Class 8
PoE Type 3, Class 5
Supports Q-SYS Core Mode
Yes
No
Stream multiple content sources simultaneously
Yes
No
Aux Power
48 V DC 1.5 A
12 V DC 9 A
Aux Power Supply Included
No
No
Aux Power Supply Accessory
No
Yes - NV-21-PSU
Details
Details
[1] An external power supply is required for any device charging over the USB-C connection.
All specifications are subject to change without notice.