MP-M Series Premium Business Music Mixers
Music and Paging Mixers
The QSC MP-M music and paging mixers are fixed architecture mixer/processors offering unprecedented capabilities combined with ease of configuration and operation. The products are intended for retail and hospitality applications in which high-quality audio from various sources is routed to multiple zones. Live mixing functions are also supported for applications requiring reinforcement of entertainment, presentations or conferences.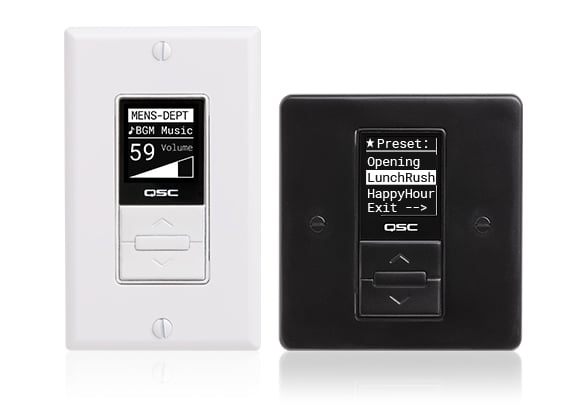 MP-MFC Controllers
The MP-MFC Controllers are intuitive wall mount controls to enable customizable system adjustments for the MP-M Series music and paging mixer. They provide multi-zone source selection, scene selection and volume control. Designers can configure these peripherals to provide end users with as much or as little control over the system as needed.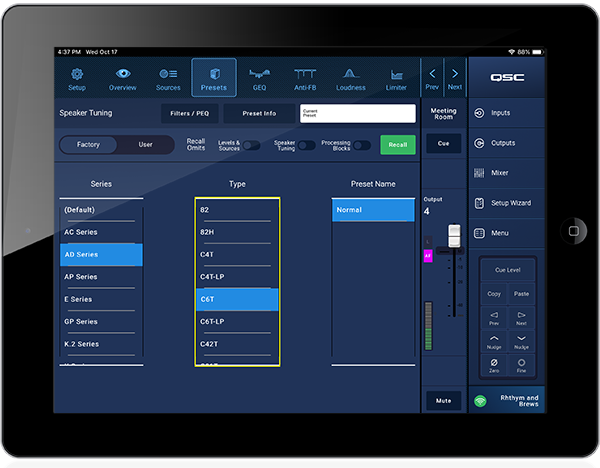 MP Install v.1.2
(Released March 2, 2020)
This app allows system designers and installers to quickly and easily design and configure systems for MP-M Series mixers. This wireless control features an intuitive Workflow Wizard to navigate through room tuning and speed commissioning.
Download MP Install with your QSC login (You may need to create a QSC login. If you've taken classes on the QSC Training site, you should use that login!).
If you haven't already done so, you will be prompted to login when you click "Download MP Install".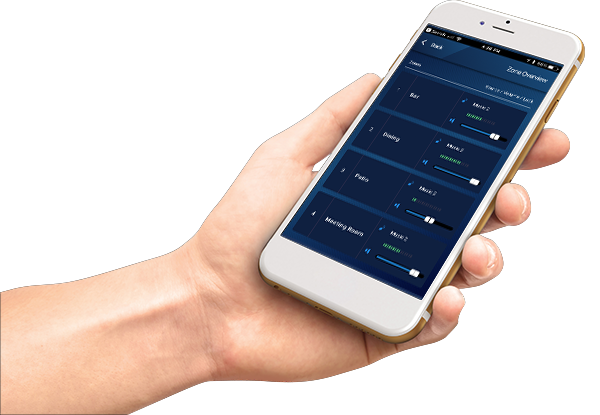 MP Manage v.1.2
(Released March 2, 2020)
For wireless control, the MP Manage provides end users day-to-day operation of basic system functions including zone level, source selection, scene recall, scheduling, and mixer control. It also offer a unique store-and-forward zone paging functionality to the MP-M Series mixer.
v1.2 Software Updates
These updates apply to MP-M Series Firmware v1.2 and MP Install v1.2 and MP Manage v1.2 (for Windows, iOS, and Android).
Input Control from MP-MFC: Input gains can now be controlled from the MP-MFC wall-mounted controller in single zone mode.
"Scenes Only" mode for MP-MFC: Wall-mounted controller can now be dedicated to scene recall only, simplifying the control experience.
Custom Venue/Client Logos: Add your client's logo to the main landing screen for the MP Manage app.
AD-P.HALO Loudspeaker Preset: Optimize your sound with official factory tunings for the new AcousticDesign Series AD-P.HALO integrated SUB/SAT pendant loudspeaker system (along with the rest of the QSC loudspeakers).
User Interface Improvements: All parameters in the input and output overview tabs can now be adjusted directly.
Read the official release notes for the features and enhancements.
MP-M Series Firmware v1.2
Released August, 2021
MP-M Firmware Installation
Format a USB memory device as FAT32 (minimum 1GB available capacity).
The MP-M includes a utility that will format a USB drive as FAT32.
Connect the USB device to an MP-M Series mixer.
Using the MP Install app touch or click Menu > Settings > Format USB.
Follow the prompts to complete the process.
Download and Install Firmware
The firmware will be in a zipped folder named "MPM_upgrade_filesystem_Vn.n.nnnnn.zip".
Open the zipped folder and extract the file "MPM_upgrade_filesystem_Vn.n.nnnnn.mpminstall".
Move or copy "MPM_upgrade_filesystem_Vn.n.nnnnn.mpminstall" to the root directory of the FAT32 formatted USB drive.
Eject and remove the drive from your computer.
Insert the drive into a USB port on the MP-M Series mixer.
Open MP Install, connect to an MP-M and navigate to Menu > Settings.
Go to the "Software" section at the bottom of the screen and touch or click "Upgrade".
Follow the prompts to complete the process.
Q-SYS Designer Software Download
Please fill out the form to start your download.
SELECT A MODEL
MP-M40
MP-M80
Inputs
Total
8
16
Mic/Line
4 (Euroblock)
8 (Euroblock)
RCA
4 (mono-summed RCA pairs)
8 (mono-summed RCA pairs)
Outputs
Total
6
10
Line
4 (Euroblock, balanced)
8 (Euroblock, balanced)
Music on Hold
1 (Euroblock, transformer balanced)
1 (Euroblock, transformer balanced)
Cue (phones)
1 (3.5 mm, stereo)
1 (3.5 mm, stereo)
Dimensions (H×W×D)
45 × 483 × 356 mm
1.75 × 19 × 14 in
Net Weight
3.2 kg / 7 lb
Details
Details

All specifications are subject to change without notice.
MP-MFC
Controls
Three buttons (increment, decrement, and select)
Display
128 × 128 pixels, 27 (L) × 26 (W) mm viewing area
Available Colors
Black, white
Connection Max
Per MFC port: Daisy chain up to 4 MP-MPC controllers, with a 250 m maximum cable length
Total: Up to 8 controllers per MP-M Series mixer
Dimensions (H×W×D)
North American versions
114 × 70 × 35 mm
4.5 × 2.75 × 1.4 in
Dimensions (H×W×D)
European versions
89 × 89 × 36 mm
3.5 × 3.5 × 1.4 in
Details