Q-SYS Austin Experience Center
Located in the heart of Austin's thriving tech community, the Q-SYS Experience Center is a hub of innovation and collaboration. Right as you walk in the door, you'll be immersed in to the versatility of Q-SYS and have the opportunity to see the Platform & Ecosystem in real-world scenarios!
See inside the space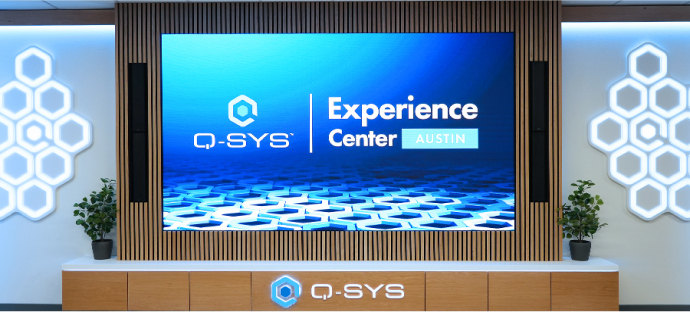 Curated Showroom Tour
Begin with a fully automated five-minute tour that is completely driven by Q-SYS. Virtual Q-SYS tour guides walk through the pillars of the Q-SYS cloud-manageable audio, video & control Platform and Ecosystem while showcasing seamless automation including immersive audio, video & lighting. This space is also equipped with a LG Direct LED 135" presentation display.

Training Room
See our 12-person training room where each student is equipped with a full state-of-the-art Q-SYS workstation, including Q-SYS Core processors and control peripherals giving students a hands-on experience.
Students can take renowned Q-SYS Training course including:
Q-SYS Jumpstart Trainings
In addition, this space is fully equipped to demonstrate multi-camera demos of the Automatic Camera Preset Recall (ACPR) plugin with a full Intelligent Video demo including Seervision coming soon.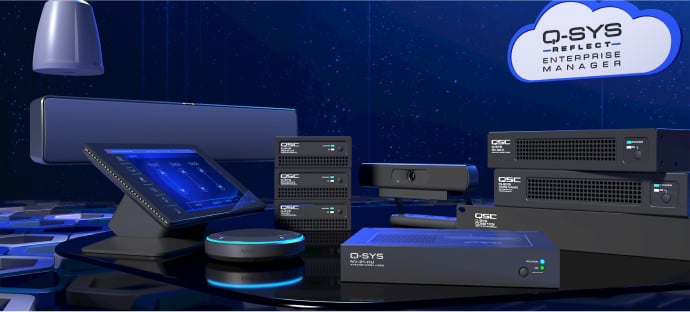 Product Showcase
This space is filled with an interactive new product showcase and full Q-SYS product catalog along with a full-time staff to help answer any questions you might have!

Conference Room
In this collaboration space, we showcase how Q-SYS answers the needs of high-impact spaces and provides meeting equity as well as a stress-free experience for both the near and far end.
Visitors can choose their favorite UC Platform (Microsoft Teams Rooms, Google Meet or Zoom Rooms) and see Q-SYS enable multicamera switching (using the ACPR plugin), pristine audio, room control and intelligent automation in this fully automated experience.
Coming soon: Intelligent Video with Seervision technology.
To schedule a visit of the Austin Experience Center,
contact your Q-SYS sales representative today!