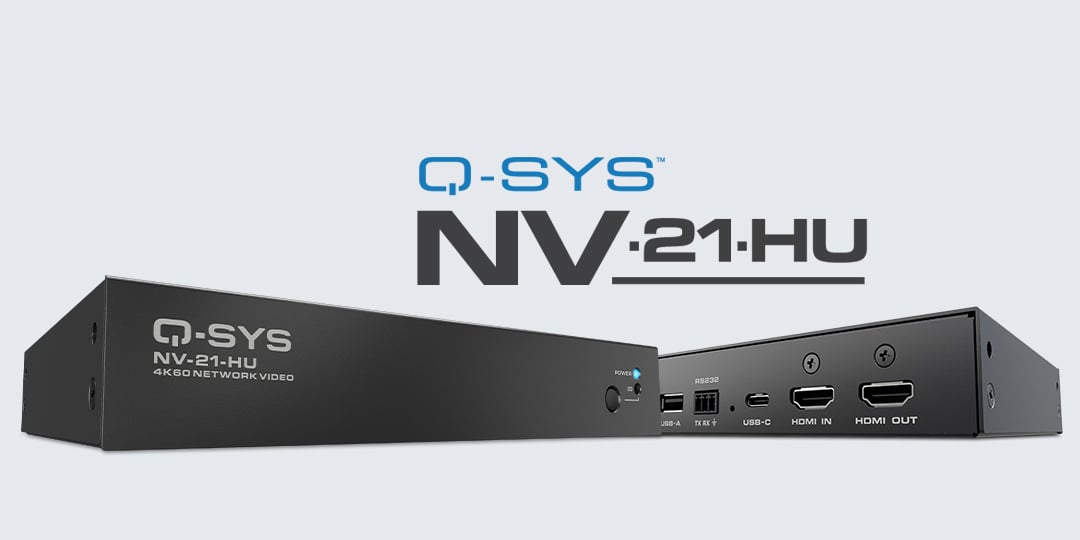 Q-SYS Introduces Newest Network Video Endpoint
New software-configurable NV Series peripheral adds single-cable option for distribution, bridging and charging
Costa Mesa, Calif. (April 5, 2023) – [De, Fr, Es] – Q-SYS announces the latest addition to its native Q-SYS network video solutions with the introduction of the NV Series NV-21-HU, a two-input, one-output endpoint with support for HDMI and USB-C. The NV-21-HU simplifies installation with a single-cable solution for video distribution, AV bridging and device charging via USB-C. Its compact design and reduced I/O make the NV-21-HU ideal for supporting meeting rooms, learning spaces, hospitality and entertainment installations.
As a software-configurable solution, the NV-21-HU can be defined as an encoder or decoder (in Q-SYS Designer Software) offering the ability to operate with either HDMI or USB-C connectivity. This enables integrators to provide a more flexible system that supports a broader range of devices while eliminating the need for adapters and, in some cases, multiple cables. In addition, integrators can add AV Bridging (with an optional feature license) to extend the device's functionality to support full UC Platform bridging capabilities.
The NV-21-HU joins the Q-SYS video portfolio alongside the highly successful NV-32-H (Core Capable) video endpoint. It features a more compact design providing more options to rightsize the application based on I/O density, form factor or available features providing maximum system design flexibility. As a native Q-SYS device, users will have the added benefit of utilizing the software-based audio, video and control platform to enable drag-and-drop, no-code deployment, saving time and money in both the programming and installation phases.
"The NV-21-HU answers the needs for a lower-cost and more comprehensive solution that can address end user demands for an easy, frictionless user experience," says Mike Brandes, Senior Product Marketing Manager, Q-SYS. "Its compact design and rightsized I/O make it ideal for more applications while still providing the ease-of-use and deployment familiar to Q-SYS NV Series users."
For more information on the NV-21-HU network video endpoint, please visit: qsys.com/nv21hu.
About Q-SYS
Make AV smarter. Q-SYS is a cloud-manageable audio, video and control (AV&C) Platform built around a modern, standards-based IT architecture. Since its inception in 2009, it has been architected to deliver personalized, connected and engaging AV experiences.  With established solutions across corporate, education, hospitality, venues & events, cinema, government, healthcare, and transportation, Q-SYS redefines what is possible for live and virtual experiences by uniting hardware and software partners, developers, and creators.
For More Information
QSC Press Contact:
Kristine Fowler | Sr. Digital Marketing & Global Communications manager
714.624.4527 | Email: [email protected] | qsys.com
Press Contact (EMEA & South Asia):
Sandra Rothe | Media & PR Manager
+49 7261 6595 372 | Email: [email protected] | qsys.com