Hospitality Case Study
Dining & Themed Lobby: Alamo Drafthouse
---

THE FORCE HAS AWAKENED…in Nebraska of all places. The Alamo Drafthouse cinema chain has opened a new venue in Omaha, complete with an immersive, multi-zoned dining and entertainment experience, complete with Star Wars franchise themed lobby, adjoining areas for a night of dining and entertainment!


Challenges
Total System Routing, Power and Control:

With the need to cater to independent zones, each with its own complexities, this installation needed a powerful system for audio routing, control and monitoring.

Sports Bar and Restaurant:

Between the restaurant and sports bar, there were 25 LCDs that needed different subzones of audio support, in addition to the paging needs of the hostess

.
Heard but not Seen:

The audio need to carry through the entire installation, which meant mixing surface-mount and ceiling-mount loudspeakers that supported the incredible aesthetic with great audio while not detracting from the aesthetic.

Simplified Control:

Th

e system had to have specific user control interface needs.

"Q-SYS was the clear choice for routing audio and control in this installation."
John Weston, Unified Network Consulting

Solutions
A single Q-SYS Core 250i managed the audio distribution, front-end control and system management for all 5 zones together. Integrators were able to use Q-SYS Designer software to build simple user control interfaces that could be used on any iOS device to control the entire complex. QSC's CXD-Q networked amplifiers provided all the power for the installation. Integrators took advantage of the onboard analog inputs of the CXD-Q amplifiers as onramps to the Q-SYS network, nearly eliminating the need for additional analog input.
QSC's AcousticDesign™ loudspeakers were used throughout the installation for seamless acoustic transitions between surface-mount and ceiling mount loudspeakers. And since all AcousticDesign loudspeakers are paintable, installers were able to blend the loudspeakers with the rest of the aesthetic of the installation. The Q-SYS platform provided remote support access and monitoring to the entire system. A support tech can listen to any input or output on the system without ever having to step foot in the building.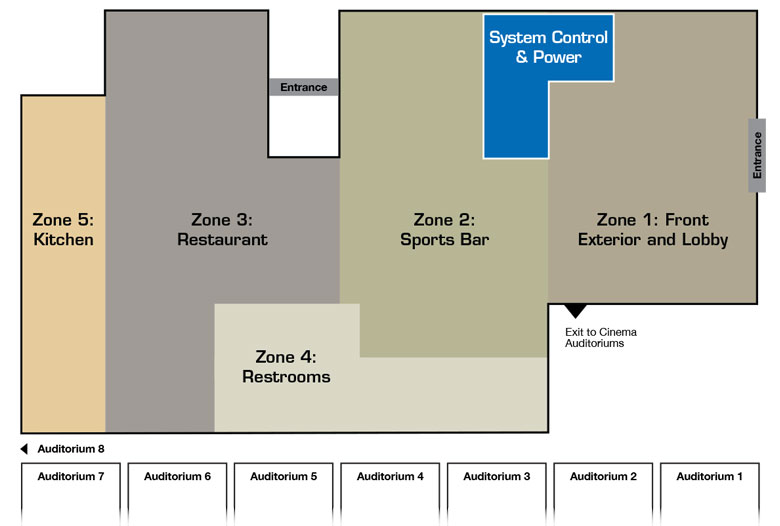 System Components
(1) Q-SYS Core™ 250i DSP Appliance
(1) Q-SYS I/O Frame
(3) CXD4.3Q – 4 Channel Networked Amplifiers
(1) AD-C42T – AcousticDesign™ 4-inch ceiling-mount loudspeaker

Results
This was a prime example of how the QSC ecosystem can integrate an entire installation together. This was basically three installations in one complex (a complex themed lobby, restaurant and sports bar), with wall-to-wall QSC integration.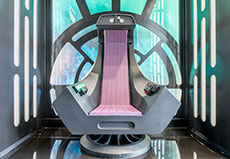 John Weston, AV consultant from Unified Network Consultants remarked, "The System was so intuitive that the client just started using it. They didn't need to ask any questions. With QSC, there were absolutely no issues."
Derek Dillian, the creative manager for Alamo Drafthouse cinemas, emphasized the value of working with a complete system solution provider. "Our vendors have been super supportive of this whole project, and the amount of collaboration and execution by everyone, especially QSC, was greatly appreciated."
For more information, download the complete case study.