SLEEK UNOBTRUSIVE DESIGN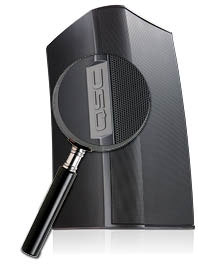 The sleek, unobtrusive design will be a hit with architects, interior designers and end customers alike. Perfect for indoor and outdoor usage, AcousticDesign loudspeakers will easily blend with the aesthetics of any room.
Available in black (RAL 9011) and white (RAL 9010) and may be painted to match any decor.
Deliberate 23mm bezel maintains consistency with T-bar ceilings and other fixtures already in the ceiling.
WITHSTANDING THE ELEMENTS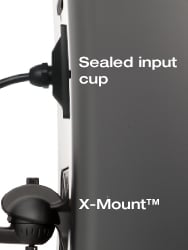 IP rated is only half the story. AcousticDesign loudspeakers are one of the most durable products on the market and are designed to withstand the harshest elements of an outdoor setting.
IP-54 Rating + MilStd-810.
Powder-coated aluminum wall brackets.
Powder-coated aluminum grills with nylon mesh backing cloth.
UV inhibitors on white models.
Included sealed input cover.
We've provided all the tools the system integrator and designer needs to make spec'ing the AcousticDesign loudspeakers easy. And with UL1480 and UL2043, you are ensured they are compliant.
Directivity Matched Transition™ (DMT) Waveguide
Easier transition from low to high frequency, the loudspeakers maintain an equal dispersion.
Result is more uniform coverage patterns that equal a more natural transition between loudspeakers.
Overall better user listening experience.

---
Mix & Match Capable
Maintains remarkably consistent sonic characterizes between all form factors.
Whether you install surface-mount loudspeakers in the bar, ceiling-mount loudspeakers in the dining area, pendant-mount loudspeakers in the foyer, and column surface-mount loudspeakers in high-ceiling spaces, users won't experience any level of audio transition from one loudspeaker to another.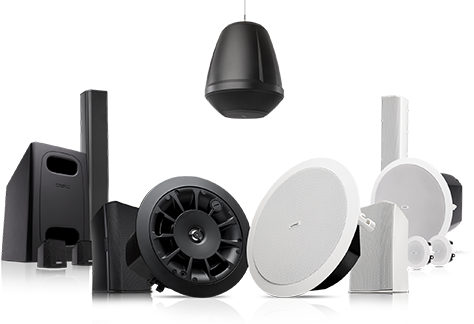 ---
Smarter Low Profile Models

AcousticDesign Series loudspeakers are also available in a 95mm low profile design.
To maintain the consistent sonic characteristics, we've increased the diameter of the loudspeaker to maintain the same cubic volume, which is critical to get the consistent low frequency performance.
The intentional 95mm design ensures it can be installed in standard timber framing making it easy to qualify.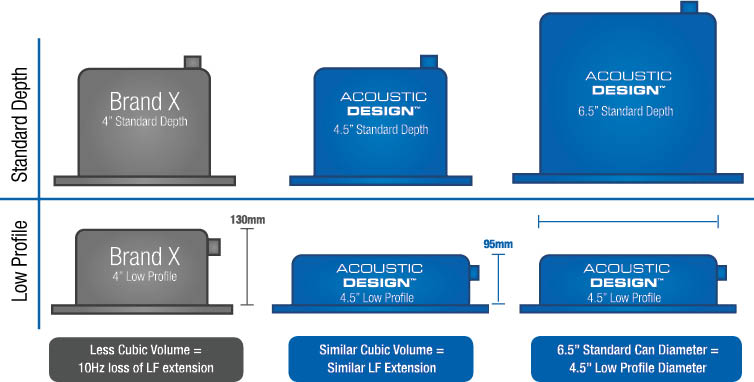 ELIMINATE LADDER
TRUDGE
Unique design features like Snap-Fit magnetic grills for ceiling models, patented X-Mount™ Surface Mounting System for surface models, and a unique Mounting System for Column Surface-Mounts will cut your labor time (and add more to your bottom line).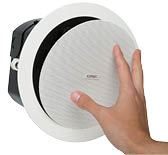 Snap-Fit Magnetic Grills for Ceiling-Mount Loudspeakers
Easy to insert and remove grills which makes installation much quicker.
Easy to rotate making aligning badges across the row of loudspeakers a snap.

X-Mount Surface Mounting Systems for Surface-Mount Loudspeakers
Knurled pivot points and grooves lock into place for easyto-set, repeatable angles.
Safely set angles on the floor, not while teetering on top of a ladder.
No loudspeaker slipping or sagging over time.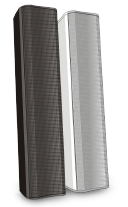 Mounting System for Column Surface-Mount Loudspeaker
Close-to-wall pan/tilt mounting system offers multiple positioning locations allowing the loudspeaker to remain close to the wall.
Capable of -20° downward tilt.
MINIMIZE DESIGN TIME AND MAXIMIZE
SONIC PERFORMANCE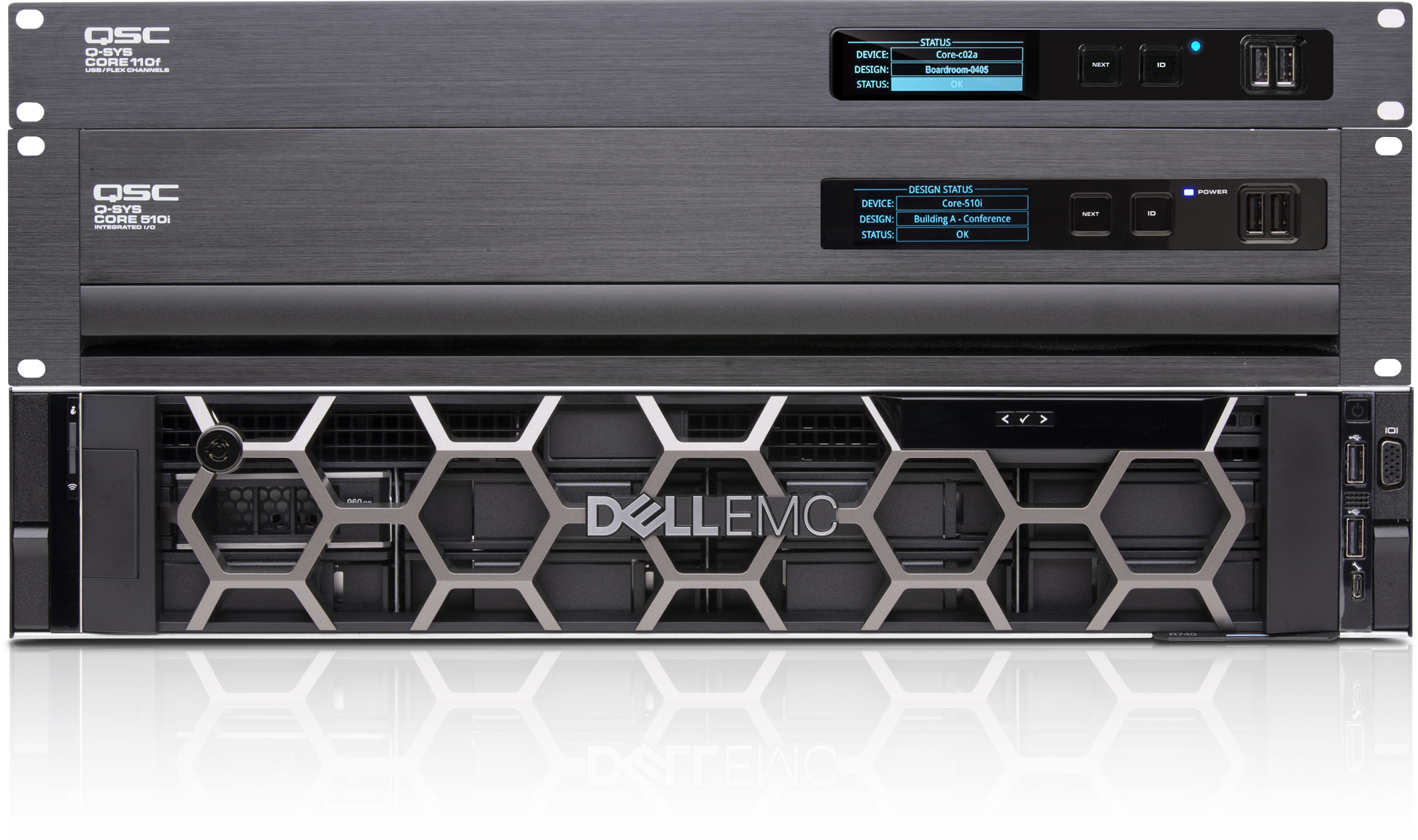 AcousticDesign Series loudspeakers were designed to work seamlessly within the Q-SYS Ecosystem.
Easy to integrate with the Q-SYS Designer software.
Simply drag-and-drop QSC's factory-designed voicings and custom FIR & IIR limiters into your design.