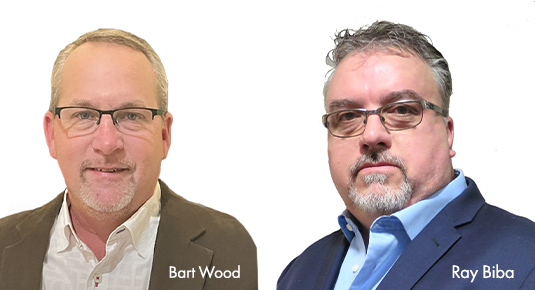 QSC Promotes Bart Wood and Ray Biba to Key US Senior Management Roles
02/09/2022
Costa Mesa, Calif. (February 9, 2022) – QSC is pleased to announce the promotion of Bart Wood to Senior Director, Strategic Accounts and Ray Biba to Senior Director, US AV Channel. Working in collaboration, these two roles will support the company's evolving go-to-market strategy in the US to better serve partners and end users.
In Wood's new role, he will lead the Strategic Accounts team and focus on increasing business with large, multinational integration partners while expanding US field training efforts to create a greater adoption of Q-SYS and its Ecosystem. Biba will lead the US AV Channel team focusing on channel management sales and scaling up its regional channel management team.
"Both Bart and Ray have made significant contributions to QSC over the last several years, which has led to incredible sales growth throughout the US," says Frank West, Vice President Sales Americas, QSC. "Each brings vast knowledge of AV and IT, powerful leadership skills and strong business acumen, and I am confident they will continue to flourish in these new roles as QSC continues to target key areas of our business."
Since Wood joined QSC in 2016 as Director or Sales, US Central, he has been instrumental in Systems sales growth and led his group to create innovative deep dive field training. Prior to QSC, he has held several sales management and director roles, most recently at Harman International.
"I am thrilled to lead this new team and look forward to developing a more customized support structure and targeted training opportunities for our key accounts to help end users understand and unleash the full potential of the robust and scalable Q-SYS Platform," says Wood.
Biba started his work with QSC as an independent rep firm principal before joining the company in 2014 in a business development role. During his tenure, he brought his incredible channel knowledge to his previous role as Director of Sales, US West and Florida while achieving remarkable results in his regions.
"The channel continues to be an important part of the QSC business strategy. I look forward to deepening our focused, regional approach to channel sales and continuing to nurture direct relationships across our entire dealer network," says Biba.
Both Wood and Biba will report to Frank West.
About QSC
Founded over five decades ago, QSC is a globally-recognized leader in the design, engineering and manufacture of award-winning, high-performance loudspeakers, digital mixers, power amplifiers, audio processors, digital cinema solutions, and the Q-SYS™ cloud-manageable audio, video and control Platform. Offering reliable, scalable and flexible solutions for entertainment, collaboration and commercial AV applications, our worldwide network of sales, service and support teams empowers people everywhere to create impactful connections and memorable experiences.
For More Information
QSC Press Contact:
Kristine Fowler | Digital Marketing Manager
714.624.4527 | Email: [email protected] | www.qsys.com