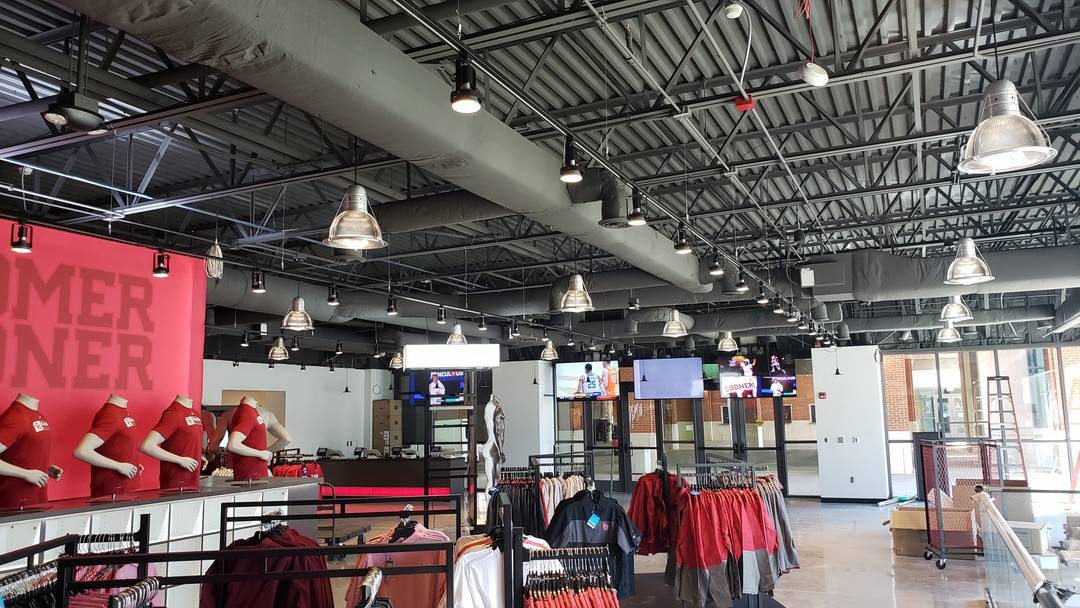 QSC Business Music Solutions Get in the Game at Oklahoma University's Sooner Shop
The Sooner Shop is the brand new, flagship retail store where fans of Oklahoma University Athletics can gear up for game day with a wide selection of officially licensed t-shirts, jerseys, sweatshirts, hats and much more. Construction for the roughly 19,000 ft² retail space began in late 2018, and the shop was looking to enhance the fan experience with the perfect background music system. QSC was up to the task with its Premium Business Music portfolio of amplifiers, mixers and loudspeakers.
Las Vegas based integrator, AV Technology Systems, was brought into the project for technology design and integration. "We were looking for an audio solution that sounded great, of course, but we had to consider aesthetics too," explained Brian Baron, Owner of AV Technology Systems. "The QSC Business Music solutions are unmatched in that respect. Add to that the intuitive user control and we were able to deliver beyond the client's expectations."
There are four audio zones in the space. Two zones downstairs serve as a student hangout and game room, while the two zones upstairs make up the entirety of the retail shop. The QSC MP-M80 music and paging mixers provide the processing and routing backbone for the shop, while the QSC MP-A40V amplifier and AcousticDesign SUB/SAT pendant-mount loudspeakers provide the audio reinforcement. The AD Series SUB/SAT system is designed with four satellite speakers and a separate subwoofer, which offer sonic clarity and intelligibility that is perfect for background music and paging. Additionally, the small-format form factor helps the loudspeakers blend in to the environment, so as to never be a distraction. In total, the shop installed four pendant-mount subwoofers and sixteen pendant-mount loudspeakers.
AV Technology Systems used the systems MP Manage app to provide staff with wireless control of the sound system levels, zones and scheduling through an iPad. "The user control app is a great feature," continues Baron. "It's simple for anyone to use, so the staff never have to worry about the audio system."
Joe Catiglione, OU Vice President and Athletics Director also shared, "The new Sooner Shop is above and beyond anything we could have hoped for. We are very excited for our fans to visit this state-of-the-art retail experience, and we know they're going to love hearing this awesome QSC audio system!"