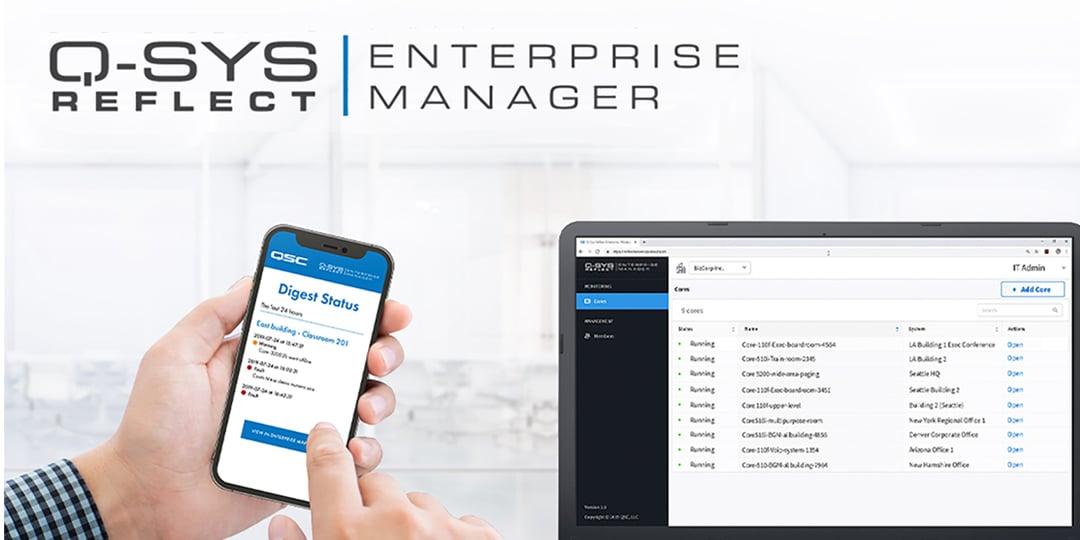 Q-SYS Reflect Enterprise Manager Now Available in Additional Countries
Simple-to-use and powerful remote monitoring and management capabilities now available for UAE and KSA.
Sinsheim, Germany. (September 11th, 2023) – Q-SYS, a division of QSC EMEA GmbH, announces the UAE and KSA. These new countries join the growing list of over 20 countries that already have access to Q-SYS Reflect Enterprise Manager.
Enterprise Manager allows users to remotely monitor and manage their entire Q-SYS system, including connected third-party devices, using one single, secure connection from any Q-SYS Core processor to the Q-SYS Reflect cloud. With three different feature tiers, end users and managed service providers have a range of cloud-based service options to select from, including the ability to gain real-time status of connected systems to more advanced features such as Remote UCI helpdesk capabilities and remote system design, which enables a centralized support team to easily resolve issues without sending technicians on site.
Having the ability to remotely monitor and manage audio, video & control assets from anywhere is paramount to ensure systems are up and always running and users are productive. We are pleased to bring these capabilities to additional regions and are committed to helping users increase efficiencies and system visibility while reducing downtime. We also aim to give integrators the opportunity to build a managed service business model to create new business opportunities.
For more information on Q-SYS Reflect Enterprise Manager, to see a full list of regions, and start a free, 30-day trial, please visit: qsys.com/enterprisemanager.
About Q-SYS
Make AV smarter. Q-SYS is a cloud-manageable audio, video and control (AV&C) Platform built around a modern, standards-based IT architecture. Since its inception in 2009, it has been architected to deliver personalized, connected and engaging AV experiences.  With established solutions across corporate, education, hospitality, venues & events, cinema, government, healthcare, and transportation, Q-SYS redefines what is possible for live and virtual experiences by uniting hardware and software partners, developers, and creators.
Q-SYS and QSC Pro Audio are divisions of QSC, LLC. For QSC's legal entities and global presence, please see qsc.com/contact-us/ and qsys.com/contact-us/.
For More Information
QSC Press Contact:
Kristine Fowler | Sr. Digital Marketing & Global Communications manager
714.624.4527 | Email: [email protected] | qsys.com
Press Contact (EMEA & South Asia):
Sandra Rothe | Media & PR Manager
+49 7261 6595 372 | Email: [email protected] | qsys.com