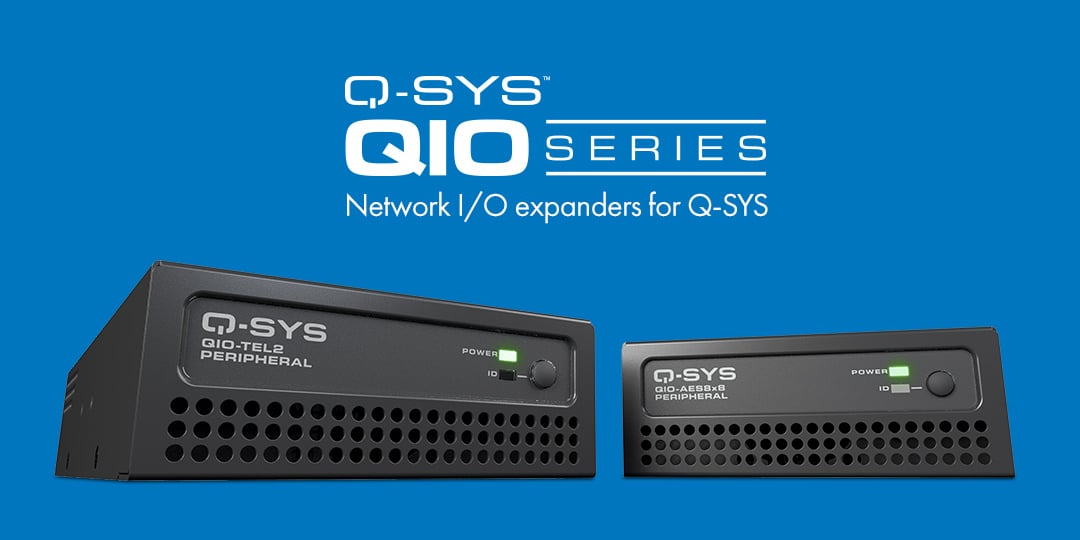 Q-SYS Expands Network I/O Peripherals
Enhancing solution flexibility and simplifying integration between digital audio and non-networked telephony systems
COSTA MESA, Calif., (November 9, 2023) – [De] – Q-SYS, a division of QSC LLC, introduces the latest additions to its QIO Series I/O peripheral portfolio: the QIO-AES8x8 and QIO-TEL2.
These new modular devices expand Q-SYS system capabilities to enable streamlined interoperability with non-networked audio and analog telephony systems. By decoupling local I/O from processing hardware, QIO Series devices allow users to place the I/O exactly where it is needed to support the desired topology.
The QIO-AES8x8 features eight (8) AES3 digital inputs and eight (8) AES3 digital outputs, allowing users to integrate a wide range of digital sources into their systems, including media servers, mixing consoles, digital audio workstations (DAWs), or other digital recording and playback devices.
The QIO-TEL2 integrates two PSTN (POTS) phone lines on standard RJ-11 connectors to integrate analog telephony systems into Q-SYS. The QIO-TEL2 is designed to handle PSTN subscriber lines, PBX phone and paging systems, and retrofit applications with ease.
"By adding these two options to the QIO Series, Q-SYS provides users with the flexibility and power to bridge the gap between legacy systems and modern, networked technologies and continue to deliver exceptional value to our customers," says Scott Wieser, Product Manager, Audio Processors and Peripherals, Q-SYS.
For more information on the QIO Series network I/O products, visit: qsys.com/qioaudioseries
About Q-SYS
Make AV smarter. Q-SYS is a cloud-manageable audio, video and control (AV&C) Platform built around a modern, standards-based IT architecture. Since its inception in 2009, it has been architected to deliver personalized, connected and engaging AV experiences.  With established solutions across corporate, education, hospitality, venues & events, cinema, government, healthcare, and transportation, Q-SYS redefines what is possible for live and virtual experiences by uniting hardware and software partners, developers, and creators.
Q-SYS and QSC Pro Audio are divisions of QSC, LLC. For QSC's legal entities and global presence, please see www.qsc.com/contact-us and www.qsys.com/contact-us
For More Information
QSC Press Contact:
Kristine Fowler | Sr. Digital Marketing & Global Communications manager
714.624.4527 | Email: [email protected] | qsys.com
Press Contact (EMEA & South Asia):
Sandra Rothe | Media & PR Manager
+49 7261 6595 372 | Email: [email protected] | qsys.com