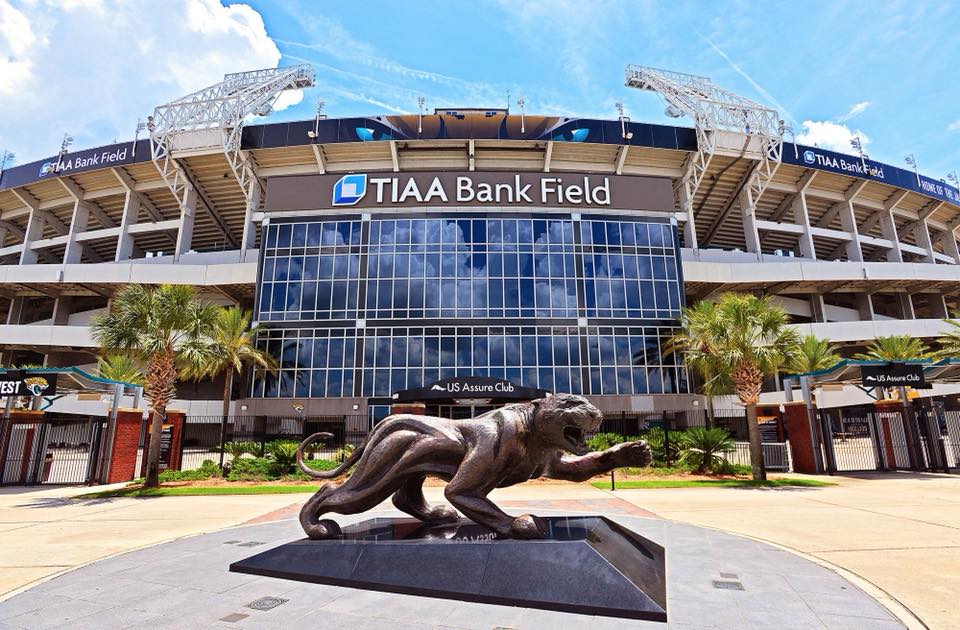 Q-SYS Ecosystem Expands at TIAA Bank Field
TIAA Bank Field, home of the NFL's Jacksonville Jaguars, has a history of setting a high bar for amazing in-venue experiences for their fans with improvements becoming a regular occurrence since its opening. A recent renovation called for new 50-yard line patios and an interactive fan entertainment zone complete with wading pools, party zone and a touchdown club all in need of AV. Leveraging the considerable amount of QSC equipment already in use, the stadium took advantage of the software-based architecture of the Q-SYS Ecosystem to scale into the new areas of the stadium.
The venue's AV system already featured redundant QSC Q-SYS Cores, Q-SYS I/O Frames, 148 Q-SYS CXD-Q Series network amplifiers along with Q-SYS TSC network touch screen controllers for user control. The venue partnered with integrator Florida Sound Engineering to complete the AV requirements of the project.
"With this project, the stadium more than doubled the number of video displays from the original 100 to more than 230," explained Neil Cooper, Senior Project Manager at Florida Sound Engineering. "We needed to find a way to enable easy control of these additional displays over IP, and most importantly, keep the solution within a tight budget."
Florida Sound Engineers were able to use the integrated, software-based control engine and processing headroom from the existing Core to scale into this new requirement without additional control processors or complicated programming to tie everything together. The team chose to deploy the displays alongside Global Cache iTach TCP/IP to Serial devices. These allow network connectivity for the new displays, but most importantly, they integrate easily into the Q-SYS Ecosystem via simple, drag-and-drop control plugins. This removes the need for any control programming, significantly reducing installation time and reducing project costs. Additionally, the Q-SYS UCI Editor allowed the team to quickly create custom user control interfaces that give users access to video source selection and audio controls for each display.
"Q-SYS is a great solution for this type of install," continues Cooper. "It allows us to easily add more functionality without worrying about how we are going to make it work with what is already installed. The venue is thrilled with the system, and we look forward to further expansions as the stadium evolves."