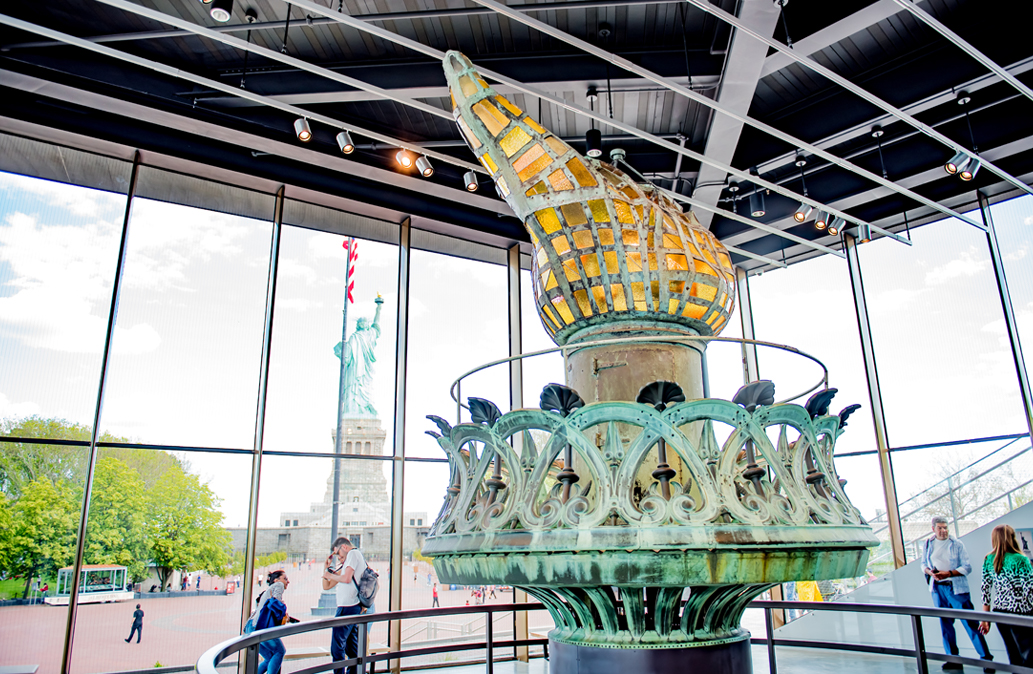 Q-SYS Delivers Immersive Audio Experience at the Statue of Liberty Museum
08/15/2019
The new Statue of Liberty Museum opened in May of 2019 and is expected to host over 4 million global visitors annually. Managed by the Statue of Liberty-Ellis Island Foundation, the museum will provide an opportunity for patrons to learn the story of the single most iconic symbol of immigration in the United States history. The foundation that manages the museum was looking for a forward-thinking AV solution to help them create an immersive audio experience, and they turned to the Q-SYS Ecosystem to help them deliver on that vision.
A Q-SYS Enterprise Core processor processed and routed network audio throughout the three main galleries in the 26,000 ft² museum. "The design of the sound system was critical to the overall success of the project," explained Steve Haas of SH Acoustics. "Q-SYS has a seemingly endless number of tools to direct the audio experience." The tour begins in the Immersive Theater, where visitors are immersed in both information and supporting soundscapes as they are guided through the history of the Statue of Liberty. All audio tracks are stored as .wav files on the Core processor's onboard media drive and played back via its built-in multitrack player through a massive matrix mixer that routes the tracks to the appropriate loudspeakers in the exhibit.
Sound effects were used to further enhance the overall immersiveness in the galleries. For example, oral histories from one gallery are punctuated by cannon shots from another gallery. "Q-SYS offered more than enough flexibility for what we were trying to create," explained Sound Designer Jeremy Bloom. "Each individual piece of the exhibit features a unique soundscape that complements nearby areas. From the complex routing to the equalization options, Q-SYS truly helped us deliver an exciting and educational experience."
Three global volume settings – one for three possible crowd sizes – were programmed into the design and activated via third-party control system. This gives staff a 'one-touch' volume solution that lets them focus on running the museum.
Additionally, six QSC CX302 amplifiers provide power to the "Becoming Liberty" exhibit. These 2-channel low-Z power amplifiers feature a DataPort connector that allows for networked control and monitoring via Q-SYS. "This was a complicated project to design and deploy," shared Steve Haas, "but the end result is really spectacular."