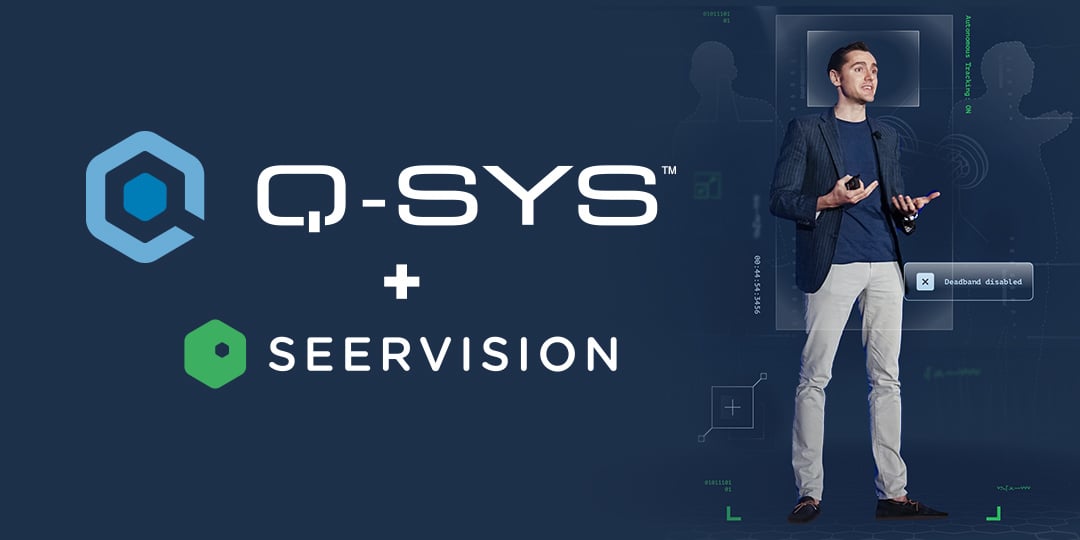 Q-SYS Completes Acquisition of Seervision
Bringing integrated AI to Q-SYS to deliver more engaging hybrid experiences in remote learning and high-impact collaboration spaces.
COSTA MESA, Calif., (August 3, 2023) – [Es, Fr, De] – Q-SYS, a division of QSC LLC, is pleased to announce the completion of its acquisition of Seervision, a Swiss-based industry pioneer in AI-driven camera automation software. This first integrated AI solution for Q-SYS will deliver a more engaging real-time remote experience, setting new standards for intelligent video in hybrid learning and high-impact collaboration spaces.
Starting August 7, 2023, Q-SYS customers will have the option to purchase Seervision solutions through Q-SYS sales channels in a select number of countries with a planned global phased rollout in additional countries in the coming months.
Seervision's AI and computer vision-based scene analysis enables best-in-class presenter tracking in higher ed or corporate collaboration spaces. Combined with Q-SYS Automatic Camera Preset Recall (ACPR) audio-based camera technology it extends the experience to include audience participation, ensuring that the far-end always sees who is talking. The result is a scalable, intelligent video solution capable of addressing the varying presentation and collaboration needs found in classrooms, lecture halls and high impact collaboration spaces.
"This is just the beginning of exploring what's possible as we begin to fully integrate Seervision into the Q-SYS Platform," says Jatan Shah, President & COO, Q-SYS. "With the addition of advanced Seervision technologies plus the engineering talent and resources from the Seervision team, we look forward to changing the landscape of intelligent video collaboration across many markets and applications."
"We want to uphold our steadfast commitment to support excellence with the rollout of this exciting new technology," says Anna Csontos, EVP, CMO and Chief of Staff, Q-SYS. "That is why each of these systems will be paired with Q-SYS support teams, who will provide initial design and commissioning support for Q-SYS + Seervision solutions, allowing customers to leverage our expertise to guide and optimize the integration process."
For more information about the first Q-SYS integrated AI solutions, please visit: www.qsys.com/seervision.
About Q-SYS
Make AV smarter. Q-SYS is a cloud-manageable audio, video and control (AV&C) Platform built around a modern, standards-based IT architecture. Since its inception in 2009, it has been architected to deliver personalized, connected and engaging AV experiences.  With established solutions across corporate, education, hospitality, venues & events, cinema, government, healthcare, and transportation, Q-SYS redefines what is possible for live and virtual experiences by uniting hardware and software partners, developers, and creators.
Q-SYS and QSC Pro Audio are divisions of QSC, LLC. For QSC's legal entities and global presence, please see www.qsc.com/contact-us and www.qsys.com/contact-us
For More Information
QSC Press Contact:
Kristine Fowler | Sr. Digital Marketing & Global Communications manager
714.624.4527 | Email: [email protected] | www.qsys.com
Press Contact (EMEA & South Asia):
Sandra Rothe | Media & PR Manager
+49 7261 6595 372 | Email: [email protected] | www.qsys.com