Government Case Study
Legislative Chambers:
South Carolina House of Representative Chambers
---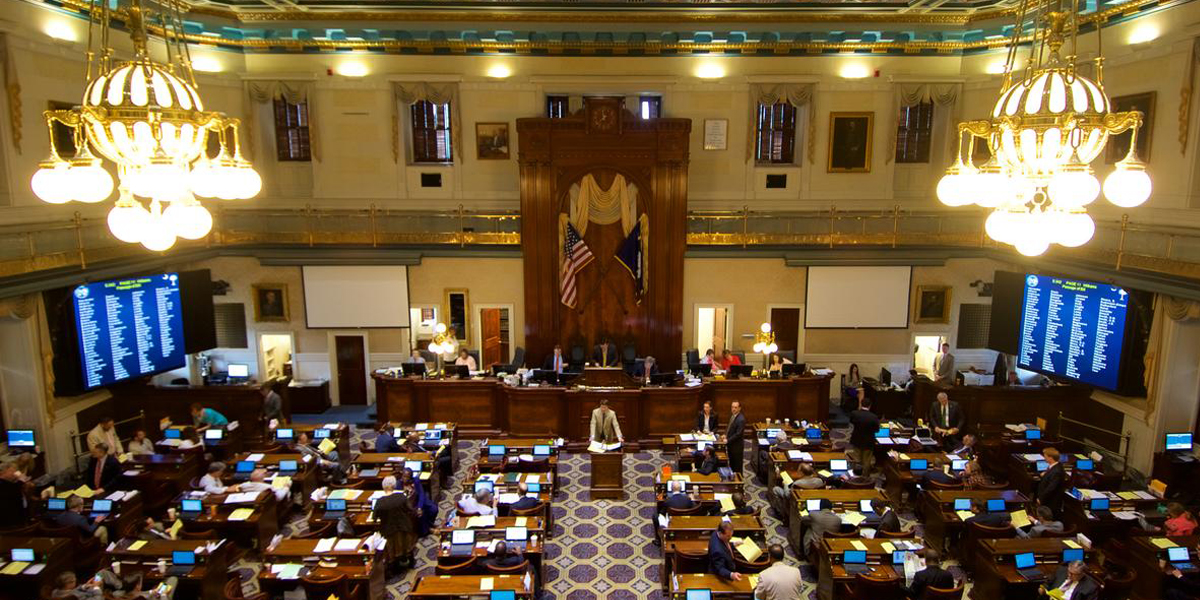 Challenges
The South Carolina House of Representatives, which is home to 124 part-time citizen legislators, recently oversaw a massive restructuring of the Chamber's AV facilities.
Preserve Character and Historical Significance: The Chamber is a very stately facility with more than 100 years of use with little physical structure or architect changes. This needed to be preserved throughout the AV upgrade.
Enhance Poor Acoustics: With naturally poor acoustic qualities, they needed a dramatic improvement on sound quality and a system that would carry the House into the future.
Mix-Minus Reinforcement: The system needed to handle 150+ microphone inputs with an extensive series of controls for mix-minus reinforcement.
"The Q-SYS Platform provides full Core processing, I/O Frame, amplifier, and loudspeaker remote control and status monitoring, as well as the capability for an advanced signal localization technique."
Michael Schwartz, Deliberative Designs Consulting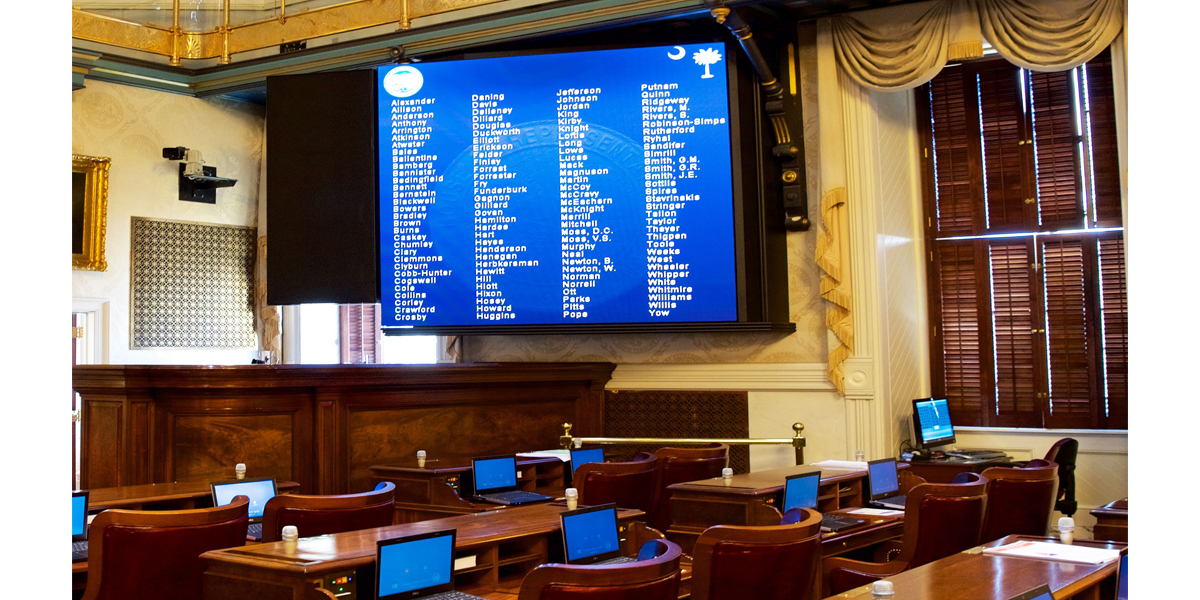 Solutions
Deliberative Designs Consulting implemented a QSC Q-SYS™ system with analog inputs and outputs to work with the existing equipment. This provided a completely new distributed and networked audio system that significantly improved the overall quality and speech intelligibility.
Microphones Just About Everywhere
On the input side of the equation, microphones are seemingly everywhere. These mics are switched on and off by the Q-SYS system. There are also 26 special event microphone inputs which can be selected via the Q-SYS GUI for hands-off automixing or mixed by a house technician on an iPad or computer.
Inputs, Outputs & Control
There are a total of thirty-six 16-channel Q-SYS I/O frames used in the system for inputs and outputs, in six discreet physical locations around the Statehouse and Chamber. These Core switches are routed to redundant QSC Q-SYS Core 4000 processors. An external control VLAN network port is also provided to a local Dell computer, which is used to control the cores from the Crestron system and connected control computers, and to run the Q-SYS Designer Software.
The Speakers in the House
All speakers are bi-amplified and driven by 18 individual QSC power amplifiers located throughout the facility, including CX1100 two-channel, CX168 eight-channel, and CX254 four-channel models.

Results
Augmenting an impressive assortment of video display and projection capabilities, the space is now home to a sophisticated audio system that incorporates loudspeakers, over 150 microphones, and a redundant networked QSC Q-SYS system for distribution, processing and control of the various audio assets.
Mix-Minus
"With this system, each desk and special input has an extensive series of controls for mix-minus including filtering, equalization, automatic gain control, compressor/limiters, and gain sharing automixer/matrix feeds," Schwartz explained. "The previous system's active feedback reduction system has been maintained, which allows increased system gain before feedback on each microphone. All outputs also have extensive drive processing, including multi-band dynamics, equalization and notch filtering, protection limiting, metering, etc."
For more information, download the complete case study.