Transportation Applications
The Q-SYS Ecosystem for audio, video and control solutions provide the highest levels of reliability, security and management control. Robust multi-zone paging platform includes live and delayed paging, page routing, event scheduling and store-and-forward. Q-SYS accommodates centralized processing as well as full redundancy, including backup failover options for processing, peripheral, amplification and networking. Enlist a full portfolio of dedicated Q-SYS paging peripherals or utilize virtual paging station options.
Airport
The Q-SYS Ecosystem provide airports with IT-friendly, distribution of critical video and audio including as well as full system redundancy for mission critical installations. The architecture also allows enhanced capabilities, such as full integration with messaging systems like SimpleWay – yet still allows airport administrators to override pre-recorded messages with live announcements. QSC also offers full compliment of paging station peripherals. An integrated, full-featured control engine within Q-SYS can control virtually an IP-based third party device, from message assembly to video signage distribution and more. Lastly, QSC offers a complete portfolio of loudspeakers in every enclosure type (surface, pendant, ceiling, column, SUB/SAT) that act as the perfect audio reinforcement compliment.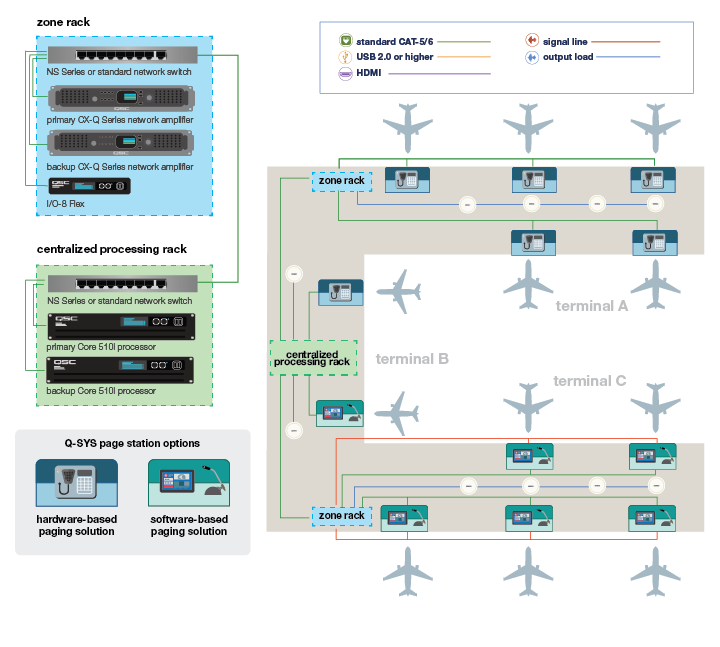 Rail
Q-SYS leverages existing IT networks for audio distribution within railway projects. Its software-based solutions eliminate redundant infrastructure while simplifying management via IT-friendly, Layer 3 discovery. Q-SYS systems also provide full system redundancy for mission critical installations and flexible administration levels for paging priority, including long-haul paging or emergency announcements via native WAN streaming or VoIP. Our extensive line of performance-matched ceiling and surface loudspeakers deliver high-quality, distributed sound in reverberant rail station environments.
Traffic Command Center
QSC solutions are ideal for mission-critical transportation traffic command centers. Server-grade centralized audio, video and control (AV&C) enable high channel density distribution of audio distribution, an absolute must for traffic command centers. Built-in paging functionality will also facilitate wide-area information sharing across multiple building. Lastly, you can take confidence that QSC solutions offer the most robust AV&C redundancy capabilities available today.