The Next-Generation of Audio, Video & Control
---
Q-SYS partnered with Dell to introduce an industry-first solution that combines the processing capabilities of the Q-SYS realtime operating system with the standard Dell R740 server.
The result is the Q-SYS Core 5200 Enterprise Processor, the only IT-grade solution available on the market that brings audio, video & control (AV&C) processing into the datacenter.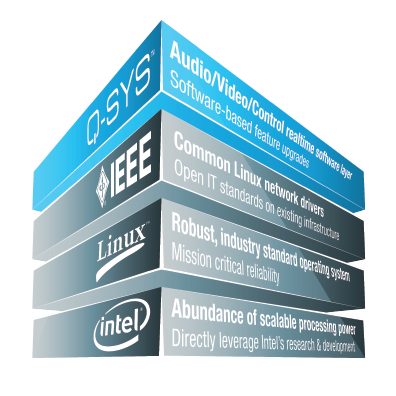 What is Q-SYS?
*Click each layer of the platform for more information
---
Q-SYS is a cloud-manageable audio, video and control platform designed with modern, standards-based IT architectures. At its foundation, the Q-SYS OS serves as the software-based singular foundation that drives and manages a multitude of Q-SYS Product within the platform, including native software, services and hardware. Additionally, its modern IT architecture and a set of development tools (called "Q-SYS Open") enable an entire Ecosystem of third-party integrations developed by approved/endorsed Q-SYS Partners as well as a worldwide community of Q-SYS programmers and developers.

At the top of the real-time processing engine is the Q-SYS AVC processing where real-time DSP lives and user facing functions such as acoustic echo cancellation, VoIP integration, AV Bridging, third party control, etc.

The entire range of Q-SYS Core processors and family of Q-SYS peripherals builds on the server-client philosophy, and leverages Intel chipsets rather than proprietary DSP chipsets.

Q-SYS leveraged the interoperability of IEEE standards to develop a collection of standards-based, Q-SYS-built Linux network drivers (Q-LAN, AES67, Dante, AVB, WAN streaming) that offer a much higher and more accurate process rate than what is typically availably on standard drivers.

Built on top of Intel, Q-SYS engineers started with a mainstream Linux operating system that is open source and developed customized real-time extensions to handle networked audio, video and control processing.
Benefits of Standard Server Solutions
---
Centralized Shared Resource
Takes advantage of the corporate infrastructure
Place your Q-SYS Cores alongside other building-wide IT
services such as VoIP, UC&C, security and access control
servers
Ability to serve all meeting, conference, presentation and lobby spaces from a single platform designed from the ground-up to
provide all of your AV&C requirements
Provides IT users peace of mind by utilizing the robust
engineering found in the Dell R740 server platform
Enables standard features such as dual redundant networking
and power supplies
Leverages Q-SYS, the most ubiquitous and capable processing platform available today
Utilize common hardware familiar to IT managers worldwide
Offers embedded Dell Remote Access Controller (DRAC) for
simple integration with existing IT asset management tools
Core 5200 Specifications & Resources
---
Connect to Q-SYS Reflect Enterprise Manager
This processor can be automatically connected to your Q-SYS Reflect Enterprise Manager, a powerful monitoring and management platform for the Q-SYS Ecosystem.
System Hardware Q-SYS Core 5200 Enterprise Processor
Description
System processor and control engine
Network Channel Capacity
512 × 512
AEC Processors
160
Q-SYS NM-T1 capacity
28
Multi-track Player capacity
16 tracks, expandable to 128 tracks
VoIP Instances
64
Gigabit Ethernet Ports
2 × for redundant network audio; 2 × for auxiliary network services such as VoIP, SNMP, LLDP, LDAP and WAN media streaming
All specifications are subject to change without notice.
Enterprise Meeting Room Examples
---
Here is a typical enterprise with different meeting room types throughout. Each room has its own requirements and can utilize the network differently. Here are a few examples:

Put AVC in the Datacenter…Where IT Expects It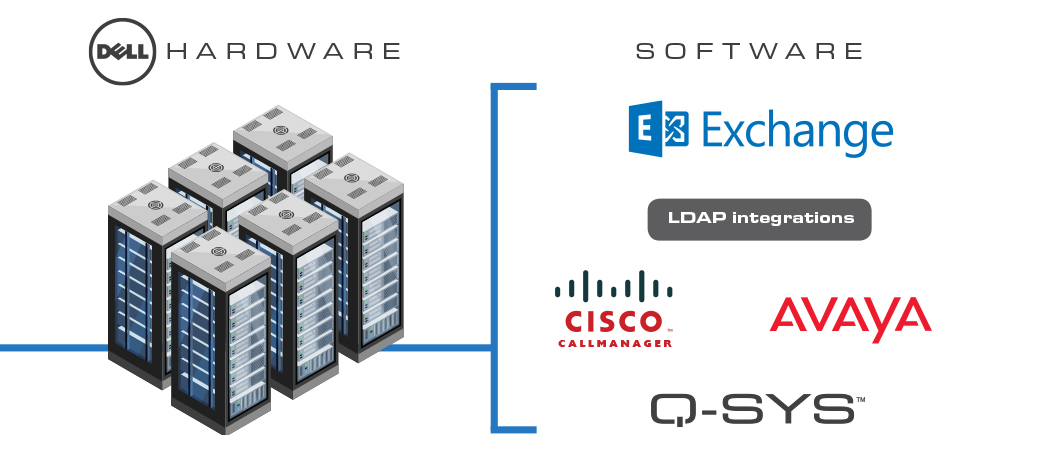 IT is accustomed to managing its centralized applications, such as email servers and call managers, in the datacenter. Putting Q-SYS on standard IT server hardware allows IT to run and manage AVC processing in the same environment and ecosystem as the rest of its applications.
Pure Centralized Processing with Digital I/O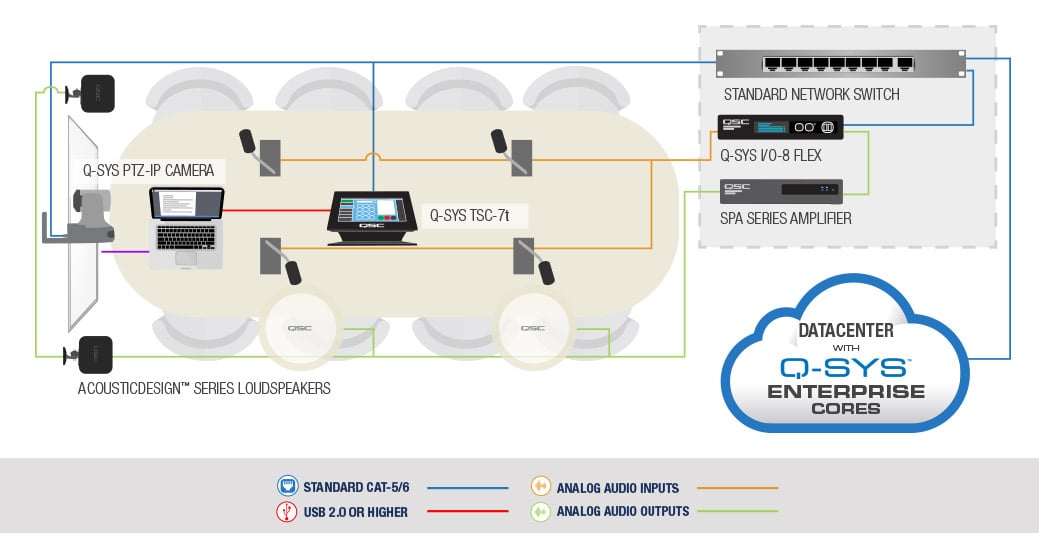 For some larger enterprises that take advantage of IP-enabled end point devices, meeting rooms may not need any local processing. To add audio I/O anywhere in the room, simply add a low-cost Q-SYS I/O-8 Flex Channel Expander. This paradigm allows IT to take full control of the meeting rooms just like any other application in their domain. This is the full experience of AV/IT convergence!
Medium-Sized Conference Room with Hybrid Processing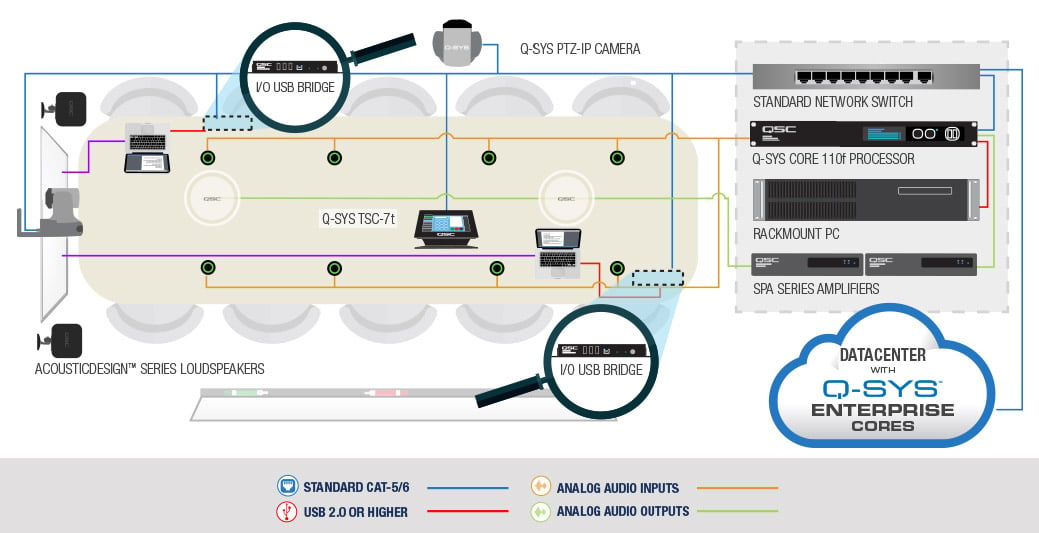 Meeting rooms can take advantage of centralized processing, but for mission-critical/highly secured areas like an executive boardroom, you can add in-room processors like the Q-SYS Core 110f or the new Q-SYS Core 510i. In this scenario, you can still use the Q-SYS Dell Server Core to centrally manage all of these special rooms.
Medium Boardroom + Huddle Room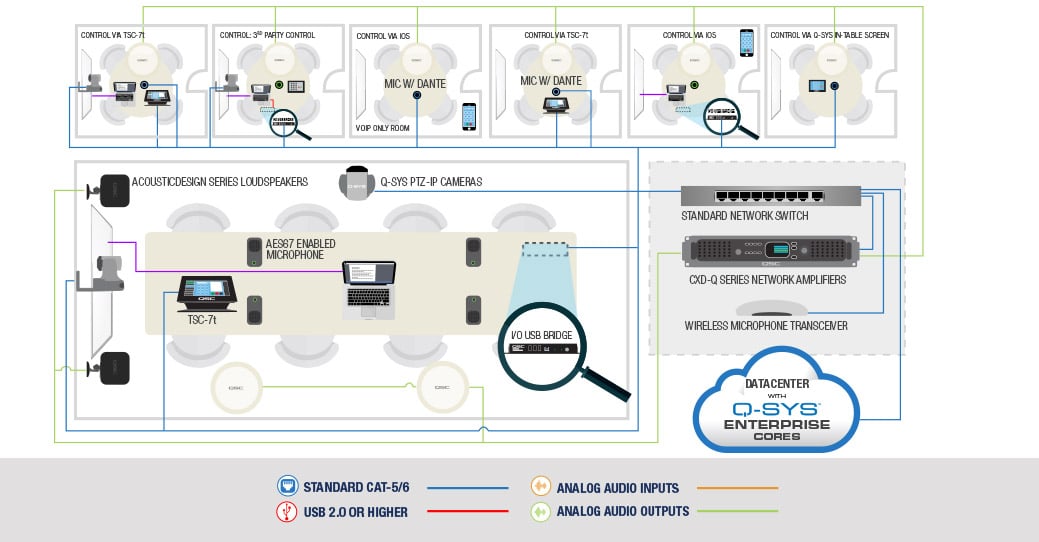 Centralized processing via Q-SYS Dell Server Core would serve as cost-effective audio, video and control processing for multiple huddle rooms as well as medium of larger rooms. Networked AES67-based microphones can provide inputs for the rooms, while Q-SYS networked amplifiers provide efficient power for the loudspeakers.
Multipurpose Room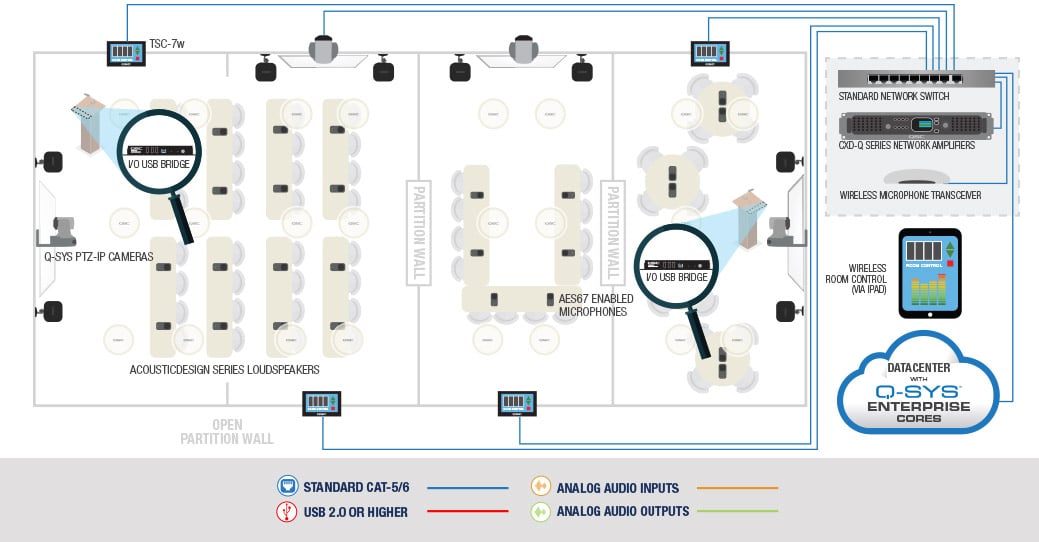 Multipurpose rooms are constantly reconfigured for various events. Centralized processing with Q-SYS Dell Server Core is perfect for rooms with ever-changing resource requirements because of the large available processing headroom and AEC channels. All rooms can be powered by networked CXD-Q Series amplifiers.