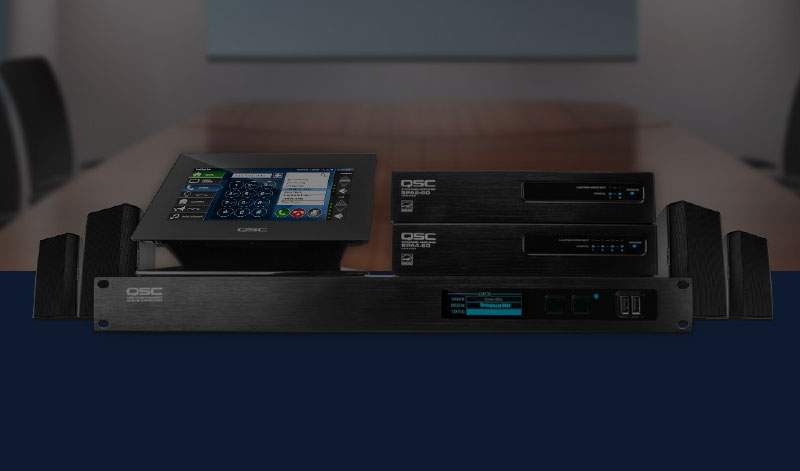 Control without Compromise
introducing Q-SYS Control
Control without Compromise
introducing
Q-SYS Control



Integrated
Eliminate costly integration by combining audio, video & control under a single OS

Simplified
Works with existing infrastructure, offers agile programming tools, and monitoring & management capabilities for your IT/AV team

Scalable
Accommodate changing business requirements without the need for dedicated control hardware or "rip-and-replace" scenarios

Q-SYS Control in Action
We threw down the gauntlet…LIVE! In 60 minutes, we showed you just how easy it can be to add full room control with little programming knowledge. All by utilizing Q-SYS Control!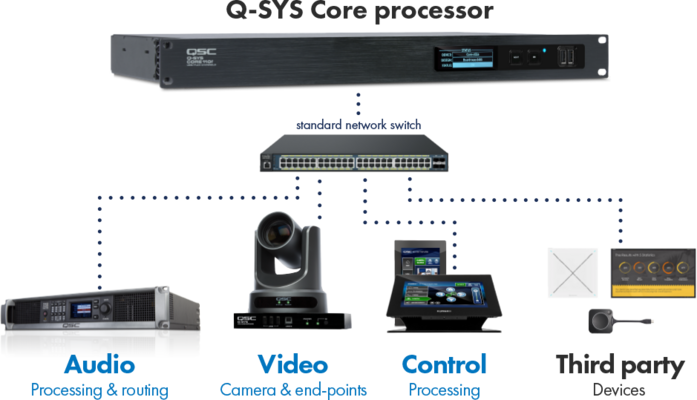 Integrated OS
Q-SYS brings audio, video and control together under the Q-SYS OS which drives a fully integrated Q-SYS Core Processor, eliminating unnecessary programming (and costly points of failure) for interconnecting separate audio DSP, control processor hardware and video peripherals.

From Schematic to Screen without Programming
Build robust user control interfaces (UCI) by simply dragging any Q-SYS DSP or control element from the Q-SYS Schematic into the new Q-SYS UCI Editor. Simple, one-button deployment for UCIs to any native Q-SYS touch screen controller from a single UCI, or hundreds of UCIs across an enterprise installation. Simplified Modern Scripting Tools
Tired of antiquated control programming tools, unsupported outside the AV community?
Q-SYS Scripting Engine uses modern, agile and widely-used programming technologies.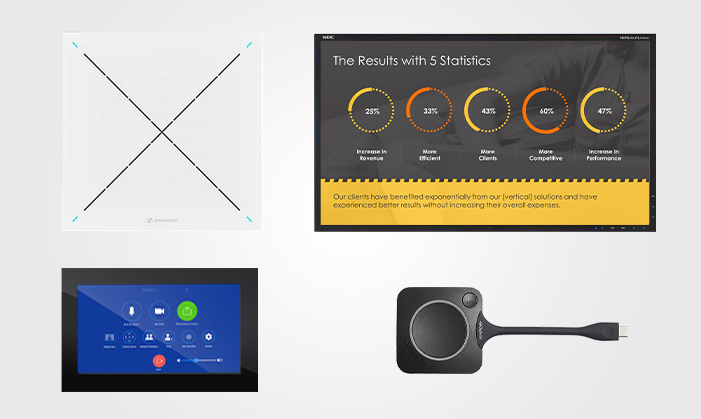 Simple Plugin Integration
Easily integrate some of the most commonly used elements of today's modern conference room with plugins developed by approved Q-SYS Partners.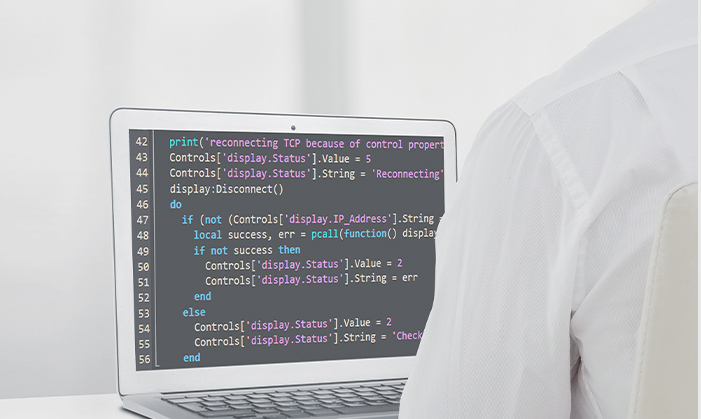 Full Featured Scripting
Text Controller component lets you create custom scripts using modern scripting languages including Lua, an open-source, IT friendly programming language. Also supports CSS to let you easily create and deploy styles across multiple UCIs.

New Visual Coding Tool
The new Block Controller component enables easy composition of sophisticated scripts. Based on a concept originally developed by Google and MIT, this open source visual programming tool uses interlocking, graphical blocks to represent common programming concepts. Ideal for the novice programmers.
Q-SYS Communities for Developers

Q-SYS Communities is a technical community of professionals and organizations that have come together to collaborate, create and deliver on the "art of possible" throughout the entire Q-SYS Ecosystem. Gain access to a wide array of unique development tools, direct access to Q-SYS engineers and Q-SYS Partners, and an online forum to exchange ideas with colleagues around the world.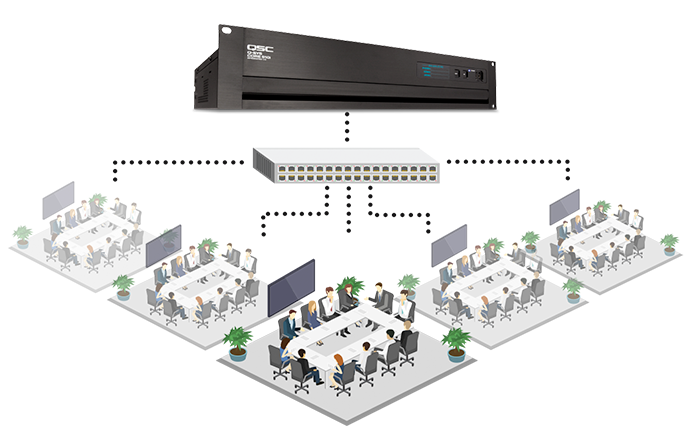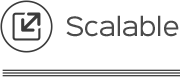 Add Rooms, Not Control Processors
The Q-SYS OS drives control from a single processor, allowing for centralized control and expansion of multiple rooms.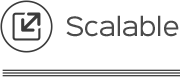 No "Rip and Replace" programming
Every Q-SYS Core processor, regardless of system size, is driven by the same Q-SYS OS, which offers the same full-featured control environment, providing a robust toolkit that supports the simplest rooms through the largest enterprise solution without compromising on capabilities.

As your solution scales, you'll never need to "rip and replace" your programming as you scale between Q-SYS Core processors.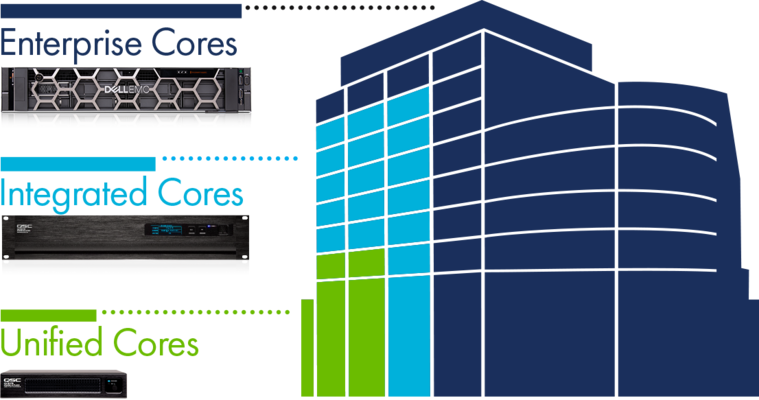 Remote monitoring and management for your AV&C systems
Powerful, simple-to-use monitoring and management platform with secure web technologies to assist in the fundamental support needs of IT/AV system administrators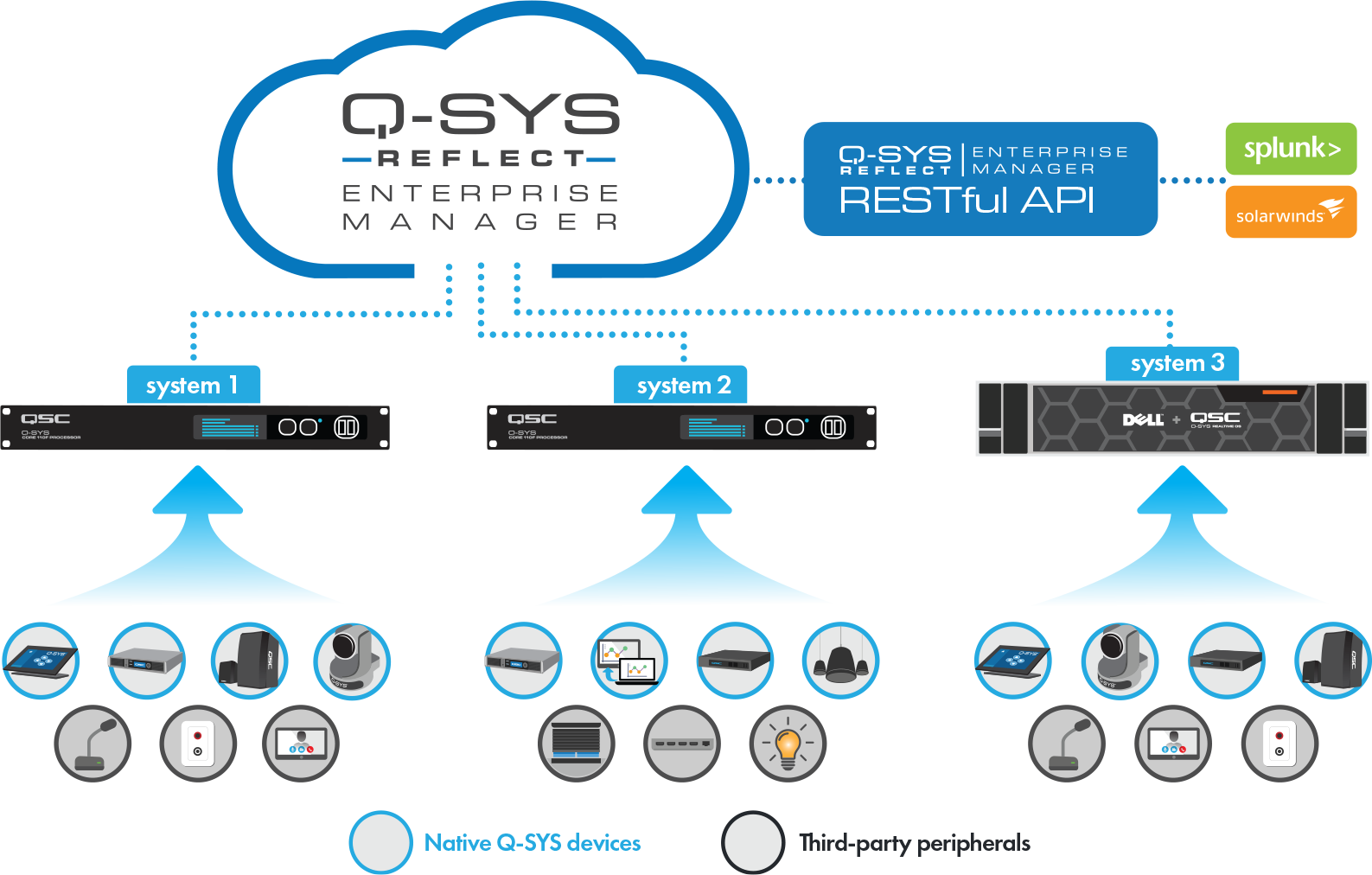 One place
for all your Q-SYS Cores
Confirm your Cores are up and running with the correct design file to gain peace-of-mind for out-of-sight Q-SYS Cores
Centralized feature license activation and management
Rest easy with cryptographically signed firmware releases
Provide a hassle-free way to add more Dante channels to your system
Upgrade Q-SYS Control capabilities in seconds
Painless remote AV
monitoring & management
Real-time status and event logs from all AV devices let you manage 1000s of devices across the globe, while focusing your daily support team activities on the right tasks
Centralize management of security profiles, audio playlists and visual signage for dynamic, global AV environments
Integrate AV assets with IT management systems to monitor your systems from a single pane of glass
Remote UCI helpdesk & remote system design/updates
Remote UCI control allows you to see and interact with your remote system's user control interfaces from a simple web browser
Customize access to align with your security environment via role-based access controls
Update design and redeploy to your system at any time, from anywhere
​​Remote firmware updates​​
Start a Free Trial Today!