SB-2180
Dual 18-inch Cinema Subwoofer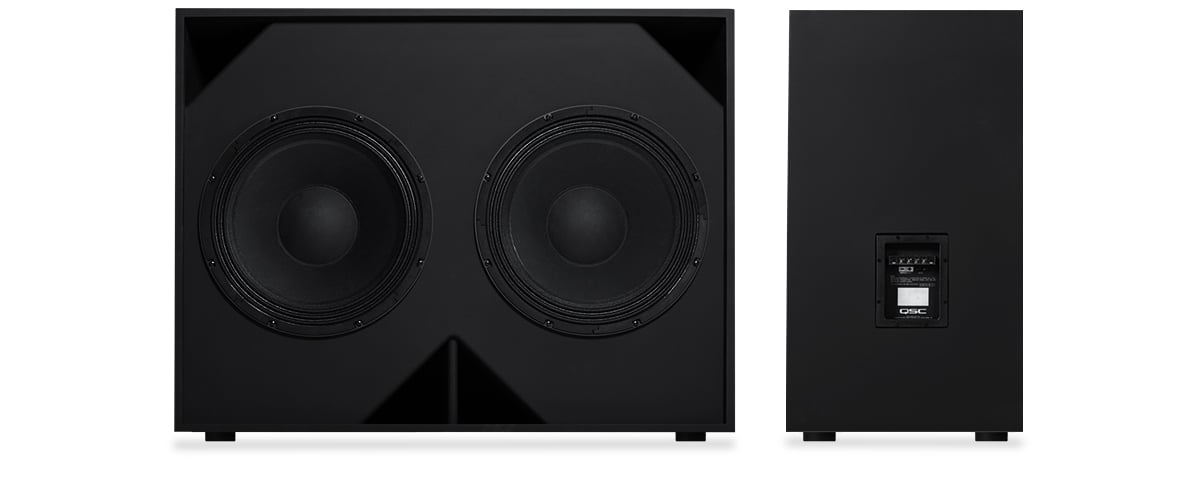 The SB-2180 features two 18" (457 mm) woofers with 4" (102 mm) voice coils for extended bandwidth low frequency reproduction. With an enclosure depth of less than 17 inches (452 mm), the SB-2180 is one of the narrowest dual-driver subwoofers available, which dramatically reduces space requirements behind the screen. A unique folded port design allows the enclosure to be extremely narrow, while maintaining full port length and volume.
---
Features
Optimized for cinema applications
Requires less than 17 inches (432 mm) behind screen
Two 18-inch (456 mm) woofers with 4-inch (100 mm) voice coils
Screw-type barrier-strip connectors
Specifications
SB-2180
Frequency Range1 (-10dB)
25 Hz to 150 Hz
Rated Noise Power (Voltage)2
1100 W
Sensitivity3
100 dB
Maximum continuous SPL4
130.4 dB
Maximum peak SPL4
136.4 dB
Rated Impedance
4Ω
Recommended Amplifier Power
2200 Watts
Transducer
Two 18-inch (457 mm) woofers, 4-inch. voice coils
Enclosure Details
Input Connector
4-position barrier strip
Enclosure Material
MDF, 19 mm
Grille
None
Dimensions (HxWxD)
33.15 x 42.5 x 16.5 inches (842 x 1080 x 420 mm)
Net Weight
187 lb (89 kg)
1 Half-space (2 pi), unprocessed, -10 dB from on-axis sensitivity
2 AES2-1984 noise signal for 2 hrs
3 On-Axis, free-field sensitivity, 2.83V, 1 m
4 Calculated from rated noise voltage and sensitivity
Specifications are subject to change without notice.