---
ZeeVee
ZeeVee is a global manufacturer of video and signal distribution technology for ProAV and IT markets. ZeeVee is installed in thousands of facilities worldwide where there is a need to transport HD/UHD content from multiple sources to multiple displays over long distances. ZeeVee is a founding member of the SDVoE Alliance and a Global Presence Alliance Technology Partner.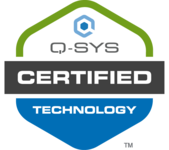 ZeeVee Zyper Management Platform
Integration: Q-SYS Control Plugin
ZyPer4K, ZyPerUHD and ZyPerUHD60 encoders and decoders enable you to send crystal clear high-resolution video, analog, and digital audio virtually anywhere you can run a network cable. By using industry-standard IP networking technology, ZeeVee enables the most scalable, flexible, cost-effective, and easily controlled way for sending nearly any HD video to any display across a room, enterprise, building, or stadium without using expensive, proprietary AV Matrix switchers.
Have a Plugin Idea?
Do you have a plugin/integration idea for this manufacturer/service provider? We'd love to hear about it so we can work with our valued Technology Partner to bring it to market. Your continued support helps Q-SYS and our Technology Partners deliver exceptional experiences.