---
Soundtrack Your Brand
Soundtrack Your Brand is a cutting-edge music streaming service specifically designed to enhance businesses' in-store experiences by providing tailor-made, fully licensed background music. By combining artificial intelligence and expert curation, the platform offers a vast selection of playlists and personalized soundtracks, allowing businesses to effortlessly match their brand's identity with the perfect ambiance. Through an easy-to-use interface, Soundtrack Your Brand not only helps businesses stay compliant with copyright laws but also delivers a unique, engaging atmosphere for customers, driving customer satisfaction and loyalty.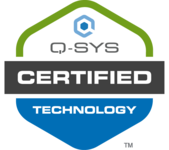 Soundtrack Your Brand Remote Player
Integration Type: Q-SYS Control Plugin
Description: This Q-SYS plugin allows you to log in to a Soundtrack Your Brand account and view the zones available in the account. The zones can then be selected so that you can individually choose a zone's active playlist or schedule. On the Player page you can view the album artwork for the current track that is playing, play/pause the track or skip the track. Volume control is also available so that you can remotely control the volume of the player. Multiple plugins can be added so that more than one zone can be controlled at a time. All of the controls in the plugin can be dragged over to a Q-SYS UCI and control pins or script access can be enabled for automation.