---
Perfect Octave
Perfect Octave provides business music services across a number of hospitality and corporate applications. Soloworks developed a Q-SYS Control plugin that allows businesses to integrate the Perfect Octave music service into Q-SYS.
---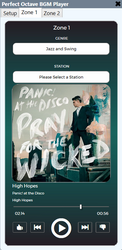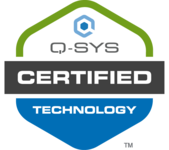 Perfect Octave Music Service
Integration Type: Q-SYS Control Plugin
Description: The Perfect Octave control plugin for Q-SYS enables a licensed business music service to integrate into Q-SYS without any additional hardware. It allows for multiple zones of independent music to be routed anywhere within your design and lets the user select from over 350 different curated music stations. Lastly, playback controls and station selection can be added to a Q-SYS touchscreen controller without any programming.
Available for download through Q-SYS Designer Asset Manager.
Have a Plugin Idea?
Do you have a plugin/integration idea for this manufacturer/service provider? We'd love to hear about it so we can work with our valued Technology Partner to bring it to market. Your continued support helps Q-SYS and our Technology Partners deliver exceptional experiences.