---
Lightware
Lightware is a leading manufacturer of DVI, HDMI and DP matrix switchers and extension systems for the Audio-Visual market. Lightware's goal is to recognize industry needs and develop the highest quality and highest performance products by continuously consulting with integrators, rental technicians, and design engineers.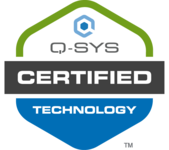 Lightware Matrix Switcher Control
Integration Type: Q-SYS Control Plugin
Description: Lightware Matrix Switcher Control is built to support Lightware™ Taurus UCX matrix switchers.
The Taurus UCX matrix switcher addresses challenges commonly presented in meeting rooms and collaboration environments. This hardware was designed to allow users quick, easy, and intuitive sharing of content, switching of hosts, and meeting room control. The Taurus UCX offers Full HDMI 2.0 compatibility allowing 4k 60hz 4:4:4 signals, USB-C Connectivity and charging up to 60W, USB 3.1 Gen1 connectivity and Host switching layer, Analog and Dante/AES67 audio de-embedding, Simplified and Automated Room Utility controls, and enhanced ethernet security features. Learn more at: https://lightware.com/product-families/taurus-ucx
Available for download through Q-SYS Designer Asset Manager