---
GUDE
GUDE is German manufacturer of reliable and high-quality power and monitoring solutions for over 30 years. Products of the family-run company aim at optimi¬zing and enhancing AV, IT and industrial infrastructure. Customers benefit from less downtime, lower electricity costs and an increased operational reliability. Plug-n-play drivers are available for major known AV manufacturers.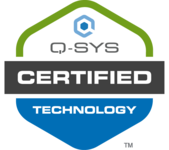 GUDE Expert Power Controller
Integration Type: Q-SYS Control Plugin
Description: The GUDE Expert Power Controller plugin allows control and monitoring of any GUDE Expert power device that utilizes their http/https API. The plugin allows you to discretely control power outlets, and monitor the voltage, current, and power of Inlets and Outlets on GUDE devices within the Q-SYS environment. Sensors can also be monitored to give you live data on temperature, humidity, and more! All of these controls and statuses can be easily dragged onto a Q-SYS UCI and/or automated via control pins.