---
Epiphan Video
Epiphan Video produces world-class, award-winning audio visual solutions to capture, scale, mix, encode, stream, record and play high resolution video including 4K UHD. Our customers include companies that specialize in live event production, education, healthcare, worship, manufacturing, usability, collaboration, security and transportation.

Epiphan's field-proven product line includes live video production and video streaming systems, external USB-based video grabbers for capturing video and graphics from DVI, HDMI™, SDI and VGA sources, internal video capture cards and social media streaming devices. Our products are designed in North America and backed by rock-solid technical support.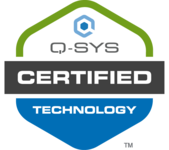 Epiphan Pearl
Integration: Q-SYS Control Plugin
Integration Type: Certified
Description: Epiphan Pearl is your ideal video-hardware solution for lecture capture, live events and one-button studios. Supported with smart cloud tools and an even smarter support team, Pearl turns any Q-SYS room into a studio that enables professional video capture, enhancement, streaming, and recording to deliver broadcast quality video anywhere. By using the Epiphan Pearl plugin, Q-SYS users can easily monitor all audio and video inputs, start and stop recordings and livestreams, switch layouts, and manage multiple channels independently. The controls in the Epiphan Pearl plugin can be automated through control pins or scripting, and can be dragged onto a Q-SYS UCI to streamline live or recorded events. This plugin is compatible with Pearl-2, Pearl Mini, and Pearl Nano.