---
Datapath
Datapath is a leader in video processing technologies for command-and-control environments, creative multi-display video walls, and multi-screen applications in corporate settings. As an expert in capture and graphics technology since 1982, Datapath offers a comprehensive range of software and hardware designed to meet any requirement, with their latest Aetria solution allowing users to design, manage and operate complete systems from a single interface.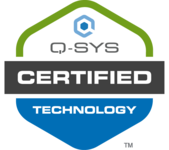 Datapath Aetria
Integration Type: Q-SYS Control Plugin
Description: Aetria is Datapath's solution for the complete design, management, operation and monitoring of control rooms. By connecting workstations, video walls and content, Aetria gives system integrators the freedom to design and deploy the right solution, while enabling operators to focus solely on their core objectives.
The Datapath Aetria plugin for Q-SYS allows for control of up to ten Datapath Aetria walls. Layouts, Sources, and Cell Locations can be selected and routed for each wall. Windows can also be opened and their size and location can be configured on each individual wall.
Have a Plugin Idea?
Do you have a plugin/integration idea for this manufacturer/service provider? We'd love to hear about it so we can work with our valued Technology Partner to bring it to market. Your continued support helps Q-SYS and our Technology Partners deliver exceptional experiences.