---
AVPro Global Holdings
AVPro Edge specializes in full bandwidth audio-video distribution. Working alongside HDMI, HDBaseT, and HDCP, we pride ourselves on developing uniquely engineered solutions for today's integrator. From 18Gbps matrix switchers and video wall processors to HDMI extension products and AV-over-IP, AVPro Edge's product line-up is diverse. We don't believe in throttling features but in providing integrators with cutting-edge, affordable solutions. And we design each of our solutions to exploit every capability of the chipset inside. Ultimately, AVPro Edge sets itself apart from the competition with built-in features like scaling, test patterns, audio de-embedding, and audio downmixing. As an original equipment manufacturer, we are so confident with the reliability of our products that we offer an industry-leading ten-year manufacturer's warranty. At AVPro Edge, we continue to push audio-video technology into the future and make sure our customers receive dependable products along the way.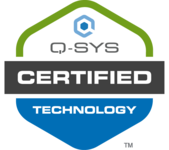 AVPro Edge MXNetSuite
Integration Type: Q-SYS Control Plugin
Description: MXNet is the AV over IP video distribution ecosystem from AVPro Edge. With the MXNet Ecosystem, integrators finally have an end-to-end solution developed with them in mind. Our engineering team focused on three things, stability of the entire system, interoperability with any HDMI source, display, USB device, or control system, and easy deployment of the entire system. MXNet allows for unlimited sources, displays, USB devices & video walls; MXNet is the perfect video distribution system for your next installation.
Have a Plugin Idea?
Do you have a plugin/integration idea for this manufacturer/service provider? We'd love to hear about it so we can work with our valued Technology Partner to bring it to market. Your continued support helps Q-SYS and our Technology Partners deliver exceptional experiences.