---
AudioScience
AudioScience designs and manufactures DSP based digital audio peripherals for the OEM, broadcast, installed sound and entertainment markets. AudioScience developed a plugin that integrates their Iyo Dante™ family of microphone/line audio-over-IP (AoIP) interfaces into the Q-SYS Ecosystem.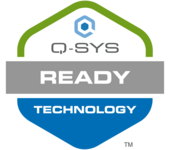 Iyo Dante™ Microphone/Line AoIP Interfaces
Integration Type: AES67, Custom Q-SYS Control Plugin
Description: Iyo Dante™ AoIP interfaces are available in channel capacities from 8x8 to 32x32 and also offer an AES67 interoperability mode. The Q-SYS plugin enables full configuration and monitoring of all Iyo Dante™ product variants (in AES67 mode), without the need for complicated programming or costly control processing hardware.
Available for download through Q-SYS Designer Asset Manager.