QIO-S4
Expansor de E/S en red para Q-SYS
<
QIO-S4 de Q-SYS amplía las capacidades de su sistema Q-SYS mediante conexiones seriales que permiten la interoperabilidad con dispositivos de control que no estén conectados a la red. Al separar las E/S locales del hardware de procesamiento, la Serie QIO ofrece E/S en red fácilmente escalables para cubrir la topología deseada.
---
Características y ventajas
Solución nativa de conexión serial en red para Q-SYS
Cuatro (4) puertos seriales RS-232 bidireccionales
Un puerto incluye compatibilidad con RS422 y RS485
Alimentación a través de Ethernet (PoE)
Se pueden encadenar hasta cuatro expansores QIO con un solo cable de red (con alimentación DC local encadenada)
Integración drag-and-drop sencilla y administración completa a través del software Q-SYS Designer y Q-SYS Reflect Enterprise Manager
Montaje en superficie o en rack (1RU, cuarto de ancho)
Incluye accesorios de montaje en superficie
Conectividad de puerto serial en red allí donde lo necesite
QIO-IR1x4 le permite aportar más flexibilidad a su sistema Q-SYS para poder instalar conexiones de control de serie donde sea necesario. La QIO-S4 dispone de cuatro (4) puertos seriales RS-232 bidireccionales (uno de ellos compatible con RS422 y RS485), que permiten a Q-SYS controlar sistemas de luces, pantallas, sistemas de conferencias y otros. Además, todos los expansores de E/S de la Serie QIO son de tamaño reducido, por lo que pueden montarse en rack o en superficie.

Mayor personalización de E/S
La Serie QIO está pensada para ofrecer una forma fácil de añadir conexiones de E/S en red a los sistemas Q-SYS, desvinculando la ubicación física de la E/S del hardware de procesamiento y así poder funcionar con arquitecturas de procesamiento centralizadas o distribuidas. Además, la Serie QIO permite personalizar la configuración de E/S y complementa a los nuevos Cores de Q-SYS, que se diseñaron con menos E/S (Core Nano, Core 8 Flex ó NV-32-H [Core Capable)).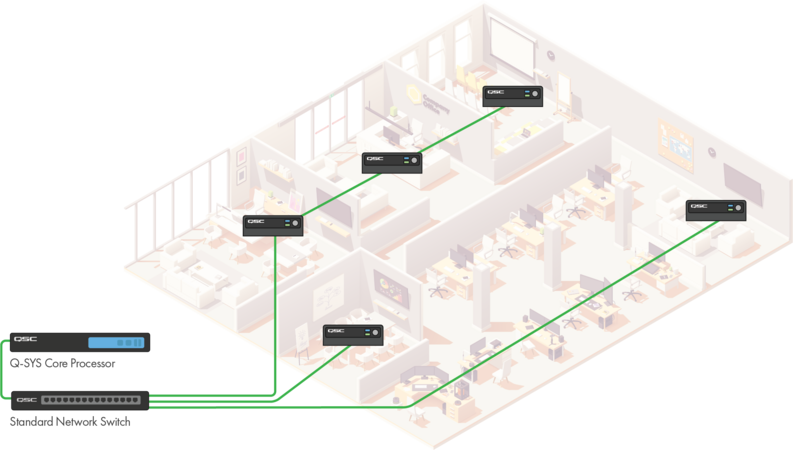 Sencillez y escalabilidad
Encadene hasta cuatro dispositivos de la Serie QIO de Q-SYS con un solo cable de red (con alimentación DC local en cadena) para utilizar menos puertos de red, evitar el desorden en los racks y permitir ampliaciones futuras de forma más rápida sin tener que conectar más cables de red. Opcionalmente, la Serie QIO también admite PoE, lo que permite hacer una conexión sencilla de un solo cable cuando los dispositivos no están en cadena.
Diseño exclusivo para Q-SYS
La serie QIO ofrece una personalización de E/S en red nativa a Q-SYS, una plataforma de audio, video y control administrable en la nube, creada para ofrecer soluciones audiovisuales escalables y flexibles de cara al futuro. Más información sobre Q-SYS.
Specificiations
QIO-S4
Serial Ports
RS-232 / RS-485 / RS-422
One (1) port, configurable protocol, baud rate, and flow control
RS-232
Three (3) port, configurable protocol, baud rate, and flow control
Other Connectors
External power supply
24 VDC nominal, 2.5 A on Euro connector with second connector for daisy-chaining (QIO-PSU power supply sold separately)
LAN (PoE)
Gigabit LAN connection for Q-LAN, PoE
PoE specification
Conforms to IEEE 802.3af Type 1
LAN (Thru)
Ethernet daisy-chaining
General
Dimensions
5.5 x 4.25 x 1.59 in (139.7 x 108 x 40.4 mm)
Weight
1.18 lb (0.54 kg)
Mounting options
Surface- and wall-mountable (hardware included) Rack-mountable; 1RU, quarter-rack width (QIO-RMK rack kit sold separately)
Environmental
Ambient operating temperature range
0°C to +50°C
Humidity
0%-85% through 30°C non-condensing
Storage temperature
-20°C to +70°C
Compliance
FCC 47 CFR Part 15, IC ICES-003, CE (EN55032, EN55035), EU RoHS directive 2011/65/EU, WEEE directive 2012/19/EU, China RoHS directive GB/T26572, EAC, UL, C-UL, NOM-019
All specifications are subject to change without notice.