Q-SYS PL-DC26
Altavoz de fuente puntual, de 2 vías y doble unidad de 6 pulgadas con control de direccionalidad
El Q-SYS PL-DC26 es un altavoz de fuente puntual pasivo de 2 vías con control de direccionalidad. Ofrece un sonido premium en una gran variedad de espacios para aplicaciones de entretenimiento, hotelería, empresariales y de enseñanza superior. Este modelo de 2 vías y doble unidad de 6 pulgadas ofrece una trompeta reconfigurable y giratoria, que brinda una cobertura simétrica o asimétrica para un mejor control sobre el lugar donde debe oírse el sonido. Con ello, el modelo PL-DC26 proporciona la flexibilidad y adaptabilidad para ser instalado como relleno para el escenario, retardo o relleno para completar la cobertura perdida bajo los balcones.
---
Características
Dos woofers de 6 pulgadas y driver de compresión de agudos en una caja acústica con bass-reflex
Cajas acústicas reforzadas para soportar las inclemencias del tiempo (IP54) en espacios interiores y en exteriores protegidos
Incluye trompeta giratoria y reconfigurable por ensambles para un mejor control en la cobertura del sonido
Combinándolos con los amplificadores de red Q-SYS CX-Q de 4 canales se accede a ecualizaciones y perfiles de altavoces a medida para un mejor rendimiento sonoro en las instalaciones más sencillas
Varias opciones de montaje disponibles para diversos espacios y recintos
Ventajas
Ofrezca el sistema ideal a sus clientes: El modelo PL-DC26 cuenta con dos transductores de 6 pulgadas y un driver de compresión de agudos en una caja acústica con bass-reflex que ofrece una solución de alto desempeño en gran variedad de aplicaciones. Además, su trompeta reconfigurable y giratoria asegura una cobertura apropiada del sonido. Si se combina con los amplificadores en red de Q-SYS, las ventajas aumentan de forma considerable: desde perfiles de altavoces y garantías de protección, hasta telemetría avanzada, que ayuda a acelerar la implementación y ofrecer una experiencia de operación del sistema óptima.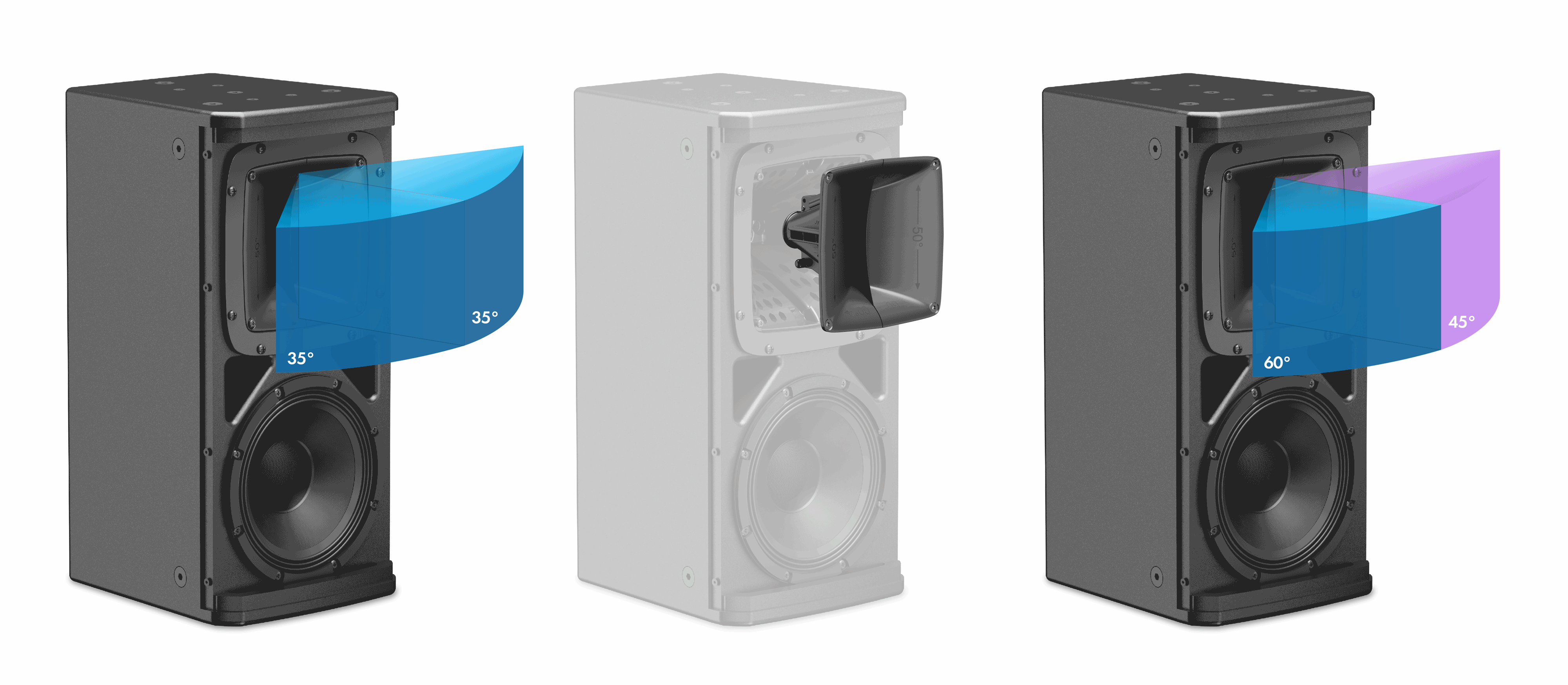 Control y monitoreo totales en espacios de entretenimiento: Implemente una interfaz de control de usuario intuitiva para cualquier operador del recinto. De forma similar, añada Q-SYS Reflect Enterprise Manager para monitorear y permitir la visibilidad del sistema, incluso cuando un técnico no se encuentra presente y que así pueda identificar y solucionar problemas desde cualquier navegador web.
Una experiencia Q-SYS impecable: Los altavoces de la Serie PL forman parte de la completa gama de productos del sistema Q-SYS, que ofrece una experiencia completa de audio, video y control en todo el recinto.
SPECIFICATIONS
PL-DC26
Transducers
LF: 2x 6 in (170 mm), 1.7 in (44 mm) voice coil, neodymium
HF: Compression driver, 1.75 in (44 mm) voice coil
Enclosure Configuration:
Two-way, passive point source loudspaker in bass reflex enclosure
Coverage (horizontal x vertical):
Symmetrical: 120° x 50°, 90° x 50°
Asymmetrical: 105° x 50°
(Reconfigurable half horn assemblies included)
System Sensitivity
102.2 dB @ 1 W/1 m
Max SPL* (continuous)
121 dB
Enclosure Material:
Exterior plywood
Enclosure Color:
Black (RAL 9011)
Weatherization
IP54
External plywood
Stainless screws
Treated grille vs. UV and corrosion
Hydrophobic stainless steel mesh behind grille
Polyurea Paint
Input cup (IP65) sealing with gland
Recommended Amplifiers
Q-SYS CX-Q 8K4 (up to 4 per ch)
Q-SYS CX-Q 4K4 (up to 3 per ch)
Q-SYS CX-Q 2K4 (up to 2 per ch)

*1 m on-axis in free space; continuous IEC noise 6 dB crest factor into power rating
All specifications are subject to change without notice.