---
Caracteristicas
128 canales de audio en red (Q-LAN / AES67)
24 canales con E/S analógicas, incluidos 8 canales Flex configurables
16 procesadores AEC
Hasta 32 × 32 canales de audio Dante (8 × 8 incluidos)
AV Bridging USB (16 × 16 canales de audio + compatibilidad Q-SYS con cámara)
Motor Q-SYS Control con todas las características (con licencia de características opcional)
Host de dispositivos de audio USB externos
Hasta 4 instancias de VoIP
16 × 16 GPIO
Capacidad de E/S líder en su clase: El Core 110f cuenta con 24 E/S + USB, POTS y VoIP simultáneamente, lo que ofrece el mejor costo por E/S en un producto de un solo SKU y chasis disponible en el mercado.
8 Flex Channels: Casi toda la flexibilidad de una solución DSP basada en tarjetas, sin la molestia de varios SKU y pedidos personalizados.
Verdadera integración de software TI: El ecosistema de software Q-SYS™ es una verdadera solución de integración informática, sin las limitaciones del hardware físico presentes en los productos de la competencia. Ofrece mejores funcionalidades, como el enrutamiento de Capa 3, integración de servidor de contacto LDAP, monitoreo SNMP, así como lo último en seguridad basada en software para sus sistemas de AV, entre las que encontrará actualizaciones de firmware firmadas criptográficamente, y transporte y almacenamiento cifrados de datos.
Paquete de aplicaciones tecnológicas de aplicaciones de conferencia basadas en software: Creado y controlado desde cero por QSC, permite el perfeccionamiento continuo, sin necesidad de hardware adicional. El paquete incluye AEC (cancelación de eco acústico) de tercera generación, softphones SIP multi-instancia, mezcladores automáticos de ganancia compartida y de compuerta, y control de acceso basado en roles.
Plataforma unificada de software: El integrador dispone de una inversión de capacitación única en una herramienta de diseño de software, en lugar de tener que aprender varias plataformas para escalar desde sistemas pequeños a grandes.
---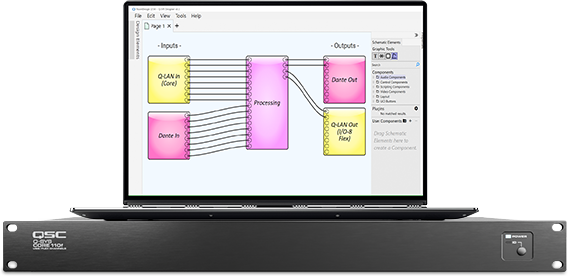 Configuración de canales disponibles (Core 110f):
8x8 | 16x16 | 32x32
REQUISITOS DEL SISTEMA: Para instalar Dante basado en Software, sus diseños de Q-SYS deben estar instalados con la versión 8.3.1 o superior del software Q-SYS Designer.

Disponible próximamente en otros modelos de Q-SYS Core
---
Model Core 110f
Input Frequency Response
20Hz to 20kHz @ +21dBu
+0.05dB/-0.5dB
Input THD+N @ 1KHz
@ +21 dBu Sensistivity & +21 dBu input
< 0.1%
@ +21 dBu Sensistivity & +10 dBu input
< 0.0015%
@ +10 dBu Sensistivity & +8 dBu input
< 0.0007%
@ -10 dBu Sensistivity & -10.5 dBu input
< 0.0006%
@ -39 dBu Sensistivity & -39.5 dBu input
< 0.007%
EIN (no weighting, 20Hz to 20kHz)
< -121dB
Input to Input Crosstalk @1kHz
>110dB Typical, 90dB Max
Input Dynamic Range
@ +21 dBu Sensitivity
> 109.5dB
@ +10 dBu Sensitivity
> 106.4dB
@ -10 dBu Sensitivity
> 104.6dB
@ -39 dBu Sensitivity
> 104.6dB
Input Common Mode Noise Rejection
@ +21 dBu Sensitivity
@ +10 dBu Sensitivity
56.5
@ -10 dBu Sensitivity
73.2
@ -39 dBu Sensitivity
63.2
Input Impedance (balanced)
5K Ohms Nominal
Input Sensitivity Range (1dB Steps)
-39 dBu min to +21 dBu max
Phantom Power
+48v DC, 10mA per input max
Sampling Rate
48kHz
A/D – D/A Converters
24-bit
Overall Dimensions/Weight
Device Height: 44 mm (1.75 in) Device Width: 483 mm (19 in) Device Depth: 282.5 mm (11.12 in) Device Weight: 5 kg (11 lb) Shipping Height: 152 mm (6 in) Shipping Width: 584 mm (23 in) Shipping Depth: 356 mm (14 in) Shipping Weight: 5.6 kg (12.4 lb)
Output Frequency Response
20Hz to 20kHz @ all settings
+0.2/-0.5 dB
Output THD
0.003%, +10 dBu Max output level
Output Crosstalk @1khZ
>100dB Typical, 90dB max
Output Dynamic Range
>108dB
USB B
Bit Depth
Selectable 16-bit, 24-bit
Number of Channels
up to 16 × 16
Sample Rate
48kHz
Output Impedance (balanced)
220 0hms
Output Level Range : (1dB Steps)
-39 dBu min to +21 dBu max
Power Consumption
60 watts, typical. 120 watts max
BTU/Heat load:
205 BTU/Hour
Compliance
FCC Part 15B (USA), FCC part 68 / TIA-968-B (USA), JATE (Japan), AS/ACIF S002 (Australia), PTC200 (New Zealand), ES203 021 (Europe), ANATEL Resolution 473 (Brazil), NOM-151-SCTI (Mexico), PSTN01 (Taiwan), Industry Canada CS-03 (Canada), CE marked (Europe), UL and C-UL listed (USA & Canada), RCM (Australia), EAC (Eurasian Customs Union) & RoHS Directive (Europe)
All specifications are subject to change without notice.