Q-SYS™ offers a suite of tools that provide sophisticated paging and messaging functionality to support any-sized paging application including convention centers, transportation terminals, theme parks and more. Q-SYS offers a number of paging-specific advantages that sets it apart from alternative approaches:
• Simple, integrated Ecosystem: Q-SYS enables paging with simplified bills of material including playback, record, and store-and-
forward.
• Ample paging capacity: With Cores supporting up to 1024 total network channels.
• Page Stations: Built to withstand the riggors of daily use, all page stations are powered over Ethernet and offer
secure access, high-fidelity gooseneck or handheld microphones, and capacitive touch buttons.
• Scriptable control: Allowing paging functions to be added or customized as needed.
• PA Router: Supports live and delayed paging, scheduled messaging, announcement recording, live page routing,
triggered playback, and event scheduling.
Q‑SYS Networked Page Stations
Available with either gooseneck or handheld microphone (push to talk), the Q-SYS Networked Page Station is a dual-port network device that is fully configurable from Q-SYS Designer. Each station connects to a Q-SYS system via Q-LAN, which handles all audio deliveries to and from the station.
SELECT A MODEL
PS-1600H
PS-1600G
PS-1650H
PS-1650G
Assignable Command Buttons
4
(A-D)

4




(A-D)

16
(A-P)

16




(A-P)

Numeric Keypad
Yes

Yes

No

No

Total Buttons
16

16

16

16

Microphone Type

PTT Handheld


Gooseneck

PTT Handheld

Gooseneck

Automatic Logoff Timeout
Yes

Yes

No

No

Logon Requirements
Yes

Yes

No

No

User Restrictions
Yes

Yes

No

No

Details
Details
Details
Details
All specifications are subject to change without notice.
Secondary Remote microphone for Page Stations

Fully compatible with all Q-SYS systems, and designed to be wall mounted in a standard U.S. 2-gang electrical box, the Page Station Expander (PS-X) plugs into the rear of any Q-SYS Page Station via Cat 5e cable and provides an additional handheld microphone. Thus, allowing one Page Station to serve two locations.
Q-SYS technical support is available 24/7 - worldwide.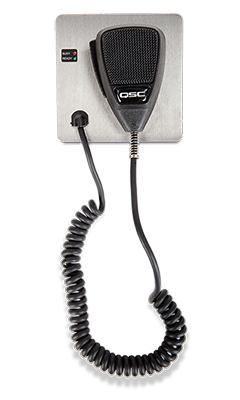 Public Address Router
Included in Q-SYS Designer Software (version 2.0 and higher)
Q-SYS Designer software includes the Public Address Router, a suite of functions to support public address applications. Most of these functions may be deployed whether or not the Q-SYS system incorporates QSC page stations. Alternative interfaces such as touch screen controllers may also be used in conjunction with analog microphones. All of these functions are executed by the Q-SYS core with no additional hardware "boxes" required.