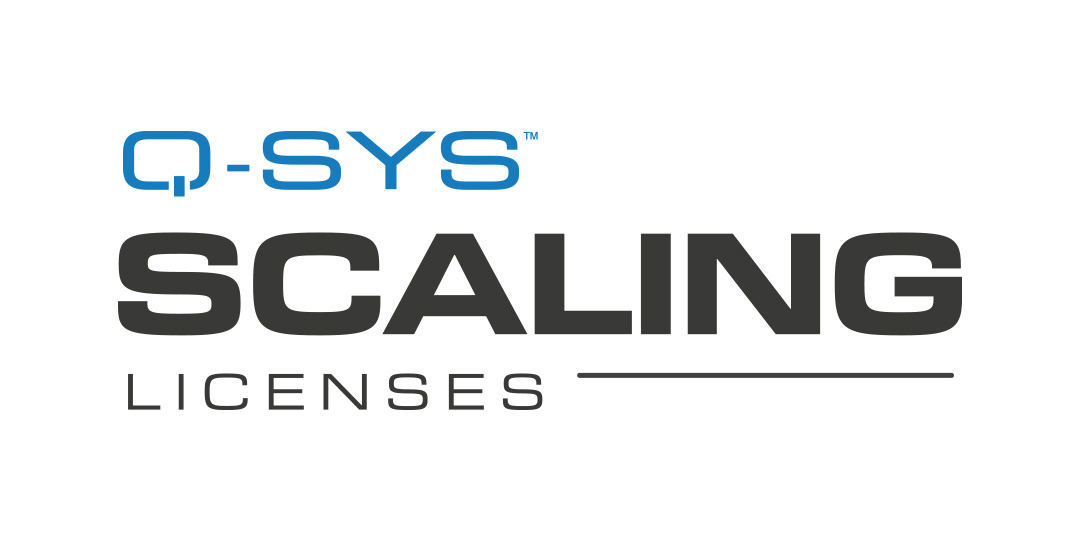 QSC Introduces Q-SYS Scaling Licenses
Increase Q-SYS processing power and application-specific features with new software license bundles
Costa Mesa, Calif. (February 16, 2022) [De, Fr, Es, Zh] – QSC is pleased to announce Q-SYS Scaling licenses, enabling integrators and IT administrators to expand DSP processing power and application-specific features on the Q-SYS Core Nano and Core 8 Flex. By utilizing the flexible software-based architecture of the Q-SYS Platform, Q-SYS users can upgrade and customize these Q-SYS Cores to meet the evolving needs of specific applications and use cases.
"The Q-SYS Core OS was designed to utilize the processing power of an Intel-based hardware platform, which continues to increase processing power and headroom to support current and future features and capabilities. As we introduced our latest Q-SYS Core processors, including the Core Nano and Core 8 Flex, we were able to once again take advantage of the latest improvements in hardware speed, performance and overall processing capabilities," says TJ Adams, Vice President, Systems Product Strategy and Development. "With these new licenses, we are fulfilling our continued commitment to innovation at the software level by providing a simple path to additional processing resources, giving customers greater flexibility and granularity with their Q-SYS systems to support future growth and emerging applications needs."
The Q-SYS Collaboration Bundle Scaling License for the Q-SYS Core Nano and Core 8 Flex increases Q-SYS capabilities in meeting spaces. This new software add-on license expands the maximum AEC processing capabilities and available Softphones plus adds support for up to six Q-SYS NM Series NM-T1 network microphones. Additionally, it releases additional all-purpose DSP hardware processing power and expands the network audio channel capacity to 128x128 enabling the Q-SYS Core Nano and Core 8 Flex to easily scale into larger, high-value spaces such as divisible spaces or multi-purpose rooms.
The Q-SYS Commercial AV Bundle Scaling License for the Q-SYS Core Nano and Core 8 Flex is tailored for background music and paging applications where medium to larger sized Core processors were typically required. This license greatly expands the all-purpose DSP processing power in the Core Nano and Core 8 Flex and increases networked audio channel capacity to 128x128. It also increases the Media Streaming channel capacity to 24x24 and Q-SYS peripheral capacity to 48.
Similar to the Q-SYS UCI Deployment and Scripting Engine licenses, users can add these new feature sets at the software level at any time with a simple license activation, without the need for additional processing hardware.
For more information about the Q-SYS Collaboration Bundle Scaling licenses, please visit: qsc.com/collaboration-license, and for more information about the Q-SYS Commercial AV Bundle Scaling license, please visit qsc.com/commercial-AV-license.
About QSC
Founded over five decades ago, QSC is a globally-recognized leader in the design, engineering and manufacture of award-winning, high-performance loudspeakers, digital mixers, power amplifiers, audio processors, digital cinema solutions, and the Q-SYS™ cloud-manageable audio, video and control Platform. Offering reliable, scalable and flexible solutions for entertainment, collaboration and commercial AV applications, our worldwide network of sales, service and support teams empowers people everywhere to create impactful connections and memorable experiences.
For More Information
QSC Press Contact:
Kristine Fowler | Digital Marketing Manager
714.624.4527 | Email: [email protected] | www.qsys.com