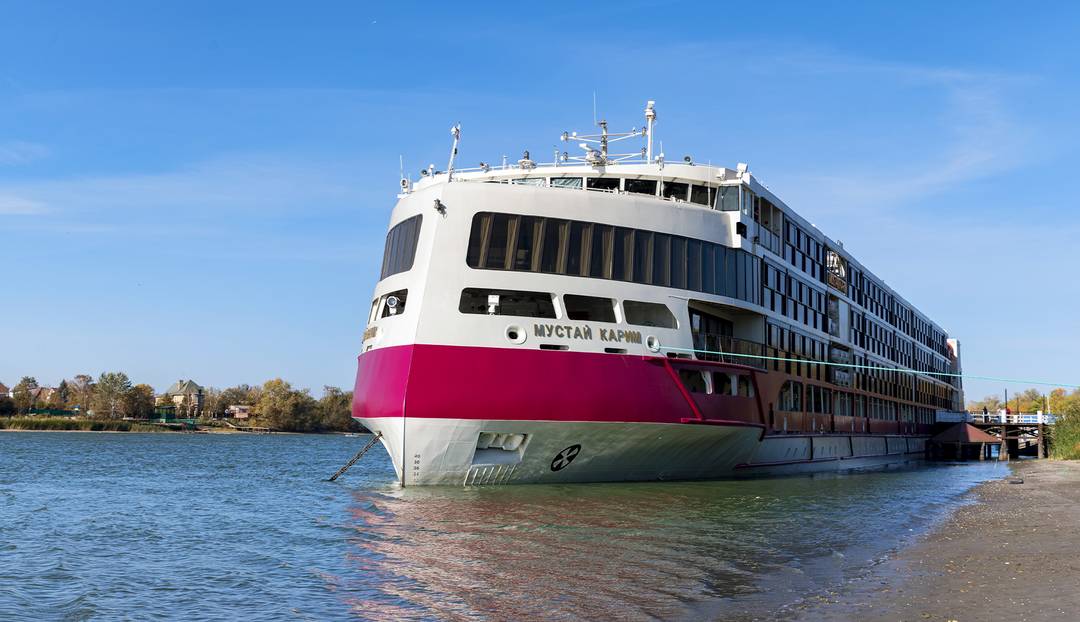 Russia's Leading Luxury River Cruiser Chooses the Q-SYS Ecosystem from QSC
[De] - Vodohod Cruises is one of the premier operators of luxury voyages along Russia's Volga and Neva rivers and in the Sea of Azov. The M.S. Mustai Karim — named after the Bashkir poet, playwright, and national hero — is their newest and most luxurious ship, sailing between Moscow and St. Petersburg. Accommodating up to 329 passengers, this new ship required a networked AV system for all decks plus localized reinforcement for live and recorded music, and system integrator SMS Pro turned to the QSC Q-SYS Ecosystem and Premium Business Music solutions.
SMS Pro consulted with MixArt, the QSC distribution partner for Russia, and chose Q-SYS to drive the Panorama Bar which is the social hub of the ship and host to nightly live performances. A Q-SYS Core 110f unified processor was deployed to manage both audio/video distribution and DSP processing for the space, while two Q-SYS PTZ-IP conference cameras capture the performance. With the Q-SYS Scripting Engine, the integrator was able to deploy Q-SYS Control plugins to easily integrate third-party video matrix switchers that distribute the camera video to LCD monitors around the room. Completing the AV system in the bar is a QSC PLD Series amplifier, which powers the AcousticPerformance™ Series loudspeakers for stage monitors.
QSC MP-M Series Premium Business Music mixers distribute the background music across the vessel's bars, restaurants, library, conference hall, deckways, and spa, and also feature a mixture of over 100 QSC AcousticDesign™ Series low-profile and surface-mount loudspeakers. The loudspakers are designed with the same sonic characteristics across all form factors, ensuring that there is never a noticeable audio transition as patrons between different areas of the ship.
"This is one of the most ambitious installations we've ever completed," notes Victoria Fedorova, SMS Pro's Head of Project Design. "There are multiple rooms with different purposes, and multiple applications: live bands, background music, announcements. Q-SYS is an extremely flexible network AV system that allows for both easy installation and operation. "
Lastly, the Q-SYS is built around standard IT infrastructure, which enables Q-SYS processors and peripherals to coexist on the same Ethernet network as the ship's IP infrastructure. This made a complex project a little bit simpler. In the end, the shipwide installation is able to behave as one all-encompassing system or several independent subsets. "Thanks to QSC and the great work of both our engineers and installers as well as their representatives," Fedorova praises. "We exceeded the customer's expectations."
Additional Images: