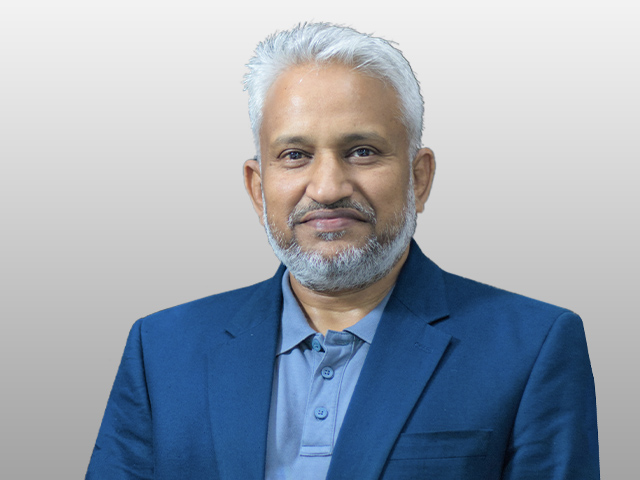 Rajesh Mittal Promoted to Vice President Q-SYS and QSC Pro Audio South Asia Region
Bengaluru, India (April 12, 2023) – The Q-SYS and QSC Pro Audio divisions of QSC are pleased to announce the promotion of Rajesh Mittal to Vice President SAARC. From the newly expanded regional sales, marketing and product development headquarters in Bengaluru, India, Mittal will oversee both the QSC Pro Audio and Q-SYS brands and continue to hold the position of Managing Director QSC India Pvt Ltd.
Mittal has been part of the AV and IT industry for almost 23 years, and since joining the company in February 2018 as Managing Director, India, he has played a vital role in driving SAARC's successful growth. He has been instrumental in building a best-in-class sales, marketing and business team to enable the company to scale. He also established the vertical-oriented go-to-market strategy which is now a fundamental part of the business and will serve as a benchmark for other markets in the EMEASA region.
"Rajesh's vision for the India office has transformed the work environment and offers employees and customers a valuable opportunity to see new work in action," says Markus Winkler, Executive Vice President, EMEASA & APAC, Q-SYS. "The integration of alliance partner technologies has enabled and enhanced the region's hybrid work model, supporting positive work-life balance and positioning Q-SYS as a leading light for the future of AV. It is thanks to Rajesh's pioneering work that customers in the SAARC region now have access to knowledgeable Q-SYS and QSC Pro Audio colleagues at all points of the project chain."
"Rajesh has been a catalyst in transforming and scaling our organisation and business in India and SAARC," says Jatan Shah, President and Chief Operating Officer, QSC. "His business acumen, entrepreneurship and result-driven approach has played a key role in our continued success in the region."
About QSC
Founded over five decades ago, QSC is a globally-recognized leader in the design, engineering and manufacturing of award-winning solutions and services. QSC, LLC includes two business divisions:  
Q-SYS is a cloud-manageable audio, video and control (AV&C) Platform built around a modern, standards-based IT architecture. With established solutions across Corporate, Education, Hospitality, Venues & Events, Cinema, Government, Healthcare, and Transportation, Q-SYS redefines what is possible for live and virtual experiences by uniting hardware and software partners, developers, and creators.
QSC Pro Audio delivers high-performance loudspeakers, digital mixers, power amplifiers, software and accessories. Our innovative products and solutions, supported with free training & education and unparalleled customer service, set the stage for creators, performers, and entertainment providers to confidently deliver impactful experiences for their audiences.
For More Information
QSC Press Contact:
Kristine Fowler | Sr. Digital Marketing & Global Communications Manager
714.624.4527 | Email: [email protected] | qsys.com | qsc.com