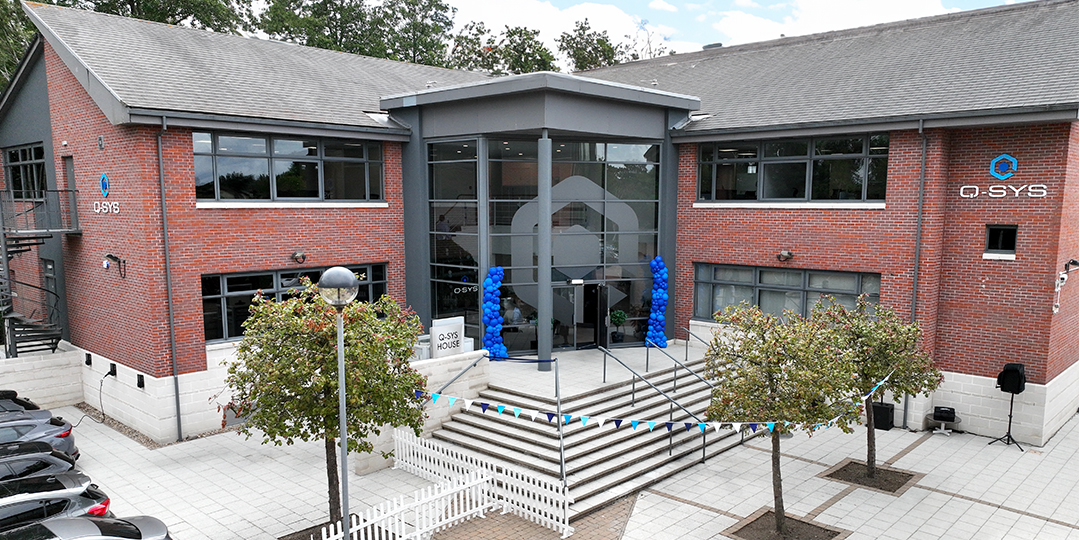 Q-SYS Launches UK Experience Centre
To support continued business growth in the region, office expands training, service and business development capabilities
London, England (July 17, 2023) - [De, Es, Fr] - Q-SYS, a division of QSC UK & Ireland Limited, has officially launched Q-SYS House, a 12,000 square foot UK Experience and Training Centre just outside London, England.
Q-SYS House, Egham, is just 10 minutes from Heathrow Airport and 30 minutes from central London, and will offer customers a hands-on experience of the Q-SYS audio, video & control Platform and Ecosystem. The Experience Centre showcases solutions for a variety of high-impact spaces including divisible rooms and a large auditorium, while the dedicated Training Centre is home to the award-winning Q-SYS training curriculum.
"I am delighted to open the Q-SYS UK Experience and Training Centre," says Duncan Savage, Managing Director for UK & Ireland, Q-SYS. "We believe in fostering strong partnerships and providing our customers with the tools and resources necessary to thrive in their businesses. This interactive Experience Centre will give integrators, consultants and end-users a space where they can explore new features and functionalities, equip themselves with the knowledge and skills to optimise performance, and gain insights into the latest trends and best practices."
"The official opening of the Experience Centre marks an exciting time for Q-SYS UK," adds Ron Marchant, Vice President EMEA Sales and Marketing, Q-SYS. "We have always been committed to providing our partners with the best tools, support, and service to help them and their customers create meaningful connections and unforgettable experiences. The new spaces in the UK Experience Centre do exactly that. We look forward to welcoming our partners to the space and providing our customers with more opportunities to discover, experience and develop."
For more information or to book a private tour and demonstration, contact Rob Sherry on [email protected].
About Q-SYS
Make AV smarter. Q-SYS is a cloud-manageable audio, video and control (AV&C) Platform built around a modern, standards-based IT architecture. Since its inception in 2009, it has been architected to deliver personalized, connected and engaging AV experiences.  With established solutions across corporate, education, hospitality, venues & events, cinema, government, healthcare, and transportation, Q-SYS redefines what is possible for live and virtual experiences by uniting hardware and software partners, developers, and creators.
Q-SYS and QSC Pro Audio are divisions of QSC, LLC. For QSC's legal entities and global presence, please see www.qsc.com/contact-us/ and www.qsys.com/contact-us/.
For More Information
QSC Press Contact:
Kristine Fowler | Sr. Digital Marketing & Global Communications manager
714.624.4527 | Email: [email protected] | www.qsys.com
Press Contact (EMEA & South Asia):
Sandra Rothe | Media & PR Manager
+49 7261 6595 372 | Email: [email protected] | www.qsys.com