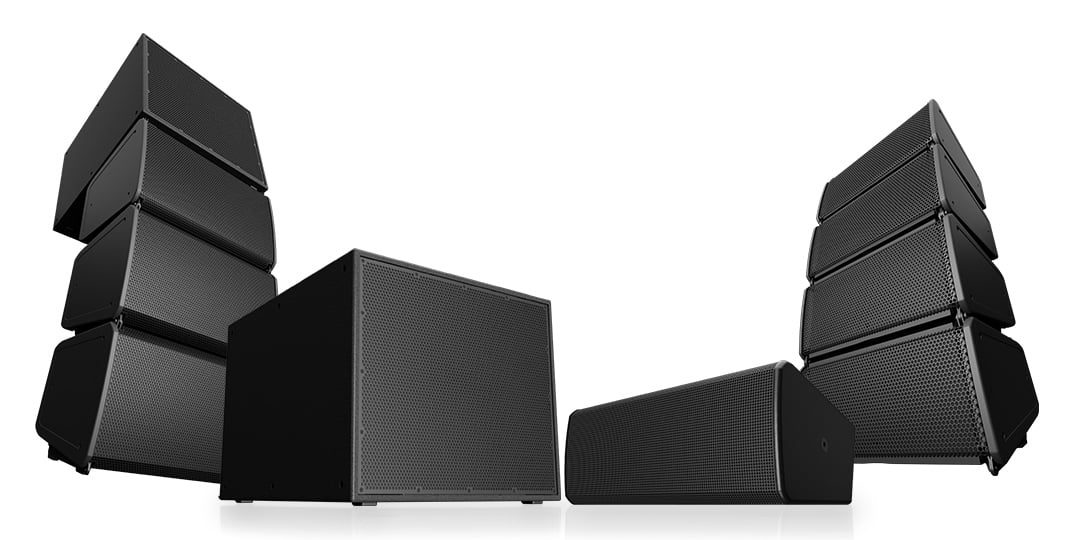 Q-SYS Introduces PL Series Performance Installation Loudspeakers
Loudspeakers designed for Q-SYS to deliver optimal sound with simplified setup, advanced control & monitoring for performance applications
Costa Mesa, Calif. (May 17, 2023) – [De, Fr, Es] – Q-SYS announces the PL Series, a portfolio of performance installation loudspeakers designed to enhance any Q-SYS system in a broad range of entertainment applications, including auditoriums, houses of worship, theaters, small sports venues and more. Q-SYS PL Series includes a wide range of form factors (line array, point source, and subwoofer), allowing integrators to ensure an optimal audio experience for each unique space. When paired with the power of the Q-SYS Platform, including Q-SYS processing and network amplifiers, PL Series lets integrators take advantage of simplified setup and custom voicings (Intrinsic Correction™), advanced telemetry, monitoring, and customizable end-user control.
For applications requiring higher performance audio, PL Series feature a weatherized enclosure (IP54 rating) in a range of options:
PL-LA models are two-way passive line arrays (8" and 12"), ideal for front-of-house needs in small to medium-sized venues. Integrators can deliver simplified deployment and amazing sonic performance through custom voicings and filter sets by pairing with native Q-SYS network amplifiers. In addition, they feature QSC Length-Equalized Acoustic Flare™ (QSC LEAF™) waveguide providing superior acoustic performance through highly optimized internal sound paths.
PL-DC models are two-way point source loudspeakers with directivity control. The dual-4" and dual-6" are ideal as stage fills, delays or under balcony fills, while the 8" and 12" can act as delays or be deployed in distributed systems. The three larger models also include reconfigurable half-horn assemblies that enable more control over the sound coverage area for optimal design flexibility.
PL-SUB are passive subwoofers (10", 12", 15" and 18") that offer a range of size options, all in a compact form factor. Additionally, the two larger subwoofers offer omnidirectional or cardioid coverage when deploying two or more subwoofers.
"The PL Series loudspeakers are designed to specifically answer the needs of our Q-SYS customers looking to provide superior sound in larger, high-performance applications," says Remi Vaucher, Product Manager, Q-SYS. "Our brand was originally established by delivering high-performance audio technologies to customers, enabling them to create engaging and impactful experiences. With the launch of PL Series, we are expanding our audio brand heritage to incorporate our Q-SYS Platform to deliver a holistic audio, video and control experience for an even wider variety of experiences and applications."
As part of the Q-SYS Platform, integrators can take advantage of the full-featured Q-SYS Control engine. Furthermore, enlisting Q-SYS Reflect Enterprise Manager enables full remote monitoring and management from anywhere.
InfoComm attendees can hear the PL Series in action on June 14-16 at the Q-SYS Demo Room W224F in the Orange County Convention Center in Orlando, FL. To sign up for a demo, please visit: qsys.com/infocomm2023.
To learn more about the PL Series portfolio of performance installation loudspeakers, please visit: qsys.com/plseries.
About Q-SYS
Make AV smarter. Q-SYS is a cloud-manageable audio, video and control (AV&C) Platform built around a modern, standards-based IT architecture. Since its inception in 2009, it has been architected to deliver personalized, connected and engaging AV experiences.  With established solutions across corporate, education, hospitality, venues & events, cinema, government, healthcare, and transportation, Q-SYS redefines what is possible for live and virtual experiences by uniting hardware and software partners, developers, and creators.
For More Information
QSC Press Contact:
Kristine Fowler | Sr. Digital Marketing & Global Communications manager
714.624.4527 | Email: [email protected] | www.qsys.com
Press Contact (EMEA & South Asia):
Sandra Rothe | Media & PR Manager
+49 7261 6595 372 | Email: [email protected] | www.qsys.com