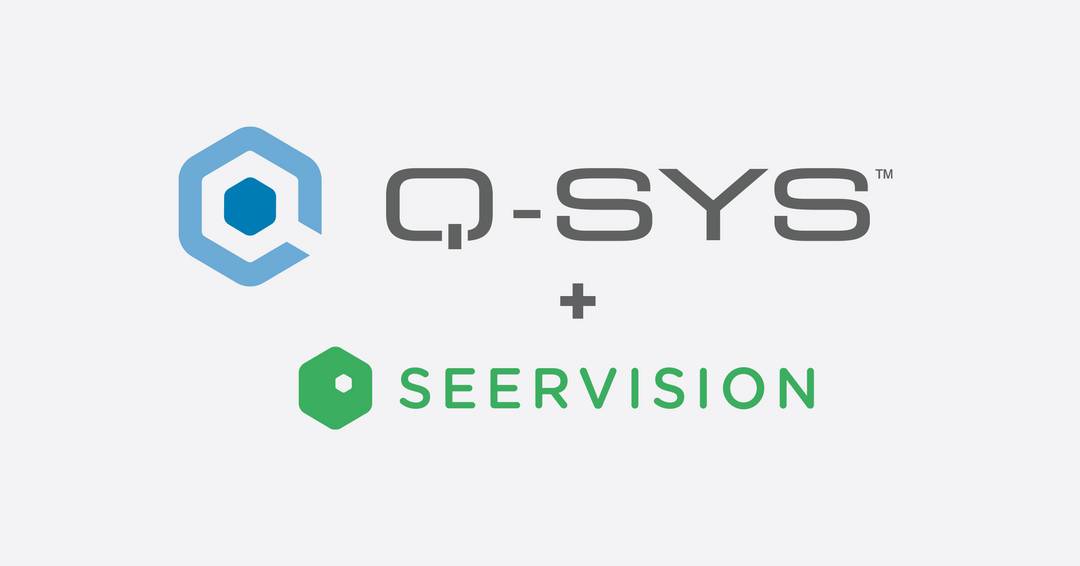 Q-SYS Announces Agreement to Acquire Seervision
Acquisition accelerates strategy, expands intelligent collaboration solutions and combines exceptional teams
COSTA MESA, Calif. and ZURICH, (June 12, 2023) – [De, Es, Zh, Gr, Fr] – Q-SYS, a division of QSC LLC, today announces a definitive agreement to acquire Seervision, a Swiss-based industry pioneer in AI-driven camera automation software. The acquisition accelerates the Q-SYS strategy to develop and deliver a scalable and flexible software platform with intelligent audio, video and control technology that supports integration with leading unified communications & video conferencing applications in the era of post-pandemic hybrid work.
Seervision's camera automation software combines years of research in multi-camera control with deep expertise in real-time optimization, machine learning, and predictive motion models to automatically predict and track a person's movements. Seamlessly integrating into existing AV/IT ecosystems, the software can control multiple pan-tilt-zoom (PTZ) cameras with smooth, broadcast-quality motions that rival the capabilities of human-operated cameras, delivering an immersive collaboration and viewing experience. As with the Q-SYS software-based Platform, Seervision's software is architected to be hardware agnostic, and delivers many unique capabilities including:
Automatic scene perception & person identification
Using audio- and vision-based signals, Seervision autonomously triggers specific actions and workflows based on the person's location in the room. This dynamic scene-understanding technology is unique to Seervision and allows for a truly automated and seamless operation.

AI-assisted camera operation with adaptive full-body detection and tracking
Seervision's advanced auto-tracking recognizes and tracks a subject based on full-body identification, creating a unique visual ID for each detected subject from multiple reference points, increasing reliability and robustness compared to alternative motion-tracking solutions.
Seervision's unique software solutions automate video production workflows in high-impact spaces across many sectors and use cases including auditoriums, boardrooms, classrooms and teaching spaces, flexible rooms, large meeting rooms, stages, event spaces and studios. Specific application examples in use today include:
Dynamic scene-understanding that transforms hybrid collaboration
The Seervision Suite combines networked audio-visual triggers with leading PTZ camera auto-tracking to enable fully automated, multi-camera operation for video conferencing and high-impact spaces. Seervision's scene-understanding uses visual and audio inputs to give PTZ cameras, and any device in an AV installation, the ability to see and react live to activity happening in the room. Seervision adapts the shot and frames the person perfectly even in a changing environment, keeping all the subjects shown in the same size without the need for fixed zoom values or presets.

Simplified operation and increased engagement in remote learning
In presentation or higher education applications, Seervision's solution delivers high-quality, dynamic video content that delivers a better experience and increases engagement for participants and students in remote or hybrid environments. Seervision's trigger zone and tracking zone features, combined with intelligent full-body camera control and tracking, enable cameras to autonomously follow a subject and correctly frame them or the whiteboard, ensuring a stress-free experience for the presenter or lecturer.
"The hybrid work phenomenon, 'meeting equity' requirements, multi-camera control and workflow automation, along with the use of artificial intelligence and machine learning for AV applications represent some of most dynamic and exciting opportunities today and into the future," says Joe Pham, Chairman of the Board & CEO, QSC. "AI technology leadership will be critical in defining and delivering on the next era of AV experience innovation, and we believe Seervision is a key technology pillar for enabling this future. This acquisition creates tremendous opportunities for Q-SYS and our partners to create and deliver extraordinary in-person, remote and hybrid collaboration experiences across many different markets and applications, now and in the future. We couldn't be more excited for the opportunities ahead."
As part of the transaction, the Seervision founders and team will be joining Q-SYS. "Making AV smarter by innovating at the software layer is part of our DNA," says Jatan Shah, President and COO, QSC. "The Seervision team are proven innovators and best-in-class technical professionals with industry-leading experience and expertise in many strategic technology areas including video, computer vision & imaging, artificial intelligence/machine learning, motion prediction & real-time control, cloud & virtualization. The combination of Q-SYS and Seervision will bring the industry's best engineering talent, technology and resources together to create a new class of high-performance AV solutions that set a new bar for our industry. I am beyond excited this impressive team will become part of Q-SYS, and together we are very well positioned to redefine intelligent video collaboration in multiple applications."
"We are embarking on a thrilling journey as we unite with the Q-SYS team," says Nikos Kariotoglou, Co-Founder and CEO, Seervision. "We believe this acquisition signifies a pivotal moment in the AV industry's evolution towards a future defined by intelligent and scalable AV software platforms. Together with Q-SYS, we envision an open ecosystem fostering innovation and delivering novel capabilities and solutions to our diverse markets and customers. Exciting times lie ahead, and we are ready to shape the future of AV technology."
The transaction is expected to close within the next 30 days, subject to regulatory approvals and other customary closing conditions.
About Q-SYS
Make AV smarter. Q-SYS is a cloud-manageable audio, video and control (AV&C) Platform built around a modern, standards-based IT architecture. Since its inception in 2009, it has been architected to deliver personalized, connected and engaging AV experiences.  With established solutions across corporate, education, hospitality, venues & events, cinema, government, healthcare, and transportation, Q-SYS redefines what is possible for live and virtual experiences by uniting hardware and software partners, developers, and creators.
About Seervision
Seervision is a premier provider of camera automation software solutions powered by state-of-the-art AI technology. With Seervision's advanced algorithms, PTZ and broadcast cameras can track and follow live action automatically, delivering a seamless viewing experience that rivals human-operated cameras. The company is widely recognized for its commitment to delivering innovative solutions that meet the evolving needs of the broadcast and AV/IT industries. For more information on Seervision and its camera automation technology, visit www.seervision.com/technology.
For More Information
QSC Press Contact:
Kristine Fowler | Sr. Digital Marketing & Global Communications manager
714.624.4527 | Email: [email protected] | www.qsys.com
Press Contact (EMEA & South Asia):
Sandra Rothe | Media & PR Manager
+49 7261 6595 372 | Email: [email protected] | www.qsys.com