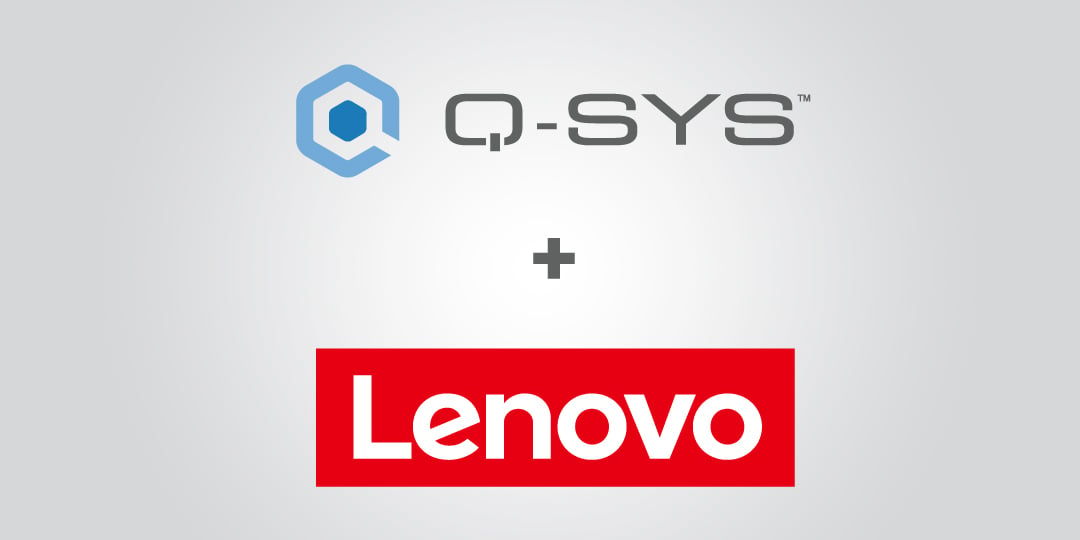 Q-SYS and Lenovo Collaborate to Deliver Complete UC Solutions
Combined solutions enable Q-SYS to offer room bundles with Lenovo servicing high-impact spaces across all key UC Platforms
Costa Mesa, Calif. (May 22, 2023) – [De, Fr, Es] – Q-SYS is pleased to announce its collaboration with Lenovo to provide a seamless way to purchase and deploy high-impact spaces by bundling Lenovo room compute solutions with Q-SYS audio, video and control. This will be available through Q-SYS channels and partners to better serve the needs of the UC market.
"Lenovo is an ideal partner for Q-SYS as they deliver an advanced compute solution for the major UC vendors," says Jason Moss, Vice President, Corporate Development and Alliances, Q-SYS. "Working together, we can expand the reach of both Q-SYS and Lenovo and bring our solutions to even more customers looking to deploy high-impact spaces for their employees.
"Integrating Q-SYS innovative audio, video and control platform with Lenovo ThinkSmart's intelligent computing provides customers with a complete offering," says Shannon MacKay, General Manager of Worldwide Smart Collaboration Business, Lenovo. "Now, more customers will be able to create more powerful workspaces and experiences for smarter collaboration."
"The high-impact space market is driving the collaboration space and we foresee the market rising to 11.3 million spaces by 2025 with the potential for nearly $140 billion in revenue," concludes Rob Arnold, Industry Director, Information & Communications Technology, Frost & Sullivan. "The vast opportunity makes this a very unique partnership to provide customers a top to bottom offering that makes it easier to adopt and deploy dynamic and scalable meeting spaces that deliver an elevated user experience."
For more information, please visit: qsys.com/lenovo.
LENOVO and THINKSMART are trademarks of Lenovo. All other trademarks and registered trademarks mentioned herein are the property of their respective owners.
About Q-SYS
Make AV smarter. Q-SYS is a cloud-manageable audio, video and control (AV&C) Platform built around a modern, standards-based IT architecture. Since its inception in 2009, it has been architected to deliver personalized, connected and engaging AV experiences.  With established solutions across corporate, education, hospitality, venues & events, cinema, government, healthcare, and transportation, Q-SYS redefines what is possible for live and virtual experiences by uniting hardware and software partners, developers, and creators.
For More Information
QSC Press Contact:
Kristine Fowler | Sr. Digital Marketing & Global Communications manager
714.624.4527 | Email: [email protected] | qsys.com
Press Contact (EMEA & South Asia):
Sandra Rothe | Media & PR Manager
+49 7261 6595 372 | Email: [email protected] | qsys.com