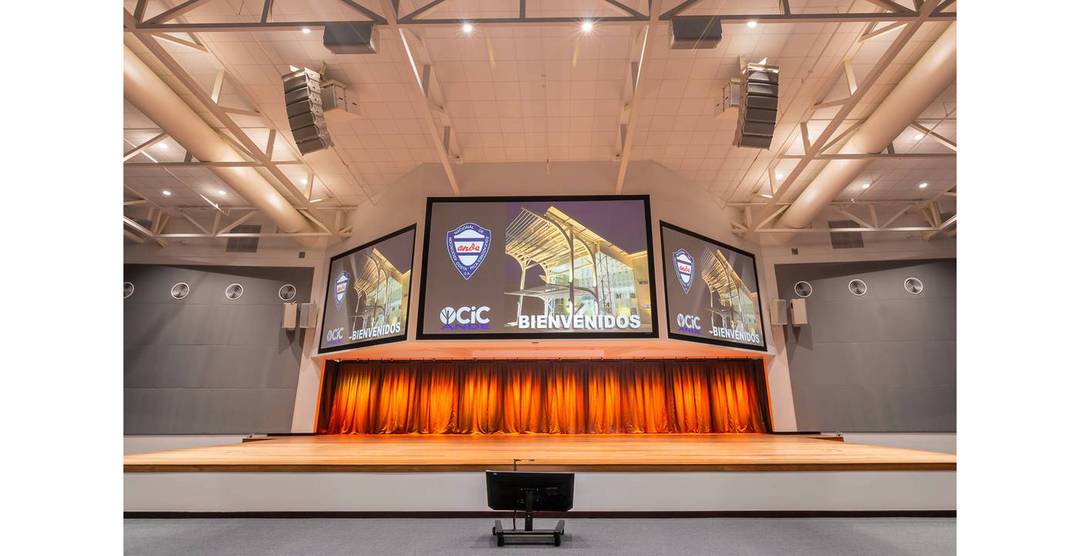 ANDE Convention Center Chooses the Q-SYS Ecosystem
[De] The National Education Association of Costa Rica is an organization dedicated to the improvement and advancement of Costa Rican education. In May 2019, construction began on a new convention center that would host meetings and events for the over 35,000 members of the organization. Located in Heredia, Costa Rica, the new facility features a 2,200 seat auditorium and 15 conference rooms that can host up to 100 people each. They were looking for a robust and flexible network AV solution that would support conferences, presentations and other live events, and it was clear that the Q-SYS audio, video and control Ecosystem would deliver the best experience.
The project was a joint venture between three integration companies, AV Consulting Group Latin America, Diseño Acústico S.A., and Diiler S.Am, and the team was led by Felipe Vargas of AV Consulting Group.
The team chose a Q-SYS Core 510i Integrated processor, which manages the audio and control processing for the entire facility. Its primary use is to support conferences and presentations in the auditorium, which include both a live audience and remote participants. "We chose Q-SYS because of its flexibility and robust feature-set," explains Felipe Vargas, integrator at AV Consulting Group. "Whether it's a live event or a conference with remote attendees, the system allows for a truly seamless user experience."
One requirement of the system was to provide the AV support team with a simple method of mixing sound from a single user control interface (UCI). The integrator took advantage of Q-SYS UCI Deployment feature license to create a 'virtual mixing console' for live events, allowing the venue's technicians to easily access the mains, stage monitors, control room monitors, press box sends, and the video conferencing mix via iPad. The same UCI also offers mixing and room combining capabilities for each of the 15 conference rooms.
The UCI also provides access to the paging and background music (BGM) distribution for the entire venue. There are 25 paging zones that allow for live or pre-recorded messages to be sent to any zone combination. Operators have access to playlist selection, track controls, and zone-based volume controls. These features are enabled at the software level, removing the need for cumbersome, single-purpose hardware.
For the venue's sound reinforcement, the integration team deployed QSC CX-Q Series network amplifiers, which provide the power to QSC loudspeakers throughout the venue. In the main auditorium, QSC ILA Series line arrays provide wide 140° coverage, while QSC AcousticPerformance Series loudspeakers act as fills and delays for the space. In the common areas and meeting rooms, the venue chose a mix of AcousticDesign Series and AcousticCoverage Series loudspeakers, ensuring premium sound quality throughout.
"Our organization has been thrilled with the Q-SYS system thus far," explains David Barbosa, Facility Manager at ANDE. "Not only have our meetings and events have been flawless, but those QSC loudspeakers sound superb!"
Additional Images: