Government Case Study
Command Center Scenario: Chicago Police Department
---

Challenges
Information Assembly: The system needed to accommodate 16 command center officers, who all needed to access and route audio & video inputs from 50 different police system inputs and 6 Cable TV sources.
Physical Separation of Systems: For legal and security purposes, the CPIC needed to keep the various input sources from the police systems physically separated.
Integration & Control: The existing control technology was relatively limited, and different audio and video systems needed to be integrated into the system.
Simplicity: Paramount to the success of this kind of complex audio and video routing system was the need to keep its operation simple.
Support: The system had to be fail-safe, monitored remotely, and receive full support when issues arise.

"We decided to use Q-SYS to obtain the most comprehensive processing, matrixing, custom scripting, third party integration and redundancy capabilities."
John Chuchla, Audio Visual Systems

Solutions
Chicago-based Audio Visual Systems (AVS) installed integrated audio system solution by QSC, built on the Q-SYS™ Platform.
System Diagram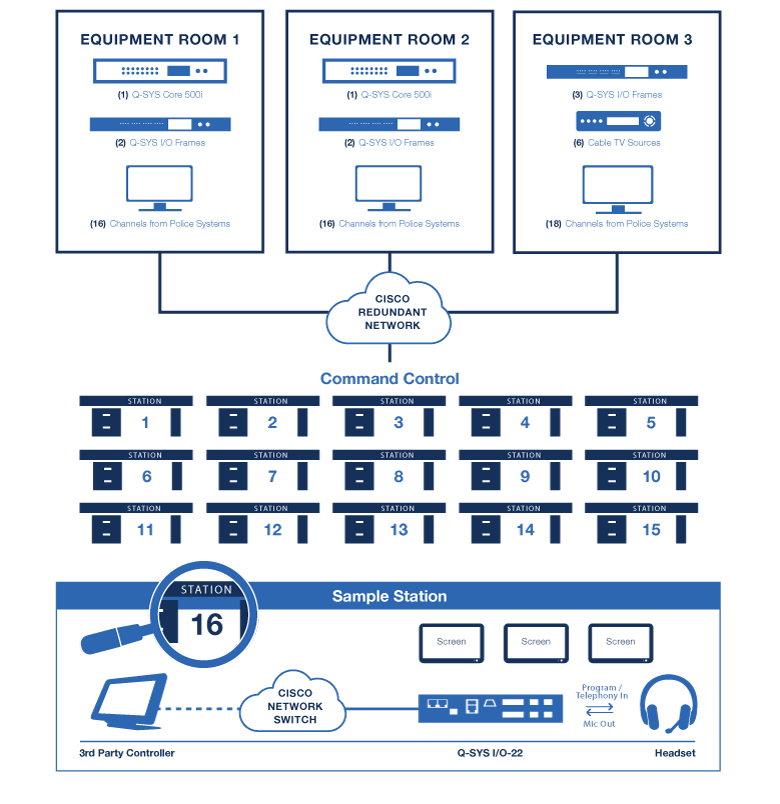 System Components
Equipment Rooms
2-Q-SYS Core 500i Processors
7-Q-SYS I/O Frames
In Each of 16 Command Stations
Command Center

Results
The Q-SYS platform was able to integrate all audio inputs and outputs of each station and all external police monitoring systems while accommodating the security requirements of separating different police systems. The system used automatic gain control and noise cancellation to ensure that each source had the same volume level. They also take advantage of Q-SYS software-based acoustic echo cancellation for video conferencing.
Q-SYS allowed any of the 16 operators to be able to monitor multiple police audio channels at once via a customized Lua scripting block, which managed a complex channel attenuation scheme. The Q-SYS control engine also allowed the system to be controlled by third-party Crestron devices. The system also employed audio-based logic – for example, if no one is actively monitoring the gunshot system and an alert comes through, Q-SYS will alert other personnel via their touch screen controller.
Finally, Q-SYS allowed for remote monitoring and real-time alerts of any system issues. Tools like the Q-SYS Hover Monitor allowed system technicians to remotely listen to any workstation's input channels and address any post-install issues that might arise.
For more information, download the complete case study.