Q-SYS Commercial AV Bundle Scaling License
Q-SYS Scaling licenses

Q-SYS has the unique ability to let you easily add features and functionality at the software level, enabling your system to easily scale when you need it, and continue to evolve well into the future. Following a similar paradigm as the Q-SYS UCI Deployment and Scripting Engine feature licenses, Q-SYS Scaling licenses allow you to leverage the unique software-based nature of the Q-SYS Platform to scale targeted feature sets which tailor your Q-SYS Core Nano or Core 8 Flex to the needs of specific applications and use cases. These licenses extend Q-SYS capabilities to provide even greater scalability and granularity of product choice for a broader range of projects and sizes.
---
Features
Software-based Benefits – Whether choosing the right features before installation or scaling capabilities as business needs change, Q-SYS Scaling licenses following a similar paradigm set with licenses for Q-SYS UCI Deployment and Scripting Engine by enabling users to add the right features when they need them at any time, with a simple license activation (rather than adding additional processing hardware).
Unlock Potential – Q-SYS Cores are built on modern technology platforms that offer vast amounts of processing capacity to evolve over time. With this in mind, Q-SYS actively reserved some capacity in the Core 8 Flex and Core Nano at launch in order to provide end users the choice of unlocking this additional headroom to take advantage of a future generation of Q-SYS Products and emerging applications.
The Q-SYS Commercial AV Bundle Scaling License for Core Nano and Core 8 Flex is focused on expanding the resources aimed at larger BGM and paging applications (where users may previously have required higher tier Core processors.) First, this license greatly expands the all-purpose DSP processing power and increases networked audio channel capacity to 128x128 (Q-LAN/AES67). It also increases the Media Streaming channel capacity (up to 24x24) and the maximum Q-SYS peripheral count (up to 48 Q-SYS peripherals.)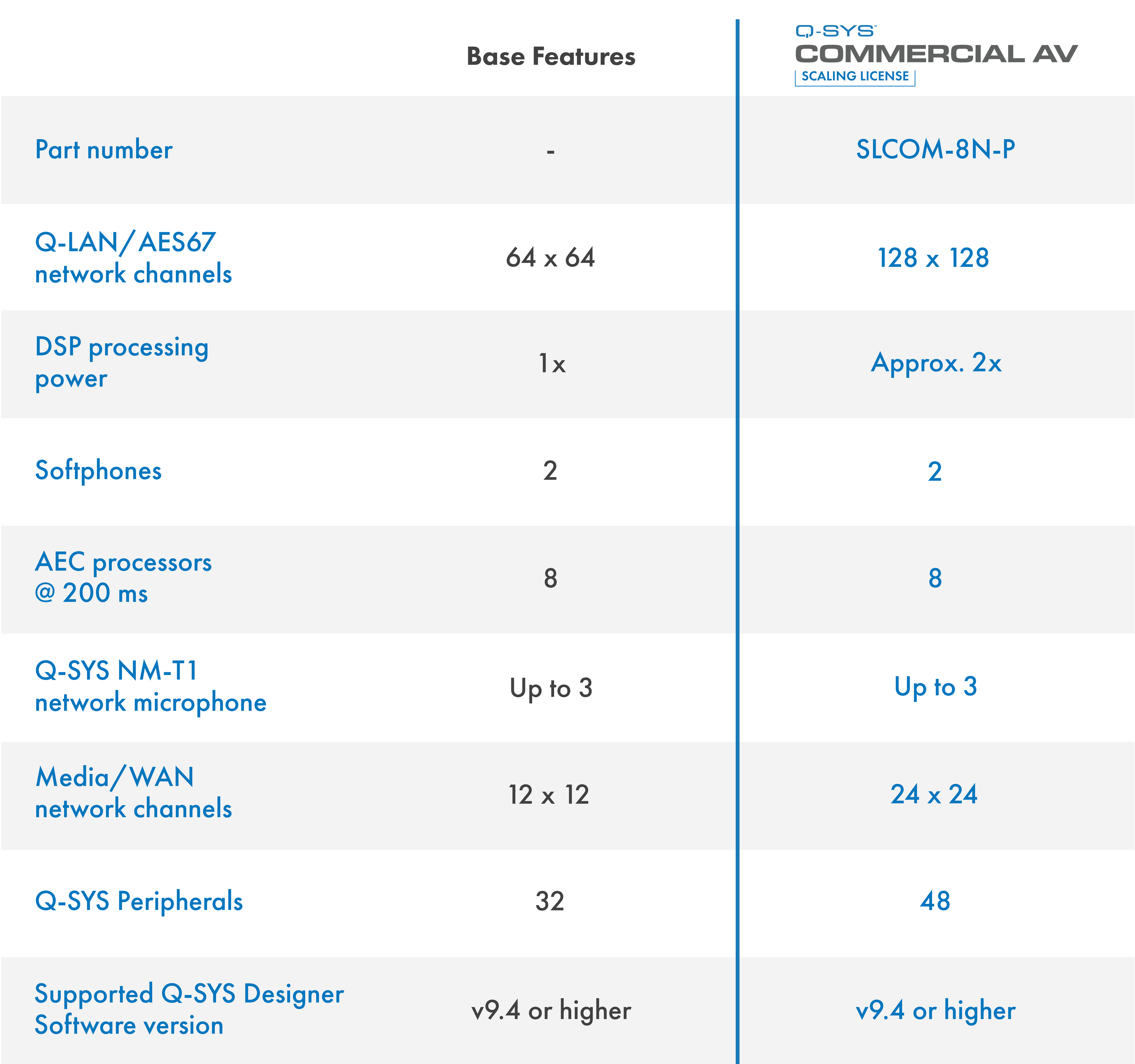 Removing the guesswork – Q-SYS Scaling licenses have been designed as bundles to remove the guesswork and complexity of choosing the right features for your space. Each bundle makes it easier to choose the right feature set based on the project type and outcome for your intended application.