Hospitality Case Study
Royal Caribbean Ocean Liner:
Ovation of the Seas
---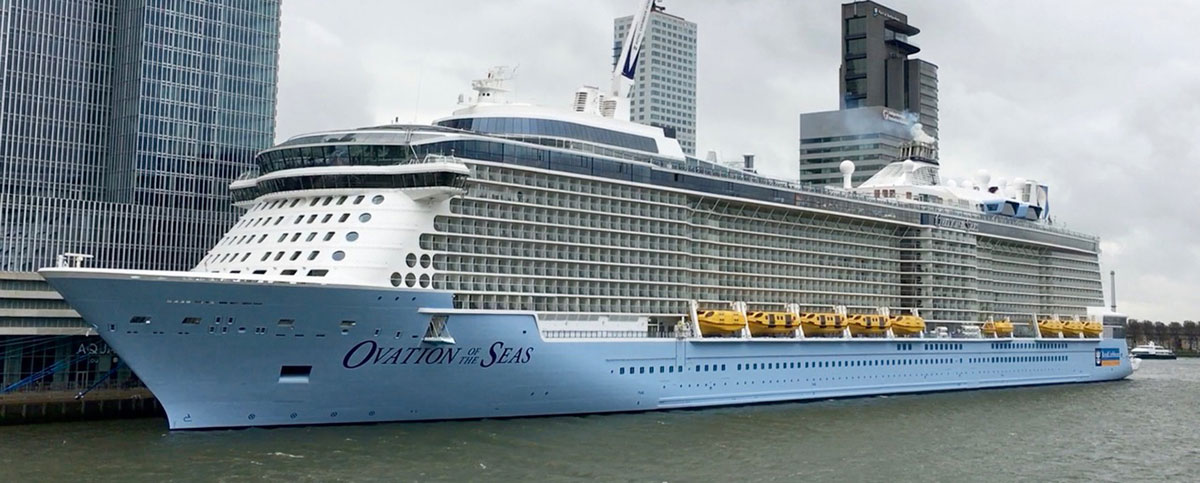 Challenges
Networked Systems within a System: To provide maximum zone autonomy, the ship needed the ability to have separate processors for each zone, but also needed the ability to share streams between zones, and also support a separate, redundant ship-wide evacuation system

.

High quality audio with monitoring capabilities: Places like the fitness centre needed high quality audio in a ceiling mounted enclosure, but also needed the ability to monitor the loudspeakers and amplifiers.
Simple Control: Venues like the Seaplex, with its the indoor bumper car track, and the multiple pool decks needed simple provisioned control for the crew

.
"…[Prior to Q-SYS, installers] were having to run big cables, so by using the Q-SYS platform the shipyard saved a significant amount of cable and weight."
Christopher Vlassopulos, Superintendent SLVR for Royal Caribbean International & Celebrity Cruises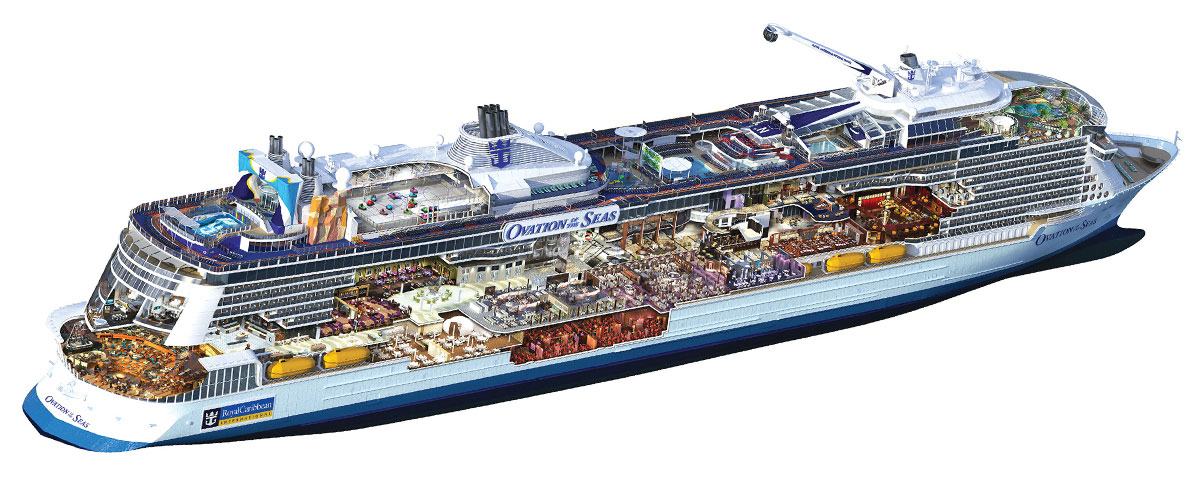 Solutions
Q-SYS Networked Platform: The Ovation of the Seas uses the Q-SYS Platform. Vlassopulos remarks, "For the shipyard, running the network over fibre and using audio protocols such as Dante was very attractive because before they were having to run big cables, so by using the Q-SYS platform the shipyard saved a significant amount of cable, and weight too. It's a massive change to go to fibre cable, but it's made life so much easier. There are five Q-SYS Core 500i processors, as well as a centralized Core 4000 for entertainment audio across the whole ship with a dedicated, redundant pair of Q-SYS Core 4000's for voice evacuation, known as PA-GA, too.

Q-SYS Control: We have many different modes for the different activities, all of which are saved as presets in the QSC Q-SYS Platform and then there are numerous Q-SYS TSC-3 touchscreen panels to toggle between the presets. These things are set and forget. So basically we're doing to the same thing time and time again. Typically in the past, a technician would have to come in and set up the system and on the smaller ships it was manageable but on these larger one, it's not possible so the system has to be user friendly," Christopher explained.

AcousticDesign™ Ceiling Mount Loudspeakers : QSC AcousticDesign ceiling mount loudspeakers have been installed in the fitness centre, as well as all the other areas on the ship that requires background music. And on this series of ships exclusively, Christopher Vlassopulos opted to add QSC AD-C81Tw ceiling subwoofers to the fitness centre system too. "In retrospect, I probably wouldn't install ceiling subwoofers again since these QSC ceiling install speakers have such good low frequency response, the subwoofers are not necessary in most applications." The loudspeakers also come with monitoring and DSP capabilities via a Q-SYS Platform, which hasn't been the case with previous generation background music systems.


Results
"Projects like Ovation of the Seas are great examples of how the Q-SYS Platform can solve a huge diversity of design challenges in a new, more modern approach to professional media processing and distribution. On this project Q-SYS is deployed as a full performance system for what is effectively a huge, floating entertainment district, as well as a fully standards compliant voice alarm system. By basing the Q-SYS on standard IT hardware, software and protocols, we can ensure that as a solution, it integrates perfectly with the ship-wide ASC Entertainment Network."