I/O-8 Flex
Q-SYS Channel Expander (Discontinued)

The Q-SYS™ I/O-8 Flex Channel Expander adds a multitude of expansion capabilities to the Q-SYS Platform in a compact, PoE+ capable networked peripheral that can be remotely located wherever the I/O is required. The I/O-8 Flex Channel Expander features eight channels of "flex channels" (a QSC exclusive technology), which allows each channel to be configured via software as either a Mic/Line input with phantom power, or a Line Level output. Additionally, the I/O-8 Flex Channel Expander offers Audio-to-USB Bridging for integration with soft codec applications running on any host PC as well as control connectivity via GPIO and RS232.
---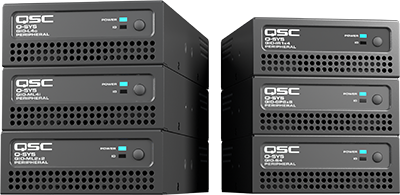 This product has been discontinued. Consider the new Q-SYS QIO Series network I/O expanders
Features
Flex Channels: 8 software definable flex channels (mic/line input w/ phantom power, or line level output). Single channel granularity allows the user to configure any combination of inputs / outputs from 8 x 0 through to 0 x 8.
Microphone Fault Detection: When used as mic/line inputs.
Audio-to-USB Bridging: For situations where laptop PC's are being used for soft codec conferencing using applications such as Skype for Business™ , GoToMeeting™, etc., the onboard USB Device port can be used to provide USB-to-Audio Bridging direct to the PC via driverless USB connectivity.
External Device Control: Control and interface with external devices using TCP/IP, RS232 and GPIO.
PoE+ Capability: For single cable installation. External 24VDC PSU can be used for redundancy (not sold by QSC).
Redundancy: Offers dual network ports for redundancy with the ability to send and receive on both ports simultaneously for glitch-free switchover the event of a network failure.
Mounting Accessories included: Class leading mounting accessories offer multiple rackmount and under-table mounting options.
Q-SYS Platform integration: Receive cryptographically-signed firmware updates, ensuring secure updates in functionality and security to your entire system.
Specifications
Q-SYS I/O-8 Flex Channel Expander
Inputs/Outputs
Audio Flex Channel Capacity
8
Audio Flex Channel Assignments
Each channel can be configured as a mic/line input or as a line output (configured through Q-SYS Designer software)
Rear Panel Indicators
"Link", "Speed" and "Activity" LEDs on all LAN ports
USB Inputs & Outputs
USB Audio Bridging
Up to 8×8 channels of digital audio in/out via software definable USB instances advertised to the USB Host operating system
USB B (device port):

Bit depth: 16-bit, 24-bit (configured in Q-SYS Designer software)
USB Channel Capacity: 8×8
Sample Rate: 48kHz

Controls
Front Panel Controls

"NEXT" OLED page forward capacitive touch button
"ID" device identification capacitive touch button
"Clear Network Settings" - invoked when "NEXT" and "ID" are pressed simultaneously

Front Panel Connectors
AUX USB: USB Host × 2 (Type A connectors)
Rear Panel Connectors

Audio Flex I/O: 12-pos blue Euro Block × 2
GPIO: 10-pos black Euro Block × 2 (GPI = 1x10, GPO = 1x10)
RS232: 3-pos black Euro Block
AUX USB Host: USB Host × 2 (Type A connectors)
AUX USB Device: USB Device Port (Type B connector)
Media Network LAN A/PoE+ Power In : RJ45 1000 Mbps
Media Network LAN B: RJ45 1000 Mbps
AUX PWR In: 2-pos green Euro block

GPIO
General Purpose Inputs
0-24VDC analog input or contact closure
General Purpose Outputs
Open collector, 24VDC at 200mA max, internal pullup to 3.3V
GPIO 12 VDC Power Pins
12VDC out at 100mA max
Miscellaneous
PoE+ Power Input
IEEE 802.3at compliant powered device, PoE+ power supplied through LAN A port
External Power Input
24VDC, 1.2A supplied via the external power input, may be used as the primary power source or as a backup to the PoE+ source
Regulatory

FCC 47 CFR Part 15 Class A, IC ICES-003, CE (EN55032, EN55035), EU RoHS directive 2011/65/EU, WEEE directive 2012/19/EU, China RoHS directive GB/T26572, EAC, RTL

Product Dimensions
220 × 240 × 44 mm
8.66 × 9.43 × 1.75 in
1RU half rack
Included Accessories
Connector kit, rack ears, surface mount kit, installation manual, USB cable (Type A to Type B)

All specifications are subject to change without notice.