I/O-8 Flex
Q-SYS Channel Expander (Discontinued)

I/O-8 Flex Channel Expander de Q-SYS™ añade una multitud de capacidades de expansión a la plataforma Q-SYS™ con un periférico en red compacto y con capacidad de alimentación a través de Ethernet que puede ser situado donde lo requiera el I/O. I/O-8 Flex Channel Expander ofrece ocho "canales Flex" (tecnología exclusiva de QSC), que permiten que cada canal sea configurado a través de software como una entrada de micrófono/línea con alimentación phantom, o como una salida a nivel de línea. De forma adicional, I/O-8 Flex Channel Expander permite puenteo de audio a USB para integración con aplicaciones de softcódec que funcionen en cualquier host de computadora, así como control de conectividad por medio de GPIO y RS232.
---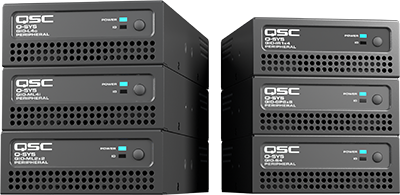 Este producto ha sido descontinuado. Considere las ventajas de los nuevos extensores de E/S en red Q-SYS de la Serie QIO
Características
Flex Channels: 8 Flex Channels definibles por medio de software (entrada de mic/línea con o sin alimentación phantom, o salida a nivel de línea). La granularidad por canal permite al usuario configurar cualquier combinación de entradas y salidas de 8 x 0 hasta 0 x 8.
Detección de fallo de micrófono: Cuando se utiliza como entradas de Mic/Línea.
Puenteo Audio-USB: Para situaciones donde computadoras portátiles se usen para servicios de conferencia por códec de software con aplicaciones como Skype Empresarial™, GoToMeeting™, etc., el puerto para dispositivos USB puede utilizarse para ofrecer puenteo USB-Audio directamente a la computadora por medio de conexión USB sin controladores.
Control de dispositivos externos: Controla y se comunica con dispositivos externos mediante TCP/IP, RS232 y GPIO.
PoE+ (Power over Ethernet Plus): Para instalación con un solo cable. Alimentador externo también disponible.
Redundancia: Ofrece puertos duales de red para redundancia. Ambos puertos tienen capacidad de enviar y recibir de forma simultánea para realizar un cambio sin errores en caso de un fallo de red.
Incluye accesorios de montaje: Sus accesorios de montaje únicos ofrecen múltiples opciones de montaje en bastidor y bajo mesa.
Integración de la plataforma Q-SYS: Reciba actualizaciones de firmware firmadas criptográficamente, asegurándose de obtener actualizaciones seguras en términos de funcionalidad y seguridad en todo su sistema.
Specifications
Q-SYS I/O-8 Flex Channel Expander
Inputs/Outputs
Audio Flex Channel Capacity
8
Audio Flex Channel Assignments
Each channel can be configured as a mic/line input or as a line output (configured through Q-SYS Designer software)
Rear Panel Indicators
"Link", "Speed" and "Activity" LEDs on all LAN ports
USB Inputs & Outputs
USB Audio Bridging
Up to 8x8 channels of digital audio in/out via software definable USB instances advertised to the USB Host operating system
USB B (device port):

Bit depth: 16-bit, 24-bit (configured in Q-SYS Designer software)
USB Channel Capacity: 8x8
Sample Rate: 48kHz

Controls
Front Panel Controls

"NEXT" OLED page forward capacitive touch button
"ID" device identification capacitive touch button
"Clear Network Settings" - invoked when "NEXT" and "ID" are pressed simultaneously

Front Panel Connectors
AUX USB: USB Host x2 (Type A connectors)
Rear Panel Connectors

Audio Flex I/O: 12-pos blue Euro Block x2
GPIO: 10-pos black Euro Block x2 (GPI = 1x10, GPO = 1x10)
RS232: 3-pos black Euro Block
AUX USB Host: USB Host x2 (Type A connectors)
AUX USB Device: USB Device Port (Type B connector)
Media Network LAN A/PoE+ Power In : RJ45 1000 Mbps
Media Network LAN B: RJ45 1000 Mbps
AUX PWR In: 2-pos green Euro block

GPIO
General Purpose Inputs
0-24VDC analog input or contact closure
General Purpose Outputs
Open collector, 24VDC at 200mA max, internal pullup to 3.3V
GPIO 12 VDC Power Pins
12VDC out at 100mA max
Miscellaneous
PoE+ Power Input
IEEE 802.3at compliant powered device, PoE+ power supplied through LAN A port
External Power Input
24VDC, 1.2A supplied via the external power input, may be used as the primary power source or as a backup to the PoE+ source
Regulatory

FCC 47 CFR Part 15 Class A, IC ICES-003, CE (EN55032, EN55035), EU RoHS directive 2011/65/EU, WEEE directive 2012/19/EU, China RoHS directive GB/T26572, EAC, RTL

Product Dimensions
8.66" x 9.43" x 1.75" (220mm x 240mm x 44mm), 1RU half rack
Included Accessories
Connector kit, rack ears, surface mount kit, installation manual, USB cable (Type A to Type B)

All specifications are subject to change without notice.